Why 3D Systems Corporation's Shares Popped 17% on Monday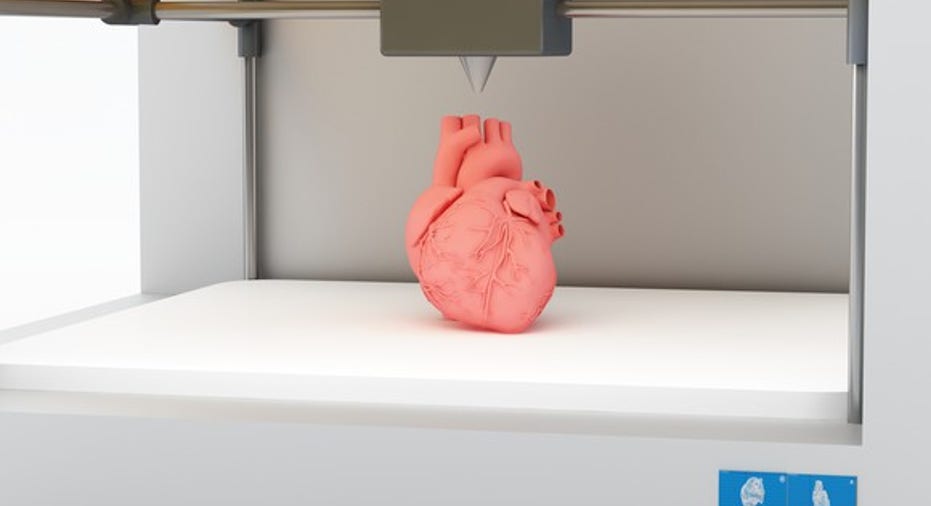 Image source: Getty Images.
What happened
Shares of 3D Systems Corporation (NYSE: DDD) jumped as much as 17.2% in trading Monday after buyout rumors swirled around the market. At 3:00 p.m. EST, shares were still up 16.2% for the day.
So what
The rumor is that General Electric (NYSE: GE) has approached 3D Systems about a buyout, and the company in turn hired an investment banker to look into the deal. These are just rumors, but there's often some nugget of truth in rumors like this, whether a deal comes to fruition or not.
We don't know what's true about GE's potential interest in 3D Systems, but we do know that GE is a big consumer of 3D-printed parts and spent $1.4 billion buying metal 3D printer companies last year. With a goal of generating $1 billion in 3D revenue by 2020, GE could see 3D Systems as an ideal target.
Now what
Buying a stock on rumor alone isn't a good idea, because the pop can burst if the rumors don't out to be true. But if you're an owner of 3D Systems, this is a nice pop in the stock today, and if the rumor turns out to be true, there could be further upside.
It'll be worth watching what both companies have to say about this rumor in the next few days because they'll likely have to respond. That will give us an idea of whether or not 3D Systems or GE is interested in a deal, but until then, trading on this rumor is risky business.
10 stocks we like better than 3D Systems When investing geniuses David and Tom Gardner have a stock tip, it can pay to listen. After all, the newsletter they have run for over a decade, Motley Fool Stock Advisor, has tripled the market.*
David and Tom just revealed what they believe are the 10 best stocks for investors to buy right now...and 3D Systems wasn't one of them! That's right -- they think these 10 stocks are even better buys.
Click here to learn about these picks!
*Stock Advisor returns as of January 4, 2017.
Travis Hoium owns shares of General Electric. The Motley Fool owns shares of General Electric. The Motley Fool recommends 3D Systems. The Motley Fool has a disclosure policy.