Why 2017 Is the Year to Invest in Artificial Intelligence Stocks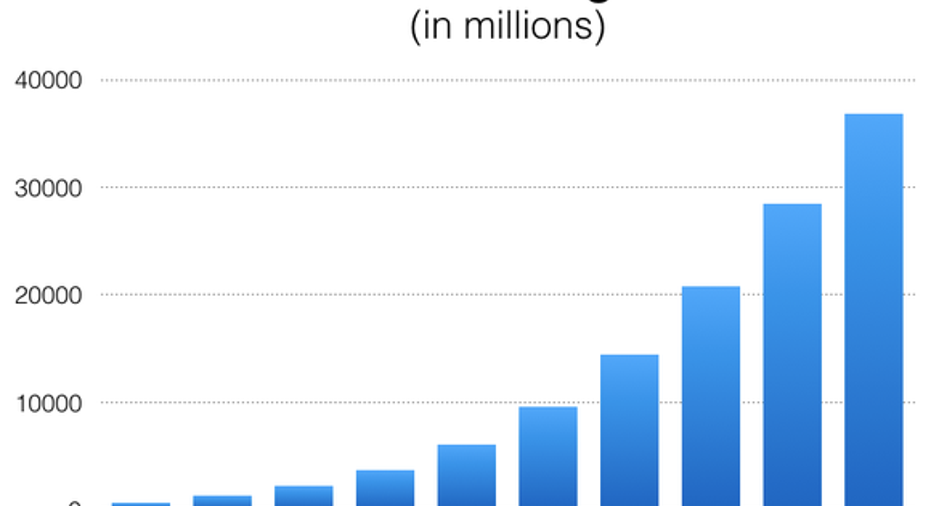 Image source: Getty Images.
The other day I sat in a coffee shop across from a student who was studying a complex math problem. The equation took up the entire page, and he sat there staring at it for quite awhile. After I thought about how glad I am to not be in school anymore, I started thinking about how jumping into a new investing market can be intimidating. Like the math equation, it can be hard to make sense of all the information on the page.
But it doesn't have to be this way, especially if you closely follow what smart companies are doing in new segments and pair that with some good ol' fashioned research.
Artificial intelligence (AI) is one such opportunity where companies are making big bets on it and where the research backs up its potential. And ifAI pans out the way many are thinking, then 2017 may be a very good year to get on board with this technological shift.
AI is at an inflection point
In 2016, the AI market was worth just $644 million, according to Tractica. This year, that amount will nearly double and then grow exponentially from there. Take a look:
Data source: Tractica and Statista.
Clearly, we're still at the beginning of AI's revenue possibilities, and its opportunity will accelerate over the coming the years until it reaches $37.8 billion less than 10 years from now.
Growth in the AI market will be spurred on by many large tech companies that implement AI into their current businesses. For example, Facebook (NASDAQ: FB) uses its own internally developed AI programs to read the posts we put on Facebook and understand the context they're written in. The company's DeepText program reads thousands of posts in just seconds and does so across 20 different languages.Facebook also uses deep learning to tag our friends in photos, and is even using AI to identify people (and their voices!) in videos.
But AI is expanding its reach outside of the technology sector as well. There's plenty of talk about self-driving cars these days (I've done my fair share) and that's because the number of vehicles worldwide with some level of autonomy will hit 76 million by 2035 -- and be worth $77 billion by that year.
That growth is being fueled, at least in part, by AI. NVIDIA Corporation(NASDAQ: NVDA) is using its graphics processors (GPUs) to create some of the most sophisticated image processing supercomputers, like the company's Drive PX 2. The computer is being used by 80 automakers and auto suppliers already, and Tesla (NASDAQ: TSLA)recently said that it would use some of NVIDIA's technology in its next version of its semi-autonomous Autopilot driving feature.
Tesla is itself becoming a leader in AI technologies, and back in October, the company posted a video of its self-driving AI driving a person around in one of its vehicles -- completely hands-free -- as it navigated stop signs, bicyclists, and foggy roads.
Image source: Tesla.
OK, so technology companies are obviously betting on AI's future, and NVIDIA is proving that the automotive sector will bank on AI as well, but it's important to note that governments are betting on AI's growth as well.
China announced last year that its government will invest in new AI technologies over the next three years, as it tries to create its own $15 billion AI market. And even the U.S. government has taken notice of China's recent focus on artificial intelligence. In a report released back in October, the White House said that Chinese scientists are publishing far more AI research than American scientists and that their work is being cited more often. The U.S. then urged more AI research and development spending in order to catch up and improve economic growth.
The South Korean government recently turned its attention to AI as well. After Google's DeepMind AI beat a South Koreangrandmaster Go player in an exhibition match in Seoul, the country pledged $863 million to develop more AI technology and called on private companies to invest even more.
There's no turning back now
With so many companies (and leading world powers) focusing their attention on AI, there's no stopping the momentum now. Investors waiting around to see how AI plays out could be left in the dust, as this technological shift begins to speed up even faster this year. Of course, there's no guarantee that 2017 will be the best year to invest in AI. But if all of the AI focus from 2016 spills into this year, then it certainly looks like a good bet.
10 stocks we like better than Nvidia When investing geniuses David and Tom Gardner have a stock tip, it can pay to listen. After all, the newsletter they have run for over a decade, Motley Fool Stock Advisor, has tripled the market.*
David and Tom just revealed what they believe are the 10 best stocks for investors to buy right now... and Nvidia wasn't one of them! That's right -- they think these 10 stocks are even better buys.
Click here to learn about these picks!
*Stock Advisor returns as of January 4, 2017
Suzanne Frey, an executive at Alphabet, is a member of The Motley Fools board of directors. Chris Neiger has no position in any stocks mentioned. The Motley Fool owns shares of and recommends Alphabet (C shares), Facebook, Nvidia, and Tesla Motors. The Motley Fool has a disclosure policy.