Who's the boss come Monday at consumer agency?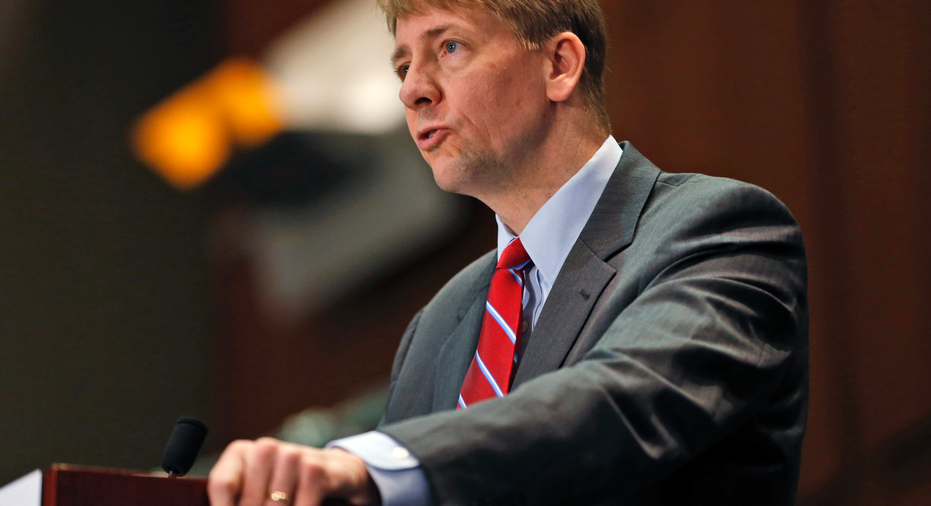 Who's the boss? That's the awkward question after the departing head of a government agency charged with looking after consumer rights appointed a deputy to temporarily fill his spot. The White House then named its own interim leader.
One job, two people — and two very different views on how to do it.
The first pick is expected to continue the aggressive policing of banks and other lenders that have angered Republicans. The second, President Donald Trump's choice, has called the agency a "joke," an example of bureaucracy run amok, and is expected to dismantle much of what the agency has done.
So come Monday, who will be leading the Consumer Financial Protection Bureau?
Senior Trump administration officials said Saturday that the law was on their side and they expect no trouble when Trump's pick for temporary director of the CFPB shows up for work. Departing director Richard Cordray, an Obama appointee long criticized by congressional Republicans as overzealous, had cited a different rule in saying the law was on his side.
In tendering his resignation Friday, Cordray elevated Leandra English, who was the agency's chief of staff, into the deputy director position. Citing the Dodd-Frank Act that created the CFPB, he said English, an ally, would become acting director upon his departure.
Corday's move was widely seen as an attempt to stop Trump from shaping the agency in the months ahead.
The White House cites the Federal Vacancies Reform Act of 1998. Administration officials on Saturday acknowledged that some other laws appear to clash with Vacancies Act, but said that in this case the president's authority takes precedence.
Who prevails in the legal wrangling is seen as important even though this involves just a temporary posting. Getting a permanent replacement approved by the Senate could take months.
The president's pick for temporary appointee, Mick Mulvaney, had been widely anticipated. Mulvaney, currently director of the Office of Management and Budget, has been an outspoken critic of the agency and is expected to pull back on many of Cordray's actions in the six years since he was appointed.
Trump announced he was picking Mulvaney within a few hours of Cordray's announcement on Friday.
"The Consumer Financial Protection Bureau, or CFPB, has been a total disaster as run by the previous Administrations pick," Trump tweeted Saturday from his private Mar-a-Lago club in Palm Beach, Florida, where he is spending a long Thanksgiving weekend. "Financial Institutions have been devastated and unable to properly serve the public. We will bring it back to life!"
The Justice Department's Office of Legal Counsel had already approved Trump's appointment of Mulvaney, administration officials said. They spoke on condition of anonymity to discuss the White House's thinking.
In issuing a memo about its opinion Saturday, the Office of Legal Counsel said the president has the power to appoint an acting director of the agency. Steven A. Engel, newly confirmed head of the office, wrote that, while the deputy director may serve as acting director under the statute, the president still has authority under the Vacancies Reform Act.
"Even when the Vacancies Reform Act is not the 'exclusive' means for filling a vacancy, the statute remains an available option, and the president may rely upon it in designating an acting official in a manner that differs from the order of succession otherwise provided by an office-specific statute," he wrote in a memo.
The clashing appointments raise the question: What happens when the two new heads show up and try to sit at the same desk and give orders?
One of the administration officials said Mulvaney was expected to start working Monday and that English was expected to also show up — but as deputy director.
The agency has been tangled in partisan politics since its creation, with the two competing appointees a reflection of that.
English is a trusted lieutenant of Cordray's who has helped investigate and punish financial companies in ways that many Republicans, Mulvaney in particular, think go too far. In his announcement Friday, Cordray highlighted English's "in-depth" knowledge of the agency's operations and its staff. Before joining the CFPB, English served at the Office of Management and Budget and Office of Personnel Management.
"Leandra is a seasoned professional who has spent her career of public service focused on promoting smooth and efficient operations," Cordray said in the statement.
Mulvaney was a South Carolina representative to the House before becoming head of the budget office. A founder of the hard-right House Freedom Caucus, he was elected in 2010 as part of a tea party wave that brought many critics of the U.S. budget deficit to office. He has taken a hard line on federal spending matters, routinely voting against increasing the government's borrowing cap and pressing for major cuts to benefit programs as the path to balancing the budget.
He also has been unsparing in his criticism of the CFPB. In a widely quoted comment, he once blasted the agency as "joke," saying its lack of oversight by Congress and its far-reaching regulations had gone too far.
"The place is a wonderful example of how a bureaucracy will function if it has no accountability to anybody," he told the Credit Union Times in 2014. "It turns up being a joke in a sick, sad kind of way."
U.S. Rep. Jeb Hensarling, chairman of the powerful House Financial Services Committee and a longtime critic of Cordray, said Mulvaney would "fight not only to protect consumers from force, fraud, and deception but will protect them from government interference with competitive, innovative markets and help preserve their fundamental economic opportunities and liberties."
Democrats have seized upon Mulvaney's words in criticizing his appointment to the agency.
U.S. Rep. Maxine Waters of California, the top Democrat on the Financial Services Committee, issued a statement Saturday calling Mulvaney "unacceptable" to lead the CFPB because of his "noxious" views toward its mission to protect consumers.
"He was also the original co-sponsor of a bill to completely eliminate the Consumer Bureau," she wrote, "and supported other legislation to harmfully roll back Wall Street reform."