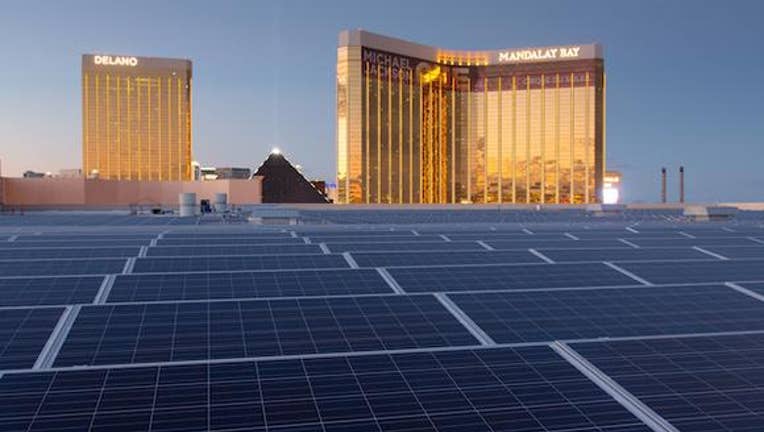 A Walmart distribution center with a SolarCity solar system. Image source: SolarCity.
Whole Foods Market is taking its sustainability efforts to the next level -- this time regarding its own energy consumption. The company announced on Tuesday that it will work with SolarCity and NRG Energy to install solar panels on nearly 200 locations nationwide.
This isn't the first big commercial building operator to make a move into solar, but it's a big move for a company whose values line up well with reducing its carbon footprint and using more sustainable forms of energy. When the installations are complete, Whole Foods will be one of the top 25 commercial solar companies in the country.
NRG Energy has been a big solar developer in Las Vegas as well. Image source: NRG Energy.
Why Whole Foods is going solar SolarCity said that it will be installing rooftop solar on up to 100 Whole Foods storesbeginning this spring. The systems will be owned by SolarCity, and power will be purchased by Whole Foods at a rate that's a discount to utility rates.
NRG Energy's agreement with Whole Foods is similar to SolarCity's and will cover up to 84 stores and distribution centers. The company said the systems will generate as much as 13.8 MW of solar power when completed. It's also likely the assets will be dropped down to NRG Yield once they're completed.
For both NRG and SolarCity, the commercial solar market has been a big growth target in recent years. NRG has installations on multiple stadiums, casino roofs, and even in Caribbean islands across North America. Unlike rooftop solar, NRG may have an advantage over smaller rivals in commercial solar because of its existing utility relationships with customers and its financing scale.
SolarCity is looking at commercial solar as a way to diversify its business away from the residential market. But there have been ups and downs in commercial installations that have been slower than management expected, something to keep an eye on in 2016.
Corporate America's love of solar continues While Whole Foods' solar installations look impressive, they're far from the first to make a big bet on solar. According to a Solar Energy Industries Association report in 2015, 445 MW of PV is already installed on commercial rooftops. Walmart actually leads the way, with 142 MW of solar on 348 stores and distribution centers.
Whole Foods may actually be entering the solar market at the right time, though. Costs have come down to a level where solar is highly competitive with utility rates in southern and coastal states, and that's what the company is taking advantage of today.
The commercial solar market is going to be a big growth driver for the solar industry in coming years, and NRG Energy and SolarCity are well positioned to be leaders as it grows.
The article Whole Foods Market Makes Sustainability Push Beyond Food Into Solar Energy originally appeared on Fool.com.
John Mackey, co-CEO of Whole Foods Market, is a member of The Motley Fool's board of directors. Travis Hoium has no position in any stocks mentioned. The Motley Fool owns shares of and recommends SolarCity and Whole Foods Market. The Motley Fool owns shares of NRG Energy. Try any of our Foolish newsletter services free for 30 days. We Fools may not all hold the same opinions, but we all believe that considering a diverse range of insights makes us better investors. The Motley Fool has a disclosure policy.
Copyright 1995 - 2016 The Motley Fool, LLC. All rights reserved. The Motley Fool has a disclosure policy.