Whole Foods Grows Earnings Despite Falling Comps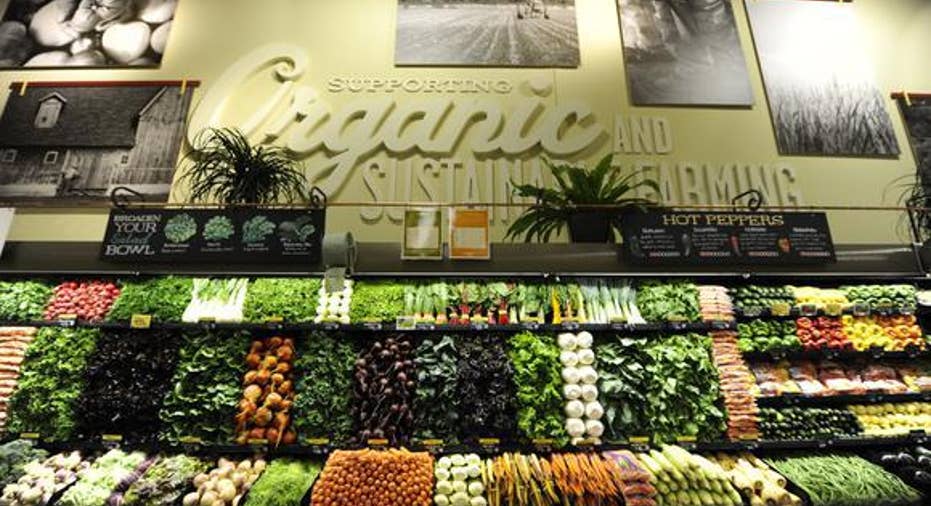 Image: Whole Foods Market.
In the grocery business, Whole Foods Market is an icon for the natural-foods and organic-grocery products that have become increasingly popular in recent years. Yet that didn't stop a host of competitors from seeking to reassert their power over the industry, and Whole Foods has recently had to deal with an onslaught of pressure that has held back its growth for a couple of years now. Coming into Wednesday's fiscal second-quarter financial report, Whole Foods investors didn't have high hopes for any earnings growth and were also nervous about sales. The grocery chain's bottom-line results were better than the low expectations that those following the stock had, but weak comparable-store sales still point to ongoing pressure on the company. Let's look more closely at how Whole Foods Market did and whether a full turnaround will take place anytime soon.
Whole Foods keeps strugglingWhole Foods' fiscal second-quarter numbers were mixed, topping expectations in some but not all areas. Revenue grew 1.3% to $3.70 billion, which was about half the growth rate that most investors wanted to see from Whole Foods. Net income also slumped roughly 10% to $142 million, but a comparable drop in share count kept earnings stable at $0.44 per share, which was $0.03 better than the consensus forecast among investors.
Looking more closely at how Whole Foods did, the company's ongoing woes in comparable-store sales didn't let up. For the quarter, comps were down 3%, accelerating from their pace in the previous quarter. A decline in the number of customer transactions accounted for more than two-thirds of the overall hit to comparable-store sales figures, but a decline in basket size also weighed on results. Those drops were partially due to declines in the growth of average price per item. Comparable-store sales continued to be weak as the current quarter started, with Whole Foods reporting a 2.6% decline in the portion of the fiscal third quarter through May 1. Gross margins fell by a percentage point from year-ago levels.
Still, Whole Foods reaccelerated its plans to expand its store network. The company opened eight new stores during the second quarter, with expansion into two new markets. It also recently signed nine new leases, six of which will go for traditional Whole Foods stores and the other three being new 365 concept stores. Three lease conversions will switch Whole Foods locations to 365 stores.
Co-CEO John Mackey accentuated the positives, arguing that "through our improved cost structure and expense disciplines, we delivered strong EBITDA in a challenging sales environment." In Mackey's view, "food retailing is evolving at an incredibly fast pace," and Whole Foods is aiming to be more competitive on price while also enhancing the shopping experience for its customers.
What's ahead for Whole Foods?Yet the full-year fiscal 2016 guidance that Whole Foods provided earlier has proved insufficient, and so the company had to update its outlook to guide investors to more pessimistic assessments of the future. The grocery chain sees sales growth of no more than 3%, down from the 3% to 5% range previously expected. Comps will likely fall 2% or more, confounding initial projections that could have included flat comps. Nevertheless, Whole Foods kept its earnings guidance for $1.53 per share, although it changed "at least" to "up to" in its explanation, reversing the potential for deviations from expectations.
Still, Whole Foods hasn't given up on expansion. Whole Foods intends to keep boosting its store counts in an effort to reach 1,200 stores in the U.S. even before considering the new 365 store concept. Already in the current third quarter, Whole Foods has opened five stores and expects seven more, including the first 365 store in Silver Lake later this month. The fiscal fourth quarter should bring five more stores, including two 365 locations.
Investors in Whole Foods seemed to take the news in stride, celebrating the earnings beat and sending the stock up almost 2% in after-hours trading following the announcement. Nevertheless, the fundamental news here is still poor, and with the stock still near multi-year lows, Whole Foods needs a more dramatic turnaround to inspire investors in the long run.
The article Whole Foods Grows Earnings Despite Falling Comps originally appeared on Fool.com.
John Mackey, co-CEO of Whole Foods Market, is a member of The Motley Fool's board of directors. Dan Caplinger owns shares of Whole Foods Market. The Motley Fool owns shares of and recommends Whole Foods Market. Try any of our Foolish newsletter services free for 30 days. We Fools may not all hold the same opinions, but we all believe that considering a diverse range of insights makes us better investors. The Motley Fool has a disclosure policy.
Copyright 1995 - 2016 The Motley Fool, LLC. All rights reserved. The Motley Fool has a disclosure policy.