Who Will Buy Imagination Technologies plc's MIPS Tech?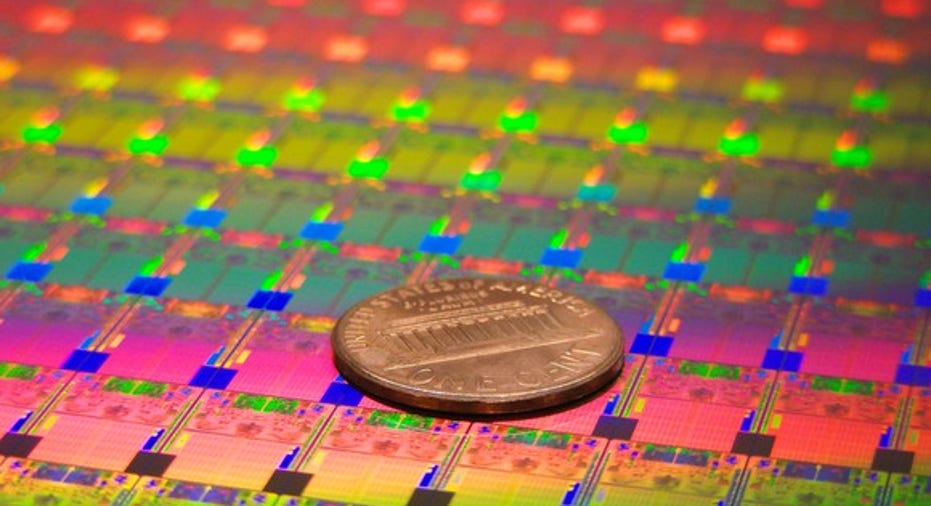 In 2012, graphics specialist Imagination Technologies (NASDAQOTH: IGNMF) acquired processor intellectual property maker MIPS Technologies for $100 million in a bid to diversify its product portfolio beyond graphics technology.
MIPS processors are used in a variety of applications, but in recent years, chip vendors that had previously used MIPS technology (for example, network chip vendors) have begun transitioning their product lines over to processor designs and/or intellectual property developed by ARM Holdings.
Image source: Intel.
Imagination had hoped to push the MIPS architecture as a viable alternative to the ARM architecture in the multibillion-unit smartphone applications processor market, but ultimately found little success in doing so. Imagination eventually scaled back its ambitions vis-a-vis MIPS.
After Imagination disclosed last month that Apple (NASDAQ: AAPL), a customer that accounts for roughly half of its revenues, would no longer use its PowerVR graphics technology, Imagination announced that it plans to sell its MIPS and Ensigma businesses to "concentrate its resources on PowerVR, and strengthen Imagination's balance sheet."
Now that MIPS is for sale, the question is, who's going to buy it?
Some possible candidates
Investors may recall that Imagination wasn't the only company interested in buying the MIPS assets in 2012. Fellow semiconductor intellectual property vendor, CEVA (NASDAQ: CEVA), originally agreed to snap up the MIPS assets for $90 million, but Imagination outbid CEVA, offering $100 million.
Given CEVA's prior interest in the MIPS assets, and given that CEVA's business seems to be going quite well these days, CEVA might be well positioned to take advantage of Imagination's current predicament and score a good deal on the MIPS assets.
Another potential buyer could be electronic design automation (EDA) tool and fellow semiconductor intellectual property vendor, Synopsys (NASDAQ: SNPS). Synopsys was mentioned as a potential acquirer of the MIPS assets way back in 2012 by analyst Gary Mobley.
Synopsys currently offers a type of RISC processor family known as ARC ("Argonaut RISC Core"), which the company says target applications such as automotive and industrial, Internet of Things, mobile, storage, and digital home. The MIPS assets could allow Synopsys to further expand its processor intellectual property portfolio and possibly even supplant the ARC-based technology.
Unlikely buyers
I have seen other potential buyers mentioned that I don't think are all that likely. I went over why I don't think Apple (NASDAQ: AAPL) -- a name that has come up -- would buy the MIPS assets and switch to MIPS from ARM here.
Another chipmaker comes up as a potential buyer of the MIPS assets: Intel (NASDAQ: INTC). However, that doesn't make sense for several reasons.
In Intel's personal computer and server processor markets (the bulk of Intel's revenue), as well as in its Internet of Things business, the company's X86 architecture has been and will likely continue to be highly successful.
Intel has also made it clear that it would like to be a contract manufacturer of ARM-based applications processors and quite vocally signaled that it would be working with ARM Holdings to allow chipmakers to easily implement ARM's processor technology in Intel's chip manufacturing technology.
Considering that MIPS processors haven't been successful in the mobile applications processor market (the market that Intel wants ARM's help to compete in), I don't see MIPS bringing much value to Intel's technology portfolio.
How to simplify investing -- in just 30 minutes a dayIt's roughly the same amount of time it takes to walk a quarter-mile on a treadmill... whip up dinner... read your children a bedtime story. And it's how little time it takes to learn everything you need to know to begin investing in the stock market. (Which -- if you're like most of us -- is something you know youshoulddo... but keep putting off.) The Motley Fool's Director of Investor Learning is eager to help you start down that venture -- absolutely FREE -- in just 30 minutes a day, for 13 days.
Simply click here to get started.
Ashraf Eassa owns shares of Intel. The Motley Fool owns shares of and recommends Apple. The Motley Fool recommends Intel. The Motley Fool has a disclosure policy.