Whiting Petroleum Corp. Reported a Monster Quarter in More Ways Than One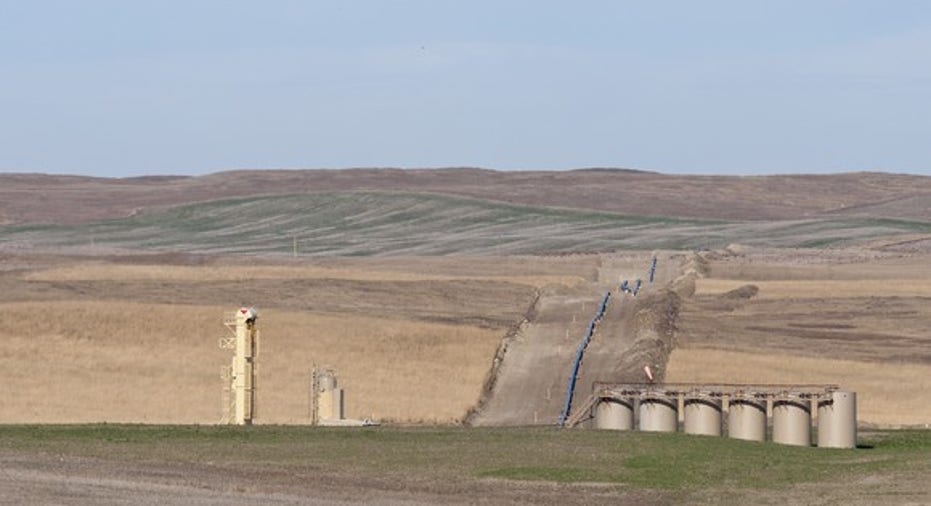 Whiting Petroleum's (NYSE: WLL) first-quarter report was excellent, all things considered. Sure, the Bakken oil driller reported another quarterly loss, and its production dropped versus the year-ago period, but that wasn't unexpected. What was surprising, however, is that the company trounced those muted expectations due in part to some monster well results, which enhanced its ability to continue pushing down costs. Because of that, Whiting is on pace to have a better year than expected as long as crude prices don't take a dive and ruin its momentum.
Drilling down into the numbers
Whiting Petroleum's first-quarter results beat the forecasts across the board:
| Metric | Q1 2017 Guidance (at the midpoint) | Q1 2017 Actuals |
| --- | --- | --- |
| Production | 10.4 MMBOE | 10.6 MMBOE |
| EPS | ($0.21) | ($0.15) |
| Lease operating expenses per BOE | $9.00 | $8.56 |
| General and administrative expenses per BOE | $3.15 | $2.34 |
| Interest expense per BOE | $4.80 | $3.83 |
Data source: Whiting Petroleum. BOE = barrels of oil equivalent. MMBOE = million barrels of oil equivalent.
Several factors fueled the expectation-beating results. Production, for example, benefited from the recent completion of the three-well Loomer pad in North Dakota. Wells from thismonster pad, which Whiting completed using a new technique that incorporates more frack stages, diverter agents, and 8.9 million pounds of sand per well, are on pace to produce 1.5 MMBOE apiece over their lifetime. That's nearly 50% higher than the company's average expectation for new wells in the region. Because of the higher production from this and other recently completed wells, Whiting's output came inat the high end of its guidance range. That flowed down into improvements in other metrics on a per-BOE basis since the driller, for example, could spread out general and administrative (G&A) as well as interest expenses across more barrels.
In addition to that, Whiting benefited from several other factors during the quarter. Lease operating expenses (LOE) came in below forecast due to the advantages of a new comprehensive water-handling program, which lowered saltwater disposal costs by 10%. The company also implemented a new maintenance program that has reduced well downtime across its properties by 22%. Furthermore, Whiting also noted that oil differentials, which is the regional difference in oil prices, started shrinking thanks to new pipeline infrastructure in the Bakken, including the start up of Energy Transfer Partners' (NYSE: ETP) controversial Dakota Access Pipeline.
Image source: Getty Images.
On pace for a better year
Whiting Petroleum's expectation-beating results put the company on track to beat its initial full-year guidance. Because of that, the company has adjusted its forecast accordingly. As a result of its strong well results, Whiting is increasing its full-year production guidance from a range of 45 MMBOE to 46 MMBOE up to 45.2 MMBOE to 46.2 MMBOE without increasing its $1.1 billion capex budget. That puts the company on pace to grow output by more than 23% from the first quarter to the fourth quarter while lowering its cash flow breakeven point a little bit.
Meanwhile, there's potential upside to that guidance because Whiting plans to continue testing new completion designs in both the Bakken and Niobrara. It's not alone in testing to find the optimal completion method; Bakken rival Continental Resources (NYSE: CLR) also noted that it "plans to apply various enhanced stimulation techniques on all Bakken completions in 2017 to define the optimum designs for future completions." Like Whiting, Continental plans to test several different things including using more sand in search of the best method of extracting the most oil and gas out of each well.
These trials to find the best way to increase well productivity are importantbecause the higher output would not only boost production and capital returns, but companies can spread costs across more flowing barrels. In fact, with Whiting increasing its production guidance, the company also expects LOE, G&A, and interest expenses per BOE to come under its initial expectations. Furthermore, with Energy Transfer Partners' Bakken pipeline starting to flow oil, Whiting expects its oil differentials to average $7.50 to $8.50 per barrel this year, down $1.00 per barrel at the midpoint. Over the long term, Whiting thinks that the Energy Transfer Partners pipeline could knock as much as $3 per barrel off differentials, pushing that metric down to $5.50 by the middle of next year.
Investor takeaway
Whiting's investments to improve well productivity paid off last quarter after wells finished with its new enhanced completion method delivered monster results. That ability to get higher volumes out of each wellis impacting more than just production, as the company can now stretch its capital dollars farther while spreading production and other costs across more barrels. That said, it's not done yet since Whiting hopes to continue improving by testing additional methods in search of the best solution to get the maximum amount of oil out of the ground in the most capital-efficient way.
10 stocks we like better than Whiting PetroleumWhen investing geniuses David and Tom Gardner have a stock tip, it can pay to listen. After all, the newsletter they have run for over a decade, Motley Fool Stock Advisor, has tripled the market.*
David and Tom just revealed what they believe are the 10 best stocks for investors to buy right now... and Whiting Petroleum wasn't one of them! That's right -- they think these 10 stocks are even better buys.
Click here to learn about these picks!
*Stock Advisor returns as of April 3, 2017
Matt DiLallo has no position in any stocks mentioned. The Motley Fool has no position in any of the stocks mentioned. The Motley Fool has a disclosure policy.