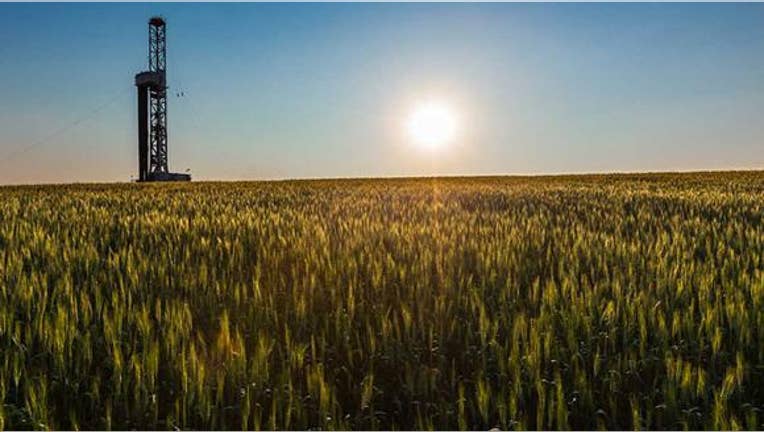 Image Source: Whiting Petroleum corporate website
Gone are the days of shale oil companies that promote their incredible rates of production growth. Here are the days of shale oil companies that promote how much liquidity they have available and the fact that they don't have any bonds maturing in the near future.
The shale game used to be all about growth. Now it is all about who will survive.
Two of the biggest (I won't say best) production growth stories of the Bakken boom were Whiting Petroleum (NYSE: WLL) and Continental Resources (NYSE: CLR). Both of these companies just provided updated guidance on what their 2016 operations will entail. If I could describe in a word what the plan for 2016 will be for Continental and Whiting will now be, it would be "hibernation."
Both companies are basically dramatically slashing spending and essentially ceasing to complete wells in the once-booming Bakken.
Whiting Petroleum -- no well completions after the first quarterLate in 2014, Whiting closed on its acquisition of rival Bakken producer Kodiak Oil and Gas. Let's be honest: The timing of the transaction couldn't have been worse, given that it added $2.2 billion of debt to Whiting's balance sheet just as the oil price collapsed.
In 2015, Whiting took measures to try to shore up its balance sheet by issuing 35 million shares at $30 each for just over $1 billion of cash. At the time, Whiting shareholders who were used to a much higher share price probably cringed at the dilution. With the share price now at $4 and change, it looks like a pretty savvy move.
Despite raising all of that cash, Whiting is still faced with a very leveraged balance sheet. With the release of its 2016 updated plan and guidance, Whiting is clearly planning to hunker down and just try to survive what is hopefully the bottom of this cycle.
For 2016, Whiting now projects spending only $500 million, an 80% decrease from 2015. As of the second quarter, Whiting plans to completely suspend the completion of oil wells. Yes, that means what you think it does: Whiting won't be putting any additional wells on production after the first quarter.
Of that $500 million budget, $340 million will be spent in the first half of the year. The final two quarters will see spending of only $80 million each. Whiting will keep drilling a few wells with four rigs in operation; it just won't frack them and put them on production. This will mean that Whiting will have 73 drilled but uncompleted wells in the Bakken at the end of 2016 and another 95 in the Niobrara.
In its Q4 earnings conference call, Whiting management suggested that it would start to complete some of those wells if oil prices got up to $45 per barrel. I bet there weren't many oil investors a couple of years ago who thought we would hear "up to" and "$45 per barrel" in the same sentence again.
Source: Whiting Petroleum corporate presentation.
Continental Resources -- drilling, but not completingContinental doesn't face quite the balance sheet issues that Whiting does, but it will be slashing spending as well in 2016. The company announced the intention to spend $920 million in 2016, down from $2.5 billion in 2015.
Like Whiting plans to, Continental has already halted completing wells in the Bakken. Continental will continue to drill Bakken wells with four rigs running. That will result in a rise of the number of drilled but uncompleted wells that Continental has in the Bakken, from 135 at the end of 2015 to 195 by the end of 2016.The spending cutbacks and the deferral of well completions is going to stop the rapid streak of year-on-year growth that Continental had created. From 2010 through 2015, Continental grew at an annualized rate of 39%.
Source: Continental Resources corporate presentation
In 2016, production for Continental will fall by 20,000 barrels per day, but that figure will change depending on what the price of oil does. If we get a second-half rebound in oil prices, Continental will probably start completing wells, which will increase that production guidance.
What will the other side look like?Companies such as Continental and Whiting are now making the rational decisions they have to make. The high-decline nature of shale oil wells means that a significant percentage of the oil that the well will ever produce happens in the first year of its life.
If those wells are drilled into low oil prices, the economics of drilling just doesn't make much sense.
What I would hope to see on the other side of this giant oil-price bust is a shale oil industry that's much more focused on living within cash flow as it will be in 2016. Maybe if everyone thinks about living within one's means and stops chasing growth at the expense of balance sheet strength, we won't drill ourselves right back into another oil-price crash -- assuming a recovery does happen in the first place.
For investors in Whiting and Continental I believe the decision by the companies to ratchet down spending is very positive. Both of these companies have the liquidity and term in their capital structures to allow them to see this oil collapse through to recovery. The share prices of both of these companies are going to provide a lot of upside when (hopefully not if) that oil price recovery occurs.
The article Whiting Petroleum and Continental Resources Are Going Into Hibernation originally appeared on Fool.com.
TMFWolfpack has no position in any stocks mentioned. The Motley Fool has no position in any of the stocks mentioned. Try any of our Foolish newsletter services free for 30 days. We Fools may not all hold the same opinions, but we all believe that considering a diverse range of insights makes us better investors. The Motley Fool has a disclosure policy.
Copyright 1995 - 2016 The Motley Fool, LLC. All rights reserved. The Motley Fool has a disclosure policy.