Which Marijuana Stock Will Be Next to Reach a $1 Billion Valuation?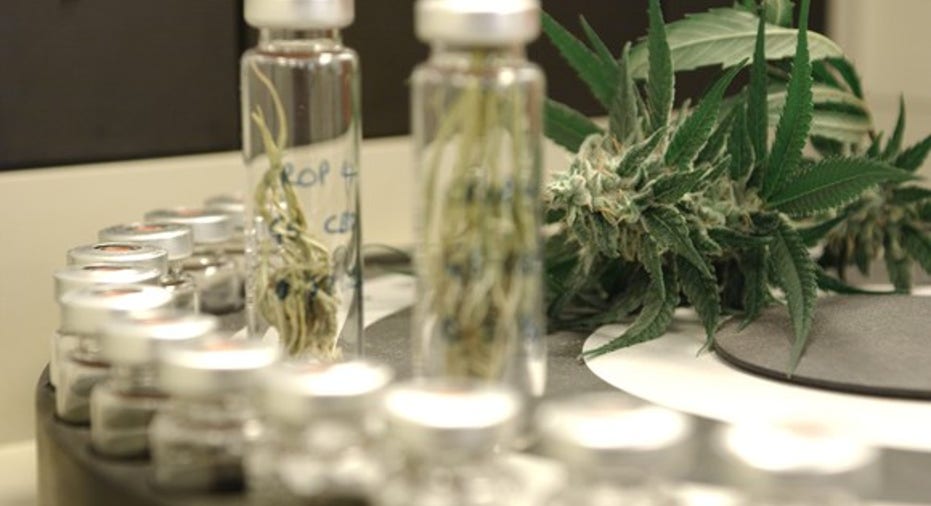 Both the marijuana industry and marijuana stocks are seemingly unstoppable at the moment.
When it comes to the marijuana industry, sales in the North American market grew by 34% to $6.9 billion last year, according to research firm ArcView. This exceptional year-over-year revenue increase is the result of organic growth within legal U.S. states (as well as medical cannabis use growth in Canada, where medical pot has been legal for 16 years), and the expansion of legal weed to new U.S. states. Last year alone, residents in four states voted to legalize recreational marijuana, while five new states legalized access to medical cannabis.
Image source: Getty Images.
As for marijuana stocks, they've been soaring. Over the past year, many are up well over 100% as investors begin to digest just how large an opportunity cannabis could be. For added context, $46.4 billion in marijuana sales were conducted under-the-table last year in the black market per ArcView, meaning there's still a massive opportunity to draw this business into the legal realm, assuming states and/or the federal government, along with the Canadian government, change their current stances on pot.
Welcome marijuana's billion-dollar stocks
Yet in spite of the legal challenges facing the marijuana industry, some marijuana stocks have truly excelled.
Cannabinoid-based drug developer GW Pharmaceuticals (NASDAQ: GWPH) is currently worth $2.9 billion, and is far and away the largest marijuana stock by market valuation. Its juicy market cap is a reflection of the phase 3 success of cannibidiol-based drug Epidiolex as a treatment for two types of rare childhood-onset epilepsy known as Lennox-Gastaut syndrome and Dravet syndrome. With Epidiolex passing its pivotal trials with flying colors, there's a decent chance it'll be approved by the U.S. Food and Drug Administration (FDA). And if Epidiolex can garner label expansions in the future (assuming approval), it could see north of $1 billion in peak annual sales. Wall Street is projecting healthy recurring profits for GW Pharmaceuticals by 2020.
Image source: Pixabay.
Canadian-based Canopy Growth Corp. (NASDAQOTH: TWMJF) is also a member of the billion-dollar pot club with its $1.2 billion market cap. Canopy Growth produces and sells medical cannabis in Canada, and in recent years it's been rapidly expanding its production capacity via acquisitions. Earlier this year it closed on a $430 million deal to buy Mettrum Health. Aside from the deal giving Canopy Growth access to almost half of Canada's medical marijuana patients, it also boosted total growing capacity to 665,000 square feet and six licensed facilities. With Canada closer than ever to passing legislation that could legalize recreational pot, Canopy Growth's recent capacity upgrades could prove exceptionally profitable for the company.
And its former billion-dollar stock...
Insys Therapeutics (NASDAQ: INSY) isn't there anymore, but it was once a billion-dollar pot stock. Insys isn't entirely a marijuana stock in the traditional sense, because essentially all of its current revenue comes from sublingual cancer pain medicine Subsys, which has nothing to do with marijuana. However, the FDA approved Syndros, a dronabinol solution that is the pharmaceutical version of tetrahydrocannabinol (THC), the psychoactive component of cannabis, as a treatment for chemotherapy-induced nausea and vomiting and anorexia associated with AIDS this past summer. Following its categorization as a schedule II drug by the Drug Enforcement Agency earlier this year, Syndros is set to hit pharmacy shelves in the second-half of 2017, perhaps pushing Insys well above its current $735 million valuation.
Image source: Getty Images.
Which marijuana stock will hit $1 billion next?
This big question is which marijuana stock will be next to hit the psychologically important $1 billion market cap mark? Not including Insys, which already spent plenty of time above $1 billion, here are four possibilities.
1. Aphria
With a market cap that's already nearing $630 million, Canadian-based Aphria (NASDAQOTH: APHQF), which sells medical cannabis products online and over the phone, isn't too far from becoming the next billion-dollar pot stock. Working in Aphria's favor is the fact that the company has been profitable in five straight quarters (very few pot stocks are profitable at the moment), and that it's undertaking a pretty substantial organic business expansion known as Phase IV. This fully funded $137 million project is expected to increase its growing capacity from 300,000 square feet to about 1 million square feet.
Aphria also stands to benefit in a big way if the Canadian government chooses to legalize recreational marijuana. Prime Minister Justin Trudeau recently submitted a bill to do just that, with the expectation that recreational weed would be legal in our neighbor to the North by sometime in 2018. With Aphria's Phase IV expansion expected to take about a year, by the time it's completed Aphria may have a brand new market of customers on the recreational side to satisfy.
Image source: Getty Images.
2. Aurora Cannabis
Another Canadian producer and retailer of medical cannabis is Aurora Cannabis (NASDAQOTH: ACBFF), which is sporting a market cap that's nearing $660 million. Aphria and Aurora Cannabis are competitors that are rapidly expanding their production capacity, so it's not really a shock that both have very similar valuations.
Aurora Cannabis' major project is Aurora Sky, which could be the most technologically advanced and automated growing facility in the world when completed. The company, even after acquiring a 40,000 square foot facility in Quebec, doesn't have 100,000 square feet of growing capacity at the moment, and it's currently losing money on a quarterly basis. But when Aurora Sky is complete, the company will have added 800,000 square feet of grow capacity. Just as with Aphria, if the Canadian government legalizes recreational pot and opens the door for $5 billion to $7 billion in annual sales, Aurora is likely to benefit.
Image source: Getty Images.
3. Cara Therapeutics
Among biotech stocks, Cara Therapeutics (NASDAQ: CARA) has a shot at becoming the next billion-dollar pot stock. However, it's important for investors to understand that Cara's situation is a lot like Insys', in that just a portion of its pipeline is dependent on cannabinoid-based drugs.
Cara is currently a developmental-stage drug developer, and kappa opioid receptor agonist (KORA) CR845 is its lead drug. KORAs typically don't cross the blood-brain barrier like opioid medicines, meaning they may offer pain relief without the central nervous system side effects associated with opioids. CR845 is being targeted at both pruritis (itching) and pain; but make no mistake, pain is the far bigger fish in Cara's sea.
Cara Therapeutics' marijuana ties relate to its preclinical development of CR701, a CB receptor agonist. Preclinical studies in animals suggest it could be useful in treating pain and replacing opioid therapies, but it's a very long way away from pharmacy shelves at this point.
Image source: GW Pharmaceuticals.
4. Corbus Pharmaceuticals
Finally, clinical-stage drug developer Corbus Pharmaceuticals (NASDAQ: CRBP), which has a current market cap of just $326 million, could be the next billion-dollar pot stock.
Corbus' entire pipeline is dependent on just one drug, anabasum, which is being tested in four indications: systemic sclerosis, cystic fibrosis (CF), dermatomyositis, and systemic lupus erythematosus. Nearly all of the company's current valuation lies with the aforementioned cystic fibrosis clinical development. There are multiple types of genetic CF variations and there aren't too many treatment options available, so any successful CF treatment could rake in a lot of profit for a drug developer.
Recently, Corbus announced what it deemed to be positive phase 2 results in its CF study; however, forced expiratory volume in one second (FEV1) remained stable in the reported results. Generally, CF drugs would be expected to improve FEV1 in CF patients, but that didn't happen here, leaving anabasum's future somewhat cloudy in the eyes of Wall Street.
And the winner is?
Image source: Getty Images.
So which marijuana stock has the best shot at becoming the next billion-dollar pot stock? In theory, Corbus has the most potential if anabasum is successful in pivotal-stage trials in cystic fibrosis, with Cara also having a decent shot should CR845 succeed in pain studies. On the flipside, these stocks also carry a ton of risk being so intricately tied to a single drug or indication.
My guess is Aphria is the next marijuana stock that'll boast a billion-dollar price tag. Aphria is already profitable and has $123 million in working capital, and the completion of Phase IV should come right as Canada readies to legalizes recreational weed.
10 stocks we like better than APHRIA INC NPVWhen investing geniuses David and Tom Gardner have a stock tip, it can pay to listen. After all, the newsletter they have run for over a decade, Motley Fool Stock Advisor, has tripled the market.*
David and Tom just revealed what they believe are the 10 best stocks for investors to buy right now... and APHRIA INC NPV wasn't one of them! That's right -- they think these 10 stocks are even better buys.
Click here to learn about these picks!
*Stock Advisor returns as of April 3, 2017
Sean Williams has no position in any stocks mentioned. The Motley Fool has no position in any of the stocks mentioned. The Motley Fool has a disclosure policy.