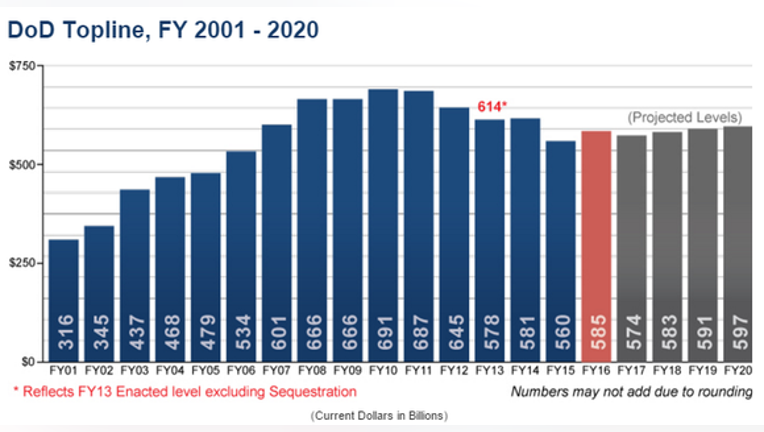 Royal Saudi Land Forces show off one of their bigger guns. Image source: Tech. Sgt. H. Deffner forDefense Visual Information Center.
In 2010, Saudi Arabiasigned on to the single biggest foreign arms contract in U.S. history. The deal's exact size is in flux, as it keeps expanding to accommodate new weapons that the Saudis want to add to their shopping list. But when all's said and done, this arms deal could range anywhere from $30 billion to $90 billion in size.
If that sounds to you like a lot more money than one single desert kingdom should be able to afford to spend on weapons, consider this: Saudi Arabia is currently the fourth-largest weapons buyer in the world. With $80.8 billion invested in defense in 2014, Saudi Arabia was outspent only by the Russia, China, and the United States. And Saudi Arabia is just one country in the oil-rich, and constantly warring, Middle East.
A red-hot market in the desertHere in the U.S., defense spending plummeted 19% between 2010 and 2015. But over in Saudi Arabia, data from the Stockholm International Peace Research Institute, orSIPRI, show a 78% increase in defense spending between 2010 and 2014, the most recent year on record.
And Saudi Arabia wasn't alone. Across the length and breadth of the Middle East, SIPRI data shows similar spending surges among Saudi Arabia's neighbors. Tiny Bahrain, for example, grew its defense spending 70% from 2010 to 2014. Oman's arms purchases were up 96%. Iraqi spending on its military nearly tripled in size -- up 266%!
Clearly, if you're in the defense business, this is the business you want to be in -- selling weapons to the Middle East.
Who's who in the Middle EastIt's been a good six months since we last checked in on how America's various big defense contractors are doing at capitalizing on this crucial export market. It's high time we take another look, and see if the pole positions have changed. Luckily, most of the major players have now filed their full-year fiscal 2015 financial statements, giving us good data on the winners and losers.
Here's how they stack up, based on the latest data from S&P Global Market Intelligence:
Company

Percentage of All Revenues Sourced From...

Middle East

Increase

All International

Increase

Raytheon

14.8%

230 bp

30.8%

530 bp

General Dynamics

8%

270 bp

26.1%

540 bp

L-3 Communications

1.9%*

60 bp

24.4%

580 bp

Lockheed Martin

ND

ND

20.7%

360 bp

Northrop Grumman

ND

ND

14.2%

370 bp
Data sources: S&P Global Market Intelligence, SEC filings. "Increase" is in percentage of revenue derived from the respective market, versus six months ago. *Saudi Arabia only. ND = no data. bp = basis points.
What these numbers meanThere are a couple of broad conclusions we can draw from this data. Most notable is the fact that the relative positions have not changed. Six months ago, Raytheon (NYSE: RTN) led the pack, getting the largest share of its revenues from Middle East arms sales -- and this remains true today. Back then, General Dynamics (NYSE: GD) and L-3 Communications (NYSE: LLL) were also emphasizing this market, and they still do.
What has changed is that all three of these companies -- and presumably, Lockheed Martin and Northrop Grumman, as well, although we can't tell for sure because they do not break out their sales by region in this way -- are growing their Mideast businesses. In each of the three cases for which we have granular data on Mideast arms sales, these businesses have expanded -- and the expansion is both rapid and significant in size. All three companies "moved the needle" appreciably during just six months' time.
All three companies, incidentally, also appear to be growing their international businesses in general, and not just in the Middle East. And they're moving faster to take advantage of international opportunities than are rivals Lockheed Martin and Northrop Grumman.
The upshot for investors: If you're looking for companies capable of dodging the downturn in U.S. defense spending, and nimble enough to take advantage of opportunities to grow their businesses abroad -- these are three good stocks to watch.
Defense spending is down big-time from its highs of 2010 -- here. But it's very clearly not down "over there." IMAGE SOURCE:U.S. PENTAGON.
The article Which Defense Stocks Dominate the All-Important Middle East Market? originally appeared on Fool.com.
Rich Smithowns shares of Raytheon. You can find him onMotley Fool CAPS, publicly pontificating under the handleTMFDitty, where he's currently ranked No. 270 out of more than 75,000 rated members.The Motley Fool has no position in any of the stocks mentioned. Try any of our Foolish newsletter services free for 30 days. We Fools may not all hold the same opinions, but we all believe that considering a diverse range of insights makes us better investors. The Motley Fool has a disclosure policy.
Copyright 1995 - 2016 The Motley Fool, LLC. All rights reserved. The Motley Fool has a disclosure policy.