Which Businesses Are Most Popular With Clinton and Trump Supporters?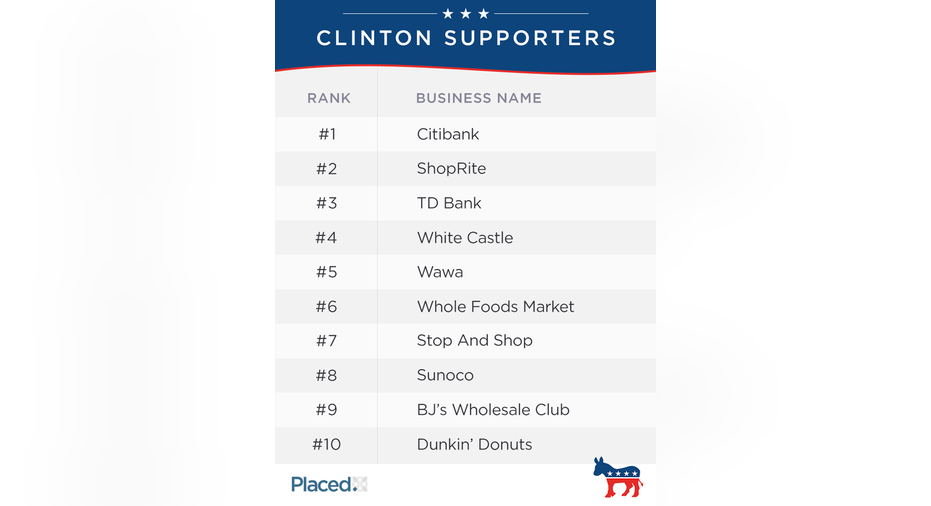 Grocery stores of all kinds figured big on the list for each candidate. Image source: Whole Foods.
The people who support Hillary Clinton and those who stand behind Donald Trump clearly have very different beliefs.
That may make it not shocking at all that new research shows that the businesses patronized by supporters of each candidate vary greatly. But, while it might seem like the breakdown of the most popular establishments for fans of each candidate would be obvious, the results of the study contained some surprises.
This is not a situation where Trump supporters hang out in gun shops while Clinton fans gravitate toward leftist bookstores. It's research that shows clearly different preferences and exactly no overlap between the favorite businesses of people likely to vote for each candidate.
What does the survey say?
Clinton supporters were most likely to visit Citibank , ShopRite, TD Bank, and White Castle, while Donald Trump supporters leaned toward Sheetz, Kangaroo Express, Hardee's, and Food Lion, according to the study from Placed, which describes itself as "the leader in location-driven insights and ad-to-store attribution."
To find these results, the company "measured the offline behaviors of nearly 2 million double opt-in users to connect voting patterns to store visits," the company explained in a press release. Placed detailed its methodology:
"This contrast in visitation highlights that the differences between each candidate's supporters go beyond demographics or geography," said Placed CEO David Shim.
What are the full results?
It's worth noting that in some cases, the results break down a logical, geographic line. Clinton supporters, for example, have Dunkin' Donuts and Stop and Shop on their list, which both operate most strongly in the Northeast. The Trump list, on the other hand, shows Publix, a grocery chain which operates in the Southeast, and Waffle House, a primarily Southern chain.
Still, these are not lists that break down on obvious economic or ideological lines. As you can see on the Clinton list below, her likely voters patronize the upscale Whole Foods Market while also regularly visiting the less high-falutin' White Castle.
Image source: Placed.
Trump's supporters are a little more consistent in what they like. Four of the 10 choices on their list are convenience stores -- Sheetz, Kangaroo Express, Circle K, and Pilot (which are full-service travel centers, in addition). The presumptive Republican nominee's fans also support three value-based restaurants: Waffle House, Hardee's, and Cracker Barrel as well as Dollar General , another price-based shopping proposition.
Image source: Placed.
What does this tell us?
In a broad sense, these lists show that price and value matter more to Trump supporters. The Clinton list shows that while her fans might splurge on Whole Foods, they're also down for a visit to White Castle or a stop at Dunkin' Donuts (when many would have expected Starbucks to make the list).
For the businesses involved, there are lessons to be learned, here, about appealing to both sides of the aisle. In some cases, the results are purely geographical. Publix, for example, operates mostly in Trump-sympathetic territory. But many of these brands are national and would do well to try to appeal to supporters of both candidates.
Going forward, for example, it will be interesting to see if Whole Foods, which is launching lower-priced 365 by Whole Foods, can attract value-driven Republican shoppers and voters. The same could be said of many of the brands on the Trump list when they open stores in left-leaning areas.
It's worth noting that Placed also looked at the swing businesses -- the places most popular where Clinton and Trump supporters are evenly split.
"The voters that visit these businesses are the ones who could determine who ultimately wins the election in November," said Shim. "Using this information, candidates can increase ad spend nearby these businesses through billboards, location based mobile ads, and offline events."
The swing list had no overlap with either candidates' lists and was topped by Meijer, a grocery chain, followed by Famous Footwear, T.J. Maxx, CiCi's Pizza, and Little Ceasar's.
The article Which Businesses Are Most Popular With Clinton and Trump Supporters? originally appeared on Fool.com.
John Mackey, co-CEO of Whole Foods Market, is a member of The Motley Fool's board of directors. Daniel Kline has no position in any stocks mentioned. He believes voters on both sides should meet in the middle for ice cream. The Motley Fool owns shares of and recommends Starbucks and Whole Foods Market. Try any of our Foolish newsletter services free for 30 days. We Fools may not all hold the same opinions, but we all believe that considering a diverse range of insights makes us better investors. The Motley Fool has a disclosure policy.
Copyright 1995 - 2016 The Motley Fool, LLC. All rights reserved. The Motley Fool has a disclosure policy.