Which Apps Are Most Popular With Clinton and Trump Supporters?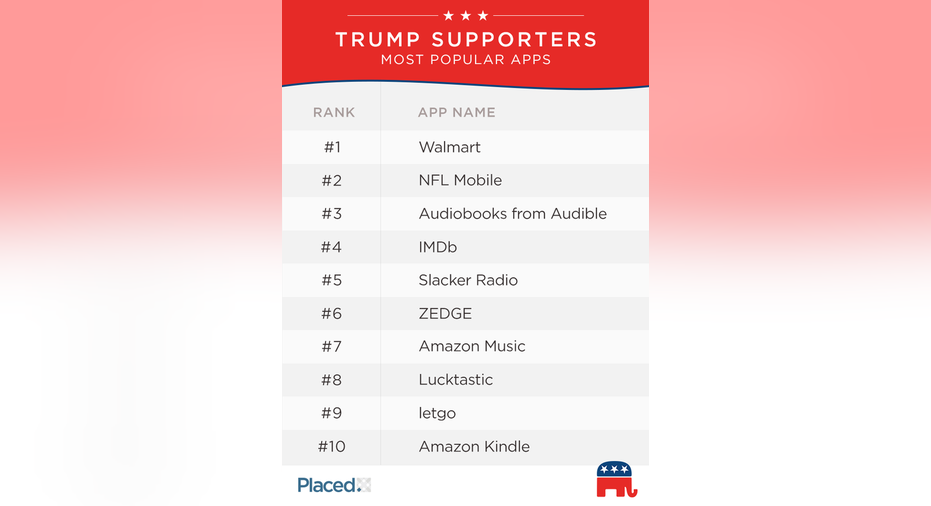 You may be surprised to learn which candidate's supporters use Amazon more. Image source: Amazon.
Hillary Clinton fans and Donald Trump supporters use their mobile devices for very different things.
It's a major divide that offers insight into what likely voters for each candidate believe in, explained Placed CEO David Shim, whose company, which describes itself as "the leader in location-driven insights and ad-to-store attribution," conducted the research.
"The differences between each candidate's supporters extends beyond political view and into the apps that they are more likely to have installed on their smartphone," he wrote in an email to The Motley Fool. Ultimately, the differing types of apps used by each candidate may impact how the candidates attempt to reach their target audiences.
"The top four apps for Clinton supporter are messaging apps: imo, Viber, WhatsApp, Tango," he wrote. "Trump [supporters'] top apps could be considered more practical with Walmart, Audible, Slacker Radio, and Amazon Music and Kindle."
Which apps are tops with Trump fans?
Image source: Placed.
While Clinton's supporters opted most for messaging and other communications apps, Trump's likely voters tended to lean toward the practical.
"Using apps as a proxy, Clinton supporters are content generators with messaging and photo apps making up 70% of the list, while Trump supporters are more content consumers with 60% of the list including apps like NFL Mobile, Slacker Radio, Audible, Amazon Music, and Kindle," Shim wrote. "As it relates to retail, Trump supporters gravitate toward the market leaders with Wal-Mart, the largest retailer in the U.S., and Amazon, the largest online retailer in the U.S., representing 4 out of the top 10 apps."
Interestingly none of the real-world company apps used by Trump supporters matched up with the most-popular chains among the group, as found by Placed's earlier research. Shim found that to be the case for Clinton as well.
"For both candidates, the most popular businesses in the physical world have very little correlation with their [supporters'] digital activities," he wrote. "This separation of offline versus online behaviors even for the same candidate highlights the importance of treating each medium in its own silo, as what works online isn't necessarily going to work offline."
Which apps are tops with Clinton fans?
Image source: Placed.
As noted above, Clinton supporters are heavily involved with content creation and messaging. This could be an advantage as those platforms -- at least some of them -- lead to two-way communication. Of course, with Trump's fans being heavily involved with retailer sites like Amazon and Wal-Mart, his campaign can also engage users through straight advertising.
What these results really tell us is that each candidate has to work different angles to reach their voters in the app world.
"With the right strategy, Clinton's strength in social applications could represent an opportunity to replicate President Obama's success in 2012 leveraging social media to drive donations," Shim wrote.
For Trump, the way forward is perhaps not as clear, but his recent efforts have shown that he may be able to leverage his supporters digitally as well.
"With Trump raising over $26 million in June through online and mail solicitations, it highlights digital as a strong channel to reach his strongest supporters and drive donations," according to Shim. "Utilizing this list, Trump can focus fundraising efforts on apps where his supporters are most likely to be found."
Why does this matter?
As much as these results can impact what the candidates do, they also offer the businesses involved some advice. Wal-Mart, for example, has always been a right-leaning company that sells guns, while Amazon has a CEO in Jeff Bezos who is known to support liberal causes.
Knowing that so many Trump Republican are also Amazon supporters could be used by the company as a guide before it takes a stand on an issue. That does not mean Bezos will change his views or his company will change its core operations, but at least it can plan for any customer fallout caused by its actions. The same applies to Wal-Mart should it embrace a cause (like higher minimum wages) that is traditionally considered a left side of the aisle issue.
The article Which Apps Are Most Popular With Clinton and Trump Supporters? originally appeared on Fool.com.
Daniel Kline has no position in any stocks mentioned. He is a fiscal conservative but a social liberal. The Motley Fool owns shares of and recommends Amazon.com. Try any of our Foolish newsletter services free for 30 days. We Fools may not all hold the same opinions, but we all believe that considering a diverse range of insights makes us better investors. The Motley Fool has a disclosure policy.
Copyright 1995 - 2016 The Motley Fool, LLC. All rights reserved. The Motley Fool has a disclosure policy.