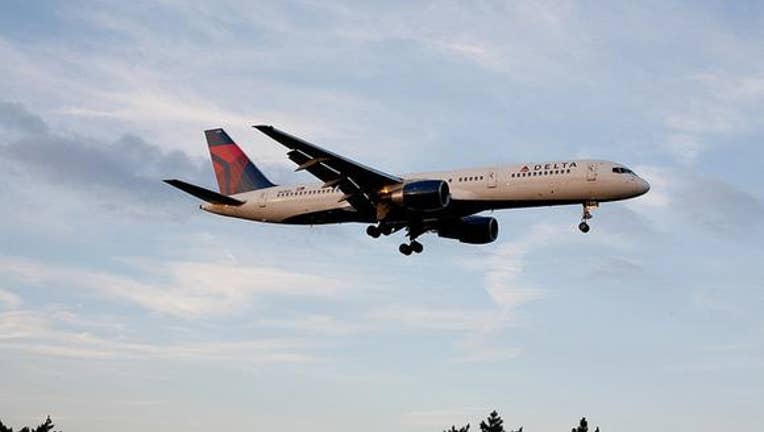 Airline profits have soared in 2015 as oil prices have plummeted. Many airlines didn't get the full benefit of lower oil prices, though, because they had hedged some of their 2015 fuel costs when prices were much higher.
Airlines that significantly overpaid for fuel in 2015 have a bigger opportunity to realize fuel cost savings in 2016 than airlines that were paying market prices the whole time. However, some of these airlines have also bought fuel hedges for 2016 and beyond. Since oil prices have continued to sink, companies like Southwest Airlines will be on the hook for more big hedging losses in the future.
Delta Air Lines will see the most fuel cost savings of any airline in 2016. Photo: The Motley Fool.
On the other hand, airlines that had big hedging losses this year but limited their hedging activity for 2016 are currently positioned to see the biggest year-over-year savings. Delta Air Lines , United Continental , and JetBlue Airways all fall in this category.
Delta is the big winnerDelta Air Lines has been fairly aggressive with its fuel hedging in recent years. This meant that it got burned in 2015. Through the first nine months of the year, it recorded nearly $2 billion in hedging losses. It will post another significant (though smaller) hedging loss in Q4.
Fortunately, Delta dramatically cut back its hedging activity earlier this year. As a result, it currently expects to incur only $500 million in hedging losses in 2016.
Thanks to the combination of lower hedging losses and lower oil prices, Delta is on track to save $3 billion on fuel next year, which should drive strong profit growth. Furthermore, it is only 5% hedged for 2016, so it will get most of the benefit if fuel prices drop even further.
United Continental is also positioned for savingsUnited Continental didn't lose as much money on fuel hedges in 2015 as Delta. As of mid-October, United expected its full-year hedging losses to total $0.23/gallon, or about $900 million. Since oil prices have continued to tumble since then, the final tally could be closer to $1 billion.
United Continental is also on track for huge fuel cost savings next year. Photo: The Motley Fool.
By contrast, United has been more careful with its hedging activity for 2016. (In fact, the company stopped buying more hedges soon after Gerry Laderman was promoted to acting CFO earlier this year.)
United is only 17% hedged for 2016 and retained the ability to participate in 93% of any further downside in oil prices. As of mid-October, it was expecting a modest hedging loss of just $43 million next year.
The ongoing oil price rout has increased that figure, but United's ample downside exposure means that it is still on pace for a hedging loss of just $100 million-$150 million. Including the benefit of lower market prices, United should save upward of $2 billion on fuel next year.
JetBlue, tooFinally, while JetBlue Airways didn't hedge that much of its fuel exposure this year, it locked itself into very high prices for a small proportion of its fuel. For example, in Q4, JetBlue has hedged only 15% of its estimated fuel consumption, but it is paying roughly twice the market price on that hedged amount.
As a result, JetBlue paid $2.01/gallon for jet fuel through the first nine months of 2015. Its full-year fuel cost will likely end up in the $1.90-$1.95/gallon range.
JetBlue's hedging losses will completely disappear in 2016. Photo: JetBlue Airways.
However, JetBlue hasn't bought any hedges for 2016. Starting next month, it won't face any hedging losses. This means that it is positioned to reap substantial fuel cost savings next year: potentially more than $300 million. JetBlue is tiny compared to Delta and United, so this level of savings is equivalent to a $2 billion fuel cost reduction at either of those larger airlines.
Bringing home the baconDelta Air Lines, United Continental, and JetBlue Airways have all earned strong profits in 2015 despite incurring large hedging losses. All three are in even better shape for 2016, because they haven't repeated their mistakes of "overhedging" and locking themselves into higher oil prices.
As a result, Delta, United, and JetBlue will post bigger year-over-year benefits from falling fuel prices than most other airlines in 2016. That could help them deliver superior earnings growth -- which is exactly what investors want to see.
The article Which Airlines Will Capture the Biggest Fuel Cost Savings in 2016? originally appeared on Fool.com.
Adam Levine-Weinberg owns shares of United Continental Holdings, and is long January 2017 $17 calls on JetBlue Airways and long January 2017 $40 calls on Delta Air Lines, The Motley Fool has no position in any of the stocks mentioned. Try any of our Foolish newsletter services free for 30 days. We Fools may not all hold the same opinions, but we all believe that considering a diverse range of insights makes us better investors. The Motley Fool has a disclosure policy.
Copyright 1995 - 2015 The Motley Fool, LLC. All rights reserved. The Motley Fool has a disclosure policy.