Where's the Outrage? Energy CEOs Reap Millions While Their Companies Incinerate Value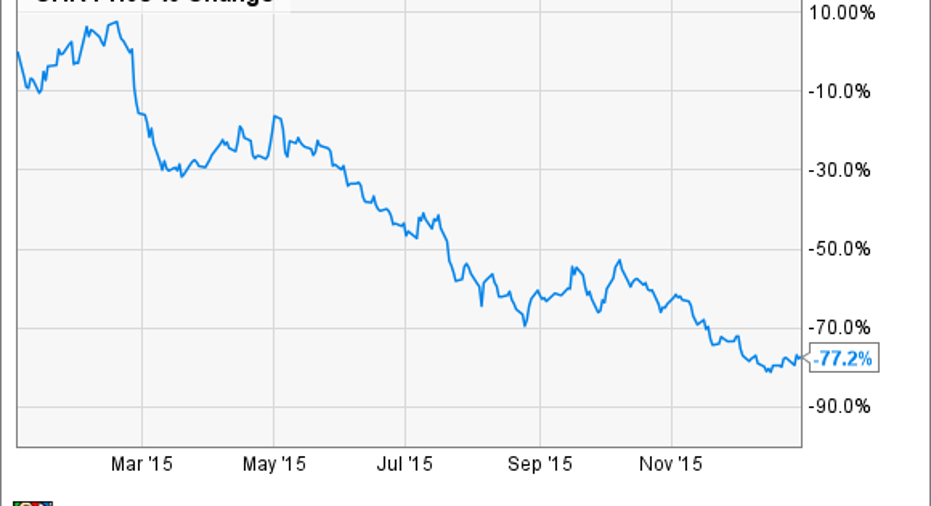 Beleaguered oil and gas giant Chesapeake Energy recently disclosed that its CEO, Doug Lawler, received a whopping $14.7 million in compensation last year. That's up 5% over 2014 and after the company's stock did this:
Lawler is not alone in receiving a nice raise during the oil market downturn. He is joined by countless others who are being paid to drill even if that very spending is drilling an even deeper financial hole for the company and certainly not creating any value for its investors.
Billions of dollars go up in smoke Lawler got a raise in a year that Chesapeake Energy lost a mind-blowing $14.9 billion, after years of wild spending came to a head as the crash in oil and gas prices accelerated. It's an acceleration that Chesapeake Energy is partly to blame because it spent $3 billion to grow its oil and gas production 8% last year despite the fact that the market was already vastly oversupplied. Worse yet, it's cash the company couldn't afford to burn through given that its already elevated debt level put it teetering on the brink of bankruptcy.
That said, the reason Lawler chose to drill to grow was because that's what he is paid to do. It's part of the company's performance-based annual incentives program, which can be found on page 38 of its most recent proxy statement. A portion of that page is shown on the screen shot below, which shows that items such as production and organic reserve growth have a higher combined weighting than safety or earnings goals:
Source: Chesapeake Energy Corporation proxy statement.
In fact, even though the company completely whiffed on its key earnings metric, adjusted EBITDA/BOE, and its safety metric, total recordable incident rate, Lawler and other top executives at the company earned 138% of their potential performance bonus last year.
Those out sized bonuses were earned at the expense of the company's workforce and its investors. In fact, the company laid off 15% of its workforce last September as part of a plan to reduce costs and better align its workforce to the current commodity prices. Meanwhile, investors lost their quarterly dividend checks last July when the company ceased making dividend payments in order to preserve capital. That loss was in addition to seeing the stock crater last year.
The wrong incentiveChesapeake Energy is far from the only energy company to give growth a high weighting in executive compensation packages. Continental Resources , for example, had 75% of its bonus weighted toward production and reserve growth while Devon Energy had 15% of its bonus weighted toward growth. Those incentives, when combined with the cash resources to continue drilling, were all the fuel Continental Resources needed to grow its production by a whopping 27% last year while providing Devon Energy the fuel to grow its oil production by 26%. Again, this growth came at a time when the oil market was oversupplied by more than 1 million barrels a day, so the market clearly didn't need this incremental oil production.
These decisions to grow for the sake of growth really came back to bite both companies. With its financial position weakened, Devon Energy had no choice but to reduce its dividend by 75% this year while also going out and raising $1.5 billion in equity to bolster its balance sheet. That burned its investors because the equity sale that came after the stock had been nearly cut in half over the past year. Meanwhile, Continental Resources had its credit rating cut to junk due to high levels of debt and elevated leverage metrics after the company piled on debt in order to meet ambitious production and reserve growth goals in years past.
Image source: Flickr user Nestor Galina.
A better way forwardWhile its peers were growing just to grow last year, EOG Resources said on the outset that it was "not interested in accelerating crude oil production in a low-price environment." Instead, the company focused on improving its returns. That's because unlike its peers, EOG Resources puts much less emphasis on growth, which is only an 8% weighting for executive bonuses, and a much higher weight on returns on capital, relative stock price, and spending.
Those incentives paid off for both the company and its shareholders, with EOG Resources' stock vastly outperforming its peers and the price of crude oil last year. That's after the company's focus on innovation and efficiency enabled it to significantly improve its well returns. In fact, now more than a quarter of its drilling inventory is profitable at a $30 oil price, which is something that seemed unimaginable just a few years ago.
That type of returns-weighted incentive plan really needs to become the standard across the industry going forward. It would make executives think twice about borrowing heavily to fund growth if that growth isn't a lock to pay off via generous returns. Likewise, it wouldn't give executives incentive to continue growing at a time when the market is screaming that it has more than enough oil and gas to meet its needs.
The article Where's the Outrage? Energy CEOs Reap Millions While Their Companies Incinerate Value originally appeared on Fool.com.
Matt DiLallo has no position in any stocks mentioned. The Motley Fool owns shares of Devon Energy and EOG Resources,. Try any of our Foolish newsletter services free for 30 days. We Fools may not all hold the same opinions, but we all believe that considering a diverse range of insights makes us better investors. The Motley Fool has a disclosure policy.
Copyright 1995 - 2016 The Motley Fool, LLC. All rights reserved. The Motley Fool has a disclosure policy.