Where Will TransCanada Corporation Be in 10 Years?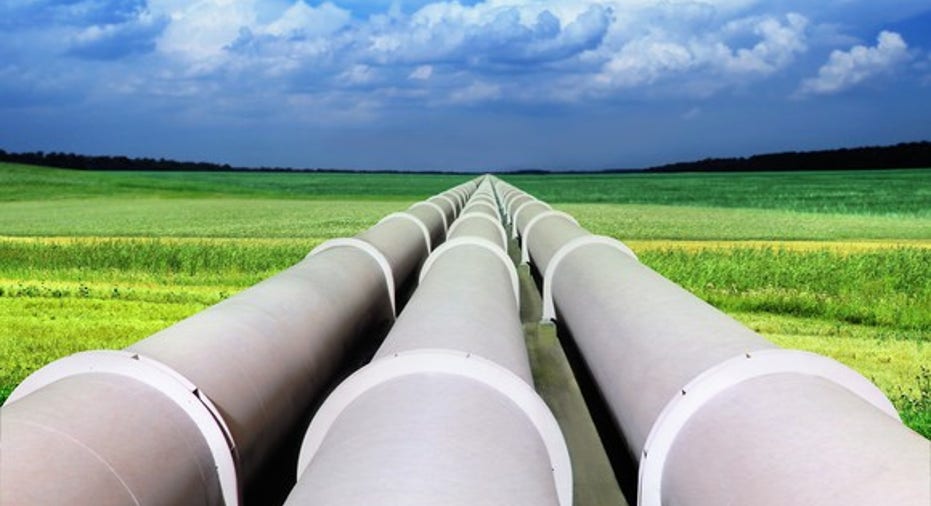 TransCanada (NYSE: TRP) is one of the largest energy infrastructure companies in North America. That status didn't come overnight. The company has steadily grown over the years, increasing its asset base from 26 billion Canadian dollars ($19 billion) in 2000 to CA$88 billion ($64.5 billion) as of the end of last year. More importantly, that growth has amounted to much more than just empire building, as evidenced by the fact that it has delivered a 14% average annual return over that time frame and grown its dividend 212.5%.
The company expects more of the same over the next decade. In fact, it is currently in the midst of a five-year expansion phase designed to deliver 8% to 10% compound annual dividend growth through 2020, driven by CA$23 billion ($16.9 billion) of capital projects currently under development. Meanwhile, with nearly twice as many commercially secured projects waiting in the wings, the company should be meaningfully larger a decade from now.
Image source: Getty Images.
The 2020 transformation is already underway
TransCanada launched its current expansion phase at its Investor Day in November of 2015. At the time, the company unveiled that it had CA$13 billion($9.5 billion) of short-term growth projects underway, along with CA$35 billion ($25.7 billion) of commercially secured projects in development. Those projects, combined with the fact that 90% of its earnings come from stable fee-based contracts or regulated assets, gave the company the confidence that it could accelerate its dividend growth rate from the 7% compound annual rate it delivered from 2000 to 2015 up to 8%-10% average annual growth through 2020.
Last year, however, the company completed a transformational transaction to acquire Columbia Pipeline Group, which kicked growth up another notch. As a result of that deal and some other changes, the company now expects dividend growth to come in toward the high end of its 8% to 10% range. Meanwhile, that transaction added a slew of new growth projects to its backlog so that it now has CA$23 billion ($16.9 billion) of near-term projects in development, and a long-term backlog consisting of more than CA$45 billion ($33 billion) of additional growth projects.
Image source: Getty Images.
Locked and loaded for more
With its growth secured through 2020, TransCanada has focused more of its attention on extending growth further into the future by moving projects in its long-term backlog from concept to construction. The company made some notable progress in that pursuit during the first quarter.
Topping that list was the receipt of a presidential permit to construct the $8 billion Keystone XL pipeline. With that permit in hand, the company is working with shippers to ensure it still has enough commercial support to move forward with the project after years of delays. If the company has the commercial support and obtains approval from the state of Nebraska, it could sanction this project by the end of 2017.
In addition to that, the company announced that it's seeking a variance to build the CA$1.4 billion ($1 billion) North Montney Pipeline project. Initially, that project was expected to help feed natural gas to the Northwest LNG project that's currently under development by Malaysian liquefied natural gas (LNG) giant Petronas as part of the larger CA$5 billion ($3.7 billion) Prince Rupert Gas Transmission project. However, after securing 20-year contracts from 11 shippers for 1.5 billion cubic feet per day of capacity, TransCanada no longer needs the Northwest LNG project to support the North Montney Pipeline.
Meanwhile, the company got some good newsearlier this year when oil supermajor Royal Dutch Shell (NYSE: RDS-A)(NYSE: RDS-B) said that it still sees its LNG Canada project as a viable option to bring Canadian natural gas to the global LNG market. Royal Dutch Shell made that announcement when it decided to stop development on another potential LNG project in Canada at Prince Rupert. That decision is a big win for TransCanada in two ways. First, Shell's project could eventually trigger TransCanada's CA$4.8 billion ($3.2 billion) Coastal Link Pipeline project, which is one of four transformational projects in its long-term backlog, along with Keystone XL, Prince Rupert Gas Transmission, and the Energy East Pipeline. Furthermore, because Shell chose LNG Canada over Prince Rupert LNG, rival Enbridge (NYSE: ENB) won't get to build the Westcoast Connector Gas Transmission project that would have supported the other proposed Shell facility.
Investor takeaway
The TransCanada of a decade from now will most likely look similar to the TransCanada of today. The only difference is that the company should be substantially larger, given that it's currently working on CA$68 billion ($49.9 billion) of growth projects, which have the potential to grow the company's asset base by 77%. That's assuming it completes all the projects in its backlog and doesn't add any new ones or make additional acquisitions. More importantly, that growth will likely create significant value for investors, given the company's history of delivering value-enhancing growth.
10 stocks we like better than TransCanadaWhen investing geniuses David and Tom Gardner have a stock tip, it can pay to listen. After all, the newsletter they have run for over a decade, Motley Fool Stock Advisor, has tripled the market.*
David and Tom just revealed what they believe are the 10 best stocks for investors to buy right now... and TransCanada wasn't one of them! That's right -- they think these 10 stocks are even better buys.
Click here to learn about these picks!
*Stock Advisor returns as of May 1, 2017
Matt DiLallo has no position in any stocks mentioned. The Motley Fool owns shares of and recommends Enbridge. The Motley Fool has a disclosure policy.