Where Will Qualcomm Inc. Be in 10 Years?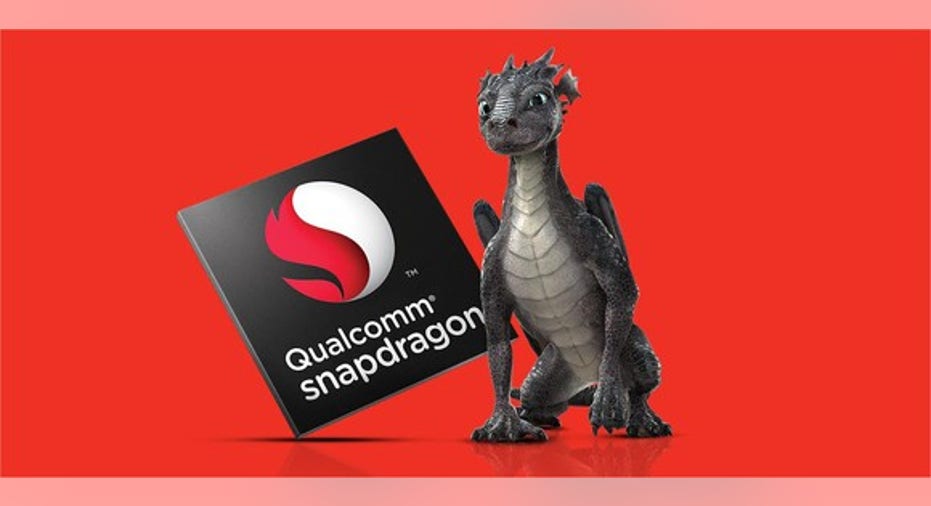 The last decade was a great one for Qualcomm (NASDAQ: QCOM), the largest mobile chipmaker in the world. Its mobile SoCs dominated the smartphone market and forced out rivals like Texas Instruments, Broadcom, and NVIDIA. Its massive patent portfolio bolstered its bottom line with high-margin royalties, which let it hike its dividend annually for 14 straight years.
But the next decade could be tougher for Qualcomm, which faces stiff competition in mobile chips and regulatory pressure to lower its royalty rates. Let's take a closer look at how Qualcomm is addressing these challenges with new strategies, and where they might take the chipmaker over the next 10 years.
Image source: Qualcomm.
Pivoting away from mobile devices
Qualcomm remains the 800-pound gorilla among mobile chipmakers, but it's been ceding market share to cheaper rivals like MediaTek and first-party chips from OEMs like Apple, Samsung, and Huawei.
Qualcomm's "best in breed" high-end Snapdragon chips are still used in many flagship Android devices, but it will likely keep losing market share due to the commoditization of the smartphone market and the growing importance of low-end and mid-range devices. To offset that slowdown, Qualcomm's QCT (chipmaking) division must diversify into adjacent markets.
The first major adjacent market is the Internet of Things (IoT), which connects wearables, home automation devices, drones, cars, and other gadgets to the internet. Cisco expects the number ofconnected devices worldwide to double from 25 billion in 2015 to 50 billion by 2020.
Qualcomm is acquiring companies to expand its IoT portfolio. It bought IoT and automotive chipmaker CSR for$2.4 billion in 2015, and plans to close its $47 billion purchase of automotive chipmaker NXP Semiconductors (NASDAQ: NXPI) later thisyear. It's also promoting customized Snapdragon chipsets and boards for specific devices -- like Snapdragon Wear for wearables, Snapdragon Automotive for connected cars, and Snapdragon Flight for drones. Rising sales of these new chips could offset declines in mobile devices over the next decade.
Declaring war on Intel
Qualcomm kept Intel (NASDAQ: INTC) out of the mobile market as it licensed ARM's low-power CPU architecture as Intel stubbornly tried to adapt its PC and data center-based x86 architecture for mobile devices. Intel's x86 mobile chips never measured up to ARM-based ones in terms of power efficiency, and OEMs stuck with Qualcomm or other ARM licensees.
But now Qualcomm is eyeing a big move into Intel's territory. Last December, Qualcomm andMicrosoft (NASDAQ: MSFT) announced that Windows 10 will fully support next-gen Snapdragon processors. Older apps developed forx86 processors will be usable via emulation, which represents a major threat to Intel's decades-long dominance of Windows PCs.
Qualcomm alsorecently started sampling its first 10nm server processor with 48 cores -- double the core count of Intel's 14nm E7 Broadwell processors. If Microsoft starts making Windows Server compatible with Qualcomm's chips, Intel could gradually lose its near-monopoly in theserver CPU market over the next few years.
Beefing up its patent portfolio
Qualcomm's QTL (patent licensing) unit, which generates the lion's share of its profits, takes a low single-digit cut of the wholesale price of every 3G/4G-enabled mobile device sold worldwide. That provided Qualcomm with stable bottom-line growth for years, but defiant regulators and OEMs are now protesting those royalties -- claiming that they make it nearly impossible to generate profits in the low-margin market of smartphones.
Qualcomm was forced to lower its cut in China after being hit bya $975 million fine in 2015, and was recently hit by a similar $850 million fine inSouth Korea. These pressures will likely persist with the commoditization of the smartphone market. The only way out for Qualcomm is to beef up its patent portfolio with additional technologies through R&D or acquisitions. Qualcomm hasalready added thousands of patents via acquisitions, and the purchases of CSR and NXP will let it generate more royalties from various IoT devices.
Where will Qualcomm be in 10 years?
Qualcomm's next decade won't be as smooth as its previous one. It will likely shed more market share in mobile chipsets, and its licensing business will be continuously targeted by regulators or smartphone makers.
But if Qualcomm's investments into adjacent markets pays off, it could steal market share from NVIDIA in connected cars, Ambarella in connected cameras and drones, and even Intel in PCs and data centers. If that happens, Qualcomm could become a much more diversified chipmaker over the next 10 years.
10 stocks we like better than Qualcomm When investing geniuses David and Tom Gardner have a stock tip, it can pay to listen. After all, the newsletter they have run for over a decade, Motley Fool Stock Advisor, has tripled the market.*
David and Tom just revealed what they believe are the 10 best stocks for investors to buy right now... and Qualcomm wasn't one of them! That's right -- they think these 10 stocks are even better buys.
Click here to learn about these picks!
*Stock Advisor returns as of January 4, 2017
Teresa Kersten is an employee of LinkedIn and is a member of The Motley Fool's Board of Directors. LinkedIn is owned by Microsoft. Leo Sun owns shares of Cisco Systems and Qualcomm. The Motley Fool owns shares of and recommends Ambarella, Apple, Nvidia, and Qualcomm. The Motley Fool has the following options: long January 2018 $90 calls on Apple and short January 2018 $95 calls on Apple. The Motley Fool recommends Broadcom, Cisco Systems, Intel, and NXP Semiconductors. The Motley Fool has a disclosure policy.