Where Will HCP, Inc. Be in 10 Years?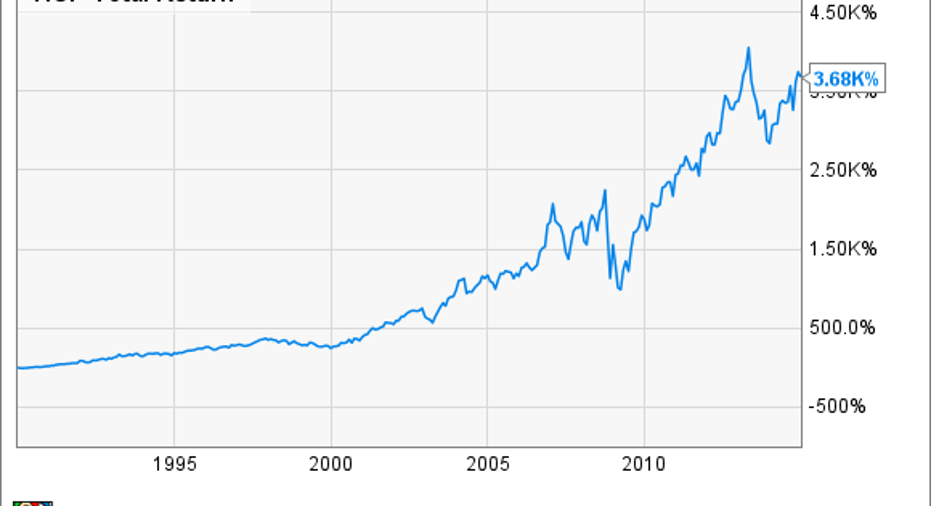 Healthcare REIT HCP, Inc. (NYSE: HCP) had an eventful 2016. The year started off quite turbulent, with dismal results from the company's HCR ManorCare properties leading to a surprise loss, but recovered nicely as the company decided to spin off those and other troubled assets. What could be in store for HCP investors in the coming decade?
Unfortunately, we don't have a crystal ball that can predict investment performance. However, we can use the information we know to get an idea of where HCP is headed. Image source: Getty Images.
Meet the new HCP
HCP underwent quite a transformation in 2016. After poor results from the company's HCR ManorCare portfolio, HCP's management decided that in order to be the type of healthcare REIT it needed to be, a change had to be made. Shortly after, HCP announced its intention to spin off these properties into a newly created REIT, Quality Care Properties (NYSE: QCP), or QCP, which was completed in late October.
Following the spin-off, HCP has 800 properties left in its portfolio, most of which are senior housing, medical offices, and life science properties; 94% of the assets are private-pay, as opposed to dependent on government reimbursements, which is critical for stability. The majority of the properties are leased to tenants through long-term "triple net" leases, which require tenants to pay property taxes, building insurance, and maintenance, thereby removing most of the unpredictable costs of owning properties.
In addition, since most of the proceeds from the spin-off transaction were used to pay down debt, HCP now has no significant debt maturities through the end of 2018 -- a major financial advantage.
HCP's plans for the coming years
In a nutshell, the idea is that by getting rid of the less stable assets, HCP's portfolio quality is instantly improved. Management is confident that it will regain its investment-grade credit rating (formerly Baa1/BBB+, currently Baa2/BBB), which should lead to cheaper borrowing costs and more financial flexibility to pursue opportunities as they arise.
Now that the spin-off is complete, HCP has set some ambitious goals that should help it achieve greater quality and stability.
HCP plans to reduce its debt-to-EBITDA ratio from about 6.5 to a range of 5.5-6.0, and plans to make progress toward this goal in 2017.
The company also plans to reduce its leverage ratio from 45% today to 43-44% in 2017, and to an eventual target of less than 40%. Also on the topic of leverage and debt, HCP aims to reduce its fixed-charge coverage from 3.75 times to less than 3.5 times.
Finally, HCP plans to reduce the portfolio's concentration in its largest tenants. The company is already taking a big step toward this goal, with a substantial reduction in Brookdale Senior Living properties planned for early 2017.
In addition, HCP plans to grow its portfolio holdings of its three core property types. The company plans to grow its existing relationships with tenants with tuck-in acquisitions, pursue development and redevelopment opportunities, and maintain a flexible and strong balance sheet at all times to capitalize on these types of opportunities as they come up.
What could go wrong?
Although HCP has done a great job of eliminating risky assets from its portfolio, that's not to say the stock is risk-free. There are several forces that could cause HCP to drop.
For example, interest rate risk is a big worry for REIT investors. In fact, speculation of rising interest rates is the primary reason most REITs (including HCP) performed poorly during the second half of 2016. When interest rates rise, dividend seekers demand higher yields from their investments, and the lower a stock's price gets, the higher its dividend yield. HCP has yielded more than 8% several times in its history, and it could do so again in a rising-rate environment.
In addition, rising interest rates would raise HCP's borrowing costs, which generally results in lower profit margins.
Of course, there's a big list of potential risk factors. One of HCP's tenants could go bankrupt and default on its lease obligations, for instance. Or demand for healthcare facilities could grow at a slower rate than experts are projecting.
However, any risk factors to HCP should be short-lived. The demographic trends clearly favor long-term growth in the healthcare industry, and as long as HCP remains disciplined in its growth strategy, there's no reason to believe it won't deliver strong returns over the long run.
If I had to put a number on it...
To be clear, nobody knows exactly where any stock will be trading tomorrow, so a 10-year prediction is unlikely to be accurate. There are simply too many dynamics that could influence the stock's price, and too many unknowns within the company's strategy over the next decade.
That said, I think now that the least stable assets are gone, HCP can get back to delivering consistently strong returns as it has throughout most of its history. During the period from 1990 to 2015, HCP produced annual total returns of 15.6% on average.
HCP Total Return Price data by YCharts.
Now, it may be a bit optimistic to expect that level of performance going forward, but it's certainly possible. My personal prediction for HCP for the next decade is annualized total returns in the 10%-12% range, but there are certain to be some shaky times along the way, especially if interest rates turn out to be more volatile than the market expects.
10 stocks we like better than HCP When investing geniuses David and Tom Gardner have a stock tip, it can pay to listen. After all, the newsletter they have run for over a decade, Motley Fool Stock Advisor, has tripled the market.*
David and Tom just revealed what they believe are the 10 best stocks for investors to buy right now... and HCP wasn't one of them! That's right -- they think these 10 stocks are even better buys.
Click here to learn about these picks!
*Stock Advisor returns as of Nov. 7, 2016
Matthew Frankel owns shares of HCP and Quality Care Properties, Inc. The Motley Fool has no position in any of the stocks mentioned. Try any of our Foolish newsletter services free for 30 days. We Fools may not all hold the same opinions, but we all believe that considering a diverse range of insights makes us better investors. The Motley Fool has a disclosure policy.