Where Will ConocoPhillips Be 1 Year From Now?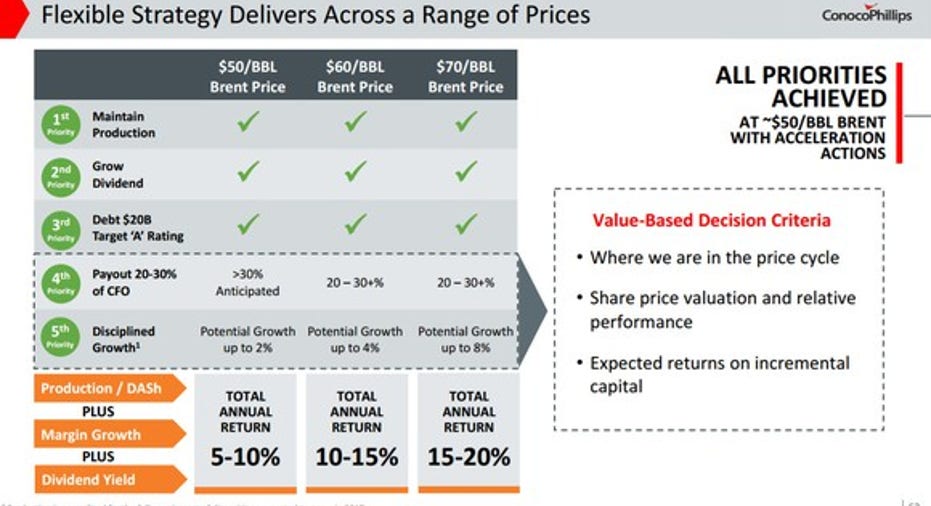 ConocoPhillips (NYSE: COP) has come a long way over the past few years. The most important part of that transformation has been the significant improvement in the company's cash flow breakeven level from above $75 oil to less than $50 oil. However, the company plans to work on further improvements over the next year that should make it an even stronger oil company one year from now. Here's a look at where the company plans to go from here.
Stepping away from the deepwater
In mid-2015, ConocoPhillips announced that it had decided to start reducing investments in deepwater exploration spending to lower costs and its risk profile. One of the driving factors of that decision was a string of expensive dry holes. Earlier in 2015, for example, the company noted that deepwater exploration wells in Angola and the Gulf of Mexico came up dry, costing the company $142 million in dry hole expenses. Meanwhile, last year an exploration well in the Canadian Atlantic came up dry.
Image source: ConocoPhillips.
Since that time, the company has slowly exited deepwater exploration. Not only has the company reduced exploration drilling, but it also recently sold its stake in exploration blocks offshore Senegal, which included two recent discoveries. However, the company still has work to do, including closing out exploration programs in the Gulf of Mexico and Canadian Atlantic. These closeouts could lead to several additional asset sales. In the Gulf of Mexico, for example, it holds a stake in the large Shenandoah discovery with Anadarko Petroleum (NYSE: APC), and it has a joint venture with BP (NYSE: BP) and Chevron (NYSE: CVX) to explore a vast area of the Gulf that includes two discoveries. The company also needs to decide what to do with its stake in an exploration joint venture in the Canadian Atlantic with Suncor (NYSE: SU) and Royal Dutch Shell (NYSE: RDS-A)(NYSE: RDS-B) that has already come up dry once. The future from these regions should not only bring in additional cash but also reduce future exploration capex requirements, which totaled about $600 million this year.
Getting less gassy
In addition to continuing to exit deepwater exploration, the other major transition for ConocoPhillips over the next year will be its portfolio in North America. The company said last year that it intends to sell between $5 billion and $8 billion of primarily North American natural gas assets. Among the assets reportedly on the auction block are the company's unutilized Kenai LNG export terminal in Alaska and some of its natural gas assets in Western Canada, which are said to be worth $2 billion. Meanwhile, the company has several gas assets in the U.S., including the San Juan Basin in New Mexico and Colorado, where it's the largest operator, as well as the Uinta Basin in Utah and the Wind River Basin in Wyoming.
These asset sales would do three things for the company. First, because these are underutilized assets, the market doesn't give the company much credit for them, so their sale should unlock shareholder value. Meanwhile, the cash infusion from these sales would provide the company with money to pay down debt and buy back stock. Finally, these divestitures would improve the company's margin, because conventional gas assets produce lower margin than the company's core liquids-focused assets do.
Image source: ConocoPhillips.
A lean, mean shale-focused machine
The company doesn't expect to get all that done in one year. However, with several assets currently on the block, it should make significant progress on its divestiture program over the next year. That will enable the company to start accelerating its value proposition by paying off debt, buying back stock, and investing in high-return shale wells.
Going forward, these last transitional steps will provide the company with even more flexibility, because it can focus future investments on flexible shale drilling. That will enable ConocoPhillips to offer investors a balance of growth and returns no matter what oil does in the future:
Source: ConocoPhillips investor presentation.
As that slide shows, at a minimum, the company intends to maintain production, grow the dividend, and pay down debt each year, while flexibly allocating any excess cash flow between share buybacks and growth-focused spending. As oil prices increase, it will have more capital to allocate to those two initiatives, with a focus on boosting the total annual return of shareholders over just growing output. In other words, if the company can get more bang for its buck via share buybacks, it would choose to allocate more capital in that direction.
The expectation is that by focusing on what drives returns, the company will create more value for investors over the long term.
10 stocks we like better than ConocoPhillipsWhen investing geniuses David and Tom Gardner have a stock tip, it can pay to listen. After all, the newsletter they have run for over a decade, Motley Fool Stock Advisor, has tripled the market.*
David and Tom just revealed what they believe are the 10 best stocks for investors to buy right now... and ConocoPhillips wasn't one of them! That's right -- they think these 10 stocks are even better buys.
Click here to learn about these picks!
*Stock Advisor returns as of February 6, 2017
Matt DiLallo owns shares of ConocoPhillips. The Motley Fool recommends Chevron. The Motley Fool has a disclosure policy.