Where Trump and Yellen Agree: How 'Disappointing' U.S. Growth Can Improve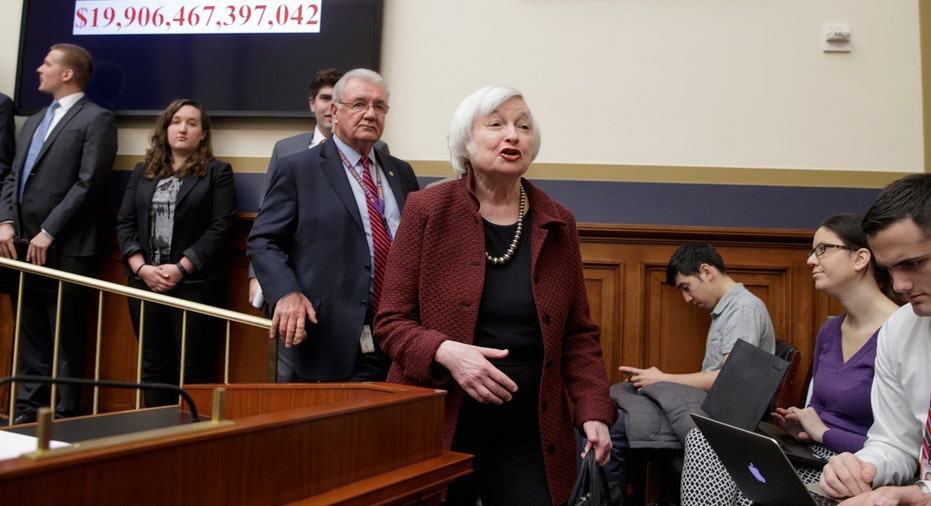 President Trump and Federal Reserve Chief Janet Yellen agree on at least one thing: the U.S. economy is growing, but not at a fast enough clip.
In her second day of testimony on Capitol Hill, Yellen told members of the House Financial Services Committee Wednesday that the central bank's crisis-era monetary policy efforts, which included unconventional bond-buying practices and keeping interest rates at rock-bottom levels, helped rescue the world's biggest economy from disaster, but she admitted the recovery hasn't found firm footing just yet.
"The economic growth performance has been quite disappointing," she told lawmakers. "Unemployment has come down substantially and we're quite close to achieving our labor market objectives, but slow productivity growth hasn't helped."
The economy expanded at a 1.9% annualized rate in the fourth quarter, according to figures released by the Commerce Department last month, a sharp slowdown from the 3.5% rate in the third quarter.
Yellen explained productivity growth, which has seen the slowest advancement in post-war U.S. history, has limited the ability for the economy and its workers to see meaningful wage and overall inflation growth. While earnings have grown for those at the top of the income distribution, wages for low and middle income workers have struggled to keep up with inflation.
In January, average hourly earnings rose just one-tenth of a percentage point, falling short of expectations. On a 12-month basis, wages grew 2.5% while the wage-growth rate for December was revised lower to 2.8% from 2.9%.
Investors have kept a laser focus on wage growth as an indicator of where the economy's overall inflation rate is headed. The Fed's preferred inflation gauge, core personal consumption expenditures, has remained stuck below the 2% target for a number of years.
But a fresh round of data released this week helped brighten the outlook. The consumer price index, which measures average prices consumers pay for certain items, jumped more than expected last month while retail sales rose more than anticipated. On Tuesday, a report from the Labor Department showed wholesale-level inflation saw the biggest gain in four years. While some of the gains in inflation are attributable to higher energy prices, core inflation is making some progress, said PNC Deputy Chief Economist Gus Faucher.
"Rising wages as the labor market tightens, a stabilization in commodity prices over the past year, and generally better economic conditions are leading businesses to raise prices. These factors are pushing inflation higher, outweighing the impact of a stronger dollar over the past few years," he said.
During her testimony, Yellen said even more can be done to help boost the lagging productivity growth, such as increasing investment in human and fiscal capital, public infrastructure and private ventures, which would help foster innovation, research and development, new business formation and a dynamic business climate.
Yellen and other central bankers have repeatedly said fostering economic growth is not just a mandate for the Federal Reserve, but an initiative Congress and the White House must also address.
It is another area where the Fed chief and president seem to see eye to eye as Trump has vowed to lower corporate and individual taxes – aimed at bringing more capital back from overseas and putting more spending money in the pockets of Americans – as well as lower the regulatory burden for businesses big and small, and invest in American infrastructure improvements as a way to help provide fiscal stimulus measures for the economy.