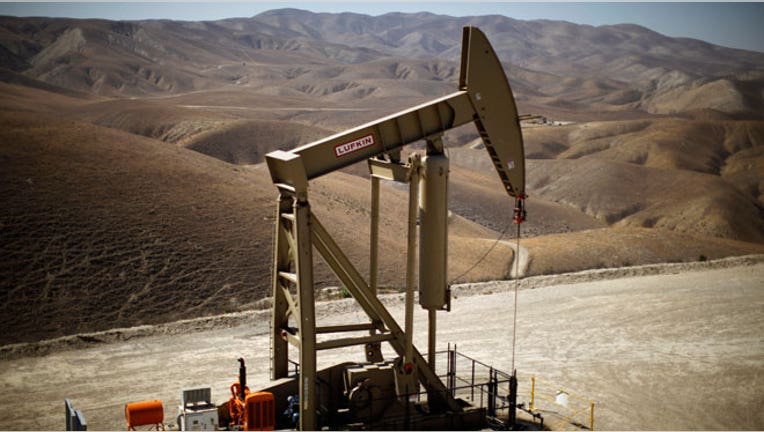 Oil prices tried to overcome a huge 7.1 million barrel increase in oil supply but could not in the face of another act of terror and fears of declining demand.
US oil production is showing no signs of slowing as production surged above 9 million barrel per day. This comes as refiners struggled as maintence and refining glitch's dropped refining runs to a disappointed low 86.7%. Still gas production increased to 9.3 million barrels a day which exceeded the four weak daily demand number of 8.8 million barrels a day which is 2% less than a year ago.
Still optimistic oil traders tried to bring the market back. They wiped out earlier losses and turned positive until the tragedy in Canada. Reports of an attack on the Parliament in Ottawa stymied a rally in the Canadian and US stock-market and a comeback in oil. A man gunned down a Canadian soldier at a National War Memorial in Ottawa was said to be a recent convert to Islam who had already been designated "high-risk" by Canadian authorities.  Prime Minister Stephen Harper said it best when he said that the country is no longer "immune to the kinds of terrorist attacks that we have seen around the world."
Yet overnight signs that stronger than anticipated data out of Europe and China is giving oil a chance to try to attempt another rally.  While the terrorist was said to have had "tangential links" to other radicalized individuals, the market seems to be guessing that he was really a lone wolf type. Now the focus is that maybe the market overestimated the slowdown in China as oil imports into china surged and their Purchasing Managers' Index showed a little better than expected 50.4 reading up from September's final reading of 50.2. The Eurozone also came in stronger as Markit's Composite Flash Purchasing Managers' Index, rose to 52.2 well above expectations.
Yet prices still show weakness so deflation is still in the background. With OPEC trying to bury US producers it will be dependent on the strength of the stock market for oil to overcome the overwhelmingly fundamentals.
The Price Links Video series gives insight across the financial spectrum.  https://www.youtube.com/playlist?list=PLDq9JQANqxRxCBaHqunzBT4Frxitjw-XV
Past results are not necessarily indicative of future results. Investing in futures can involve substantial risk of loss & is not suitable for everyone. Trading foreign exchange also involves a high degree of risk. The leverage created by trading on margin can work against you as well as for you, and losses can exceed your entire investment. Before opening an account and trading, you should seek advice from your advisors as appropriate to ensure that you understand the risks and can withstand the losses.
The information and data in this report were obtained from sources considered reliable. Their accuracy or completeness is not guaranteed and the giving of the same is not to be deemed as an offer or solicitation on our part with respect to the sale or purchase of any securities or futures. The Price Futures Group, its officers, directors, employees, and brokers may in the normal course of business have positions, which may or may not agree with the opinions expressed in this report. Any decision to purchase or sell as a result of the opinions expressed in this report will be the full responsibility of the person authorizing such transaction. Reproduction and/or distribution of any portion of this report are strictly prohibited without the written permission of the author. Trading in futures contracts, options on futures contracts, and forward contracts is not suitable for all investors and involves substantial risks.