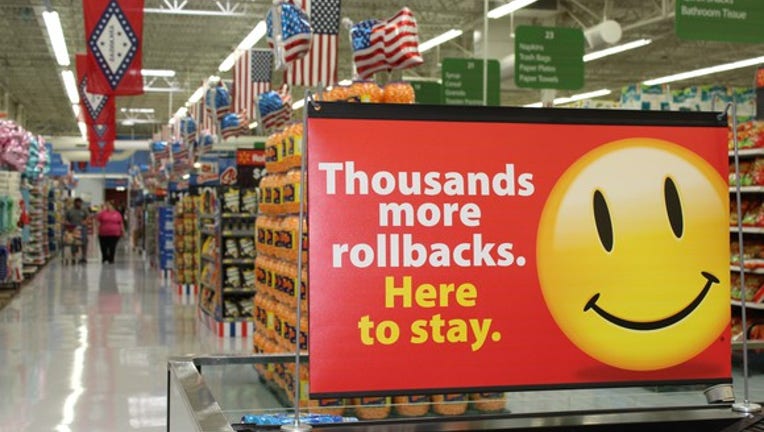 Wal-Mart (NYSE: WMT) shares rallied about 16% this year on the strength of its turnaround efforts, easily outperforming the Dow Jones U.S. Retail Index's 3% gain. But now that the stock is hovering in the $70s, investors might be wondering if the retail giant will split its stock soon. Let's look back at Wal-Mart's stock split history to see if that could happen in the coming year.
Image source: Wal-Mart.
Wal-Mart's stock split history
Wal-Mart went public in 1970 at $16.50 per share, and has split 11 times since then. If you had bought 100 shares of Wal-Mart for $1,650 back then, you would own 204,800 shares today -- which would be worth about $14.7 million.
Source: Wal-Mart.
If Wal-Mart had never split its stock, it would be trading at over $147,000 per share -- making it too hard for mainstream investors to purchase a single share.
Wal-Mart has only split its stock above the $70 level twice -- once in 1983 and again in 1999. This means that if Wal-Mart continues rallying, the stock might undergo another two-for-one split.
But stock splits don't matter that much
Stock splits make a stock look "cheaper," but its valuation doesn't change -- it simply cuts individual shares into smaller pieces which are presumably easier to buy in even lots. That might generate more trading volume from short-term traders, but it doesn't have a meaningful impact on its long-term growth.
Warren Buffett hated stock splits because he believed that they attracted short-term investors instead of long-term ones. That's whyBerkshire Hathawayhas never split its Class A shares, which cost over $248,000.
Wal-Mart's e-commerce rival Amazon trades at about $760 per share, but the stock hasn't been split since 1999. Yet Amazon's 1,800% return over the past decade has crushed Wal-Mart's 50% gain -- indicating that splits have very little to do with long-term price appreciation.
What Wal-Mart investors should be watching
Instead of focusing on stock splits, Wal-Mart investors should follow more meaningful developments, like the billions of dollars it's invested in wage hikes, better employee training, and e-commerce expansion. Reports indicate that those efforts are paying off -- analysts have praised its cleaner and more organized stores, employees are more satisfied with their career growth options, and customers are finally returning.
Wal-Mart is also countering Amazon with price-matching strategies, membership plans for free shipping, curbside pickup, and the expansion of its digital ecosystem with upgraded apps and its acquisition of e-commerce start-up Jet.com. It's also challengingthe growth of big dollar store chains like Dollar Tree (NASDAQ: DLTR) with more Neighborhood Markets.
Despite all that progress, Wal-Mart's growth remains sluggish. Analysts expect its sales to rise less than 1% this year, and for its earnings to fall 6% due to higher expenses. However, Wal-Mart trades at just 15 times earnings, which is lower than its industry average of 22, and its forward dividend yield of 2.8% is higher than the S&P 500's current yield of 2.1%. Investors should focus on these facts and figures -- not stock splits -- to gauge Wal-Mart's strength as a long-term investment.
The key takeaway
Investors should know that a low stock price doesn't make a stock "cheap." That can only be determined through key numbers like price-earnings and price-sales ratios. Therefore, if you didn't like Wal-Mart at $70, then don't buy it if a split reduces its price to $35. Likewise, if you think Wal-Mart is a great buy but only have enough to buy 50 shares, don't wait for it to split just so you can buy an even lot of 100 shares.
10 stocks we like better than Wal-Mart Stores When investing geniuses David and Tom Gardner have a stock tip, it can pay to listen. After all, the newsletter they have run for over a decade, Motley Fool Stock Advisor, has tripled the market.*
David and Tom just revealed what they believe are the 10 best stocks for investors to buy right now... and Wal-Mart Stores wasn't one of them! That's right -- they think these 10 stocks are even better buys.
Click here to learn about these picks!
*Stock Advisor returns as of Nov. 7, 2016
Leo Sun owns shares of Amazon.com. The Motley Fool owns shares of and recommends Amazon.com. Try any of our Foolish newsletter services free for 30 days. We Fools may not all hold the same opinions, but we all believe that considering a diverse range of insights makes us better investors. The Motley Fool has a disclosure policy.