When Will Netflix, Apple, and Disney Hit $100 Again?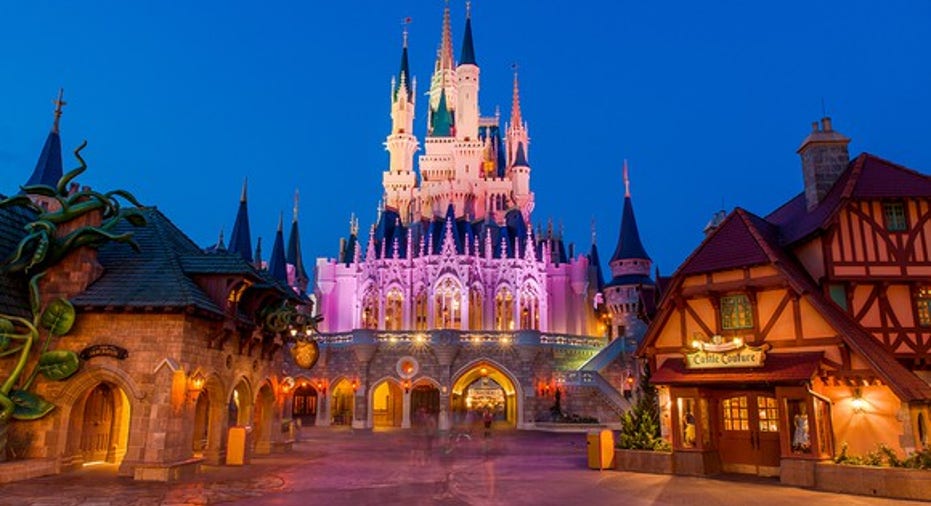 Image source: Disney.
What doNetflix, Apple , and Disney have in common? They were all trading north of $100 when the year began. Another thing they have in common is that all of them are now trading south of $100.
Each of these classic growth stocks has fallen on hard times. Netflix fell below $100 in April after posting mixed quarterly results. The dagger for the leading premium video-streaming platform was its lackluster guidance. Its call for 2.5 million net additions for the current quarter would be its weakest showing in two years.
Apple also buckled in April after its most recent quarterly report. Revenue dipped 13%, and it was Apple's first year-over-year decline in 13 years. Apple's top- and bottom-line results fell short of Wall Street expectations, also a rare sight for a former tech darling that used to routinely issue conservative guidance.
Disney also tumbled after a rare quarterly miss in early May. Things were rough all over. Operating income for its broadcasting segment declined. Ad revenue at ESPN and attendance at Disney World also slipped.
Getting back into the triple digits
All three stocks followed similar trajectories in 2016. They slipped below $100 early in the year as bearish market sentiment proved contagious through January and February. Netflix, Apple, and Disney then clawed their way back into the triple digits in March, only to fall back following disappointing quarterly reports.
They took far different paths in 2015. Netflix more than doubled, becoming the S&P 500's top performer in 2015. Apple declined, and it was the consumer tech behemoth's first annual dip since 2008. Disney posted modest growth. However, all three stocks find themselves trading in the mid- to high-$90s now. They will all probably find their way back to $100, but they will each take different paths to get there.
Netflix's secret weapon could be higher rates. It initially raised rates in May 2014, offering existing members the ability to keep paying the original rate for another two years. That window closed last month. Netflix didn't initiate the increases right away, but that could be the ticket to making slowing subscriber growth easier to stomach.
Apple is the only one of the three that's experiencing a decline in revenue. It also tried to stop the investor defections by returning more money to its stakeholders through stock buybacks and dividend increases. It isn't working. With iPad, iPod, and now even iPhone sales going the wrong way, it's going to have to innovate its way out of this predicament. Analysts are starting to downplay the prospects of the iPhone 7 and the next generation of the Apple Watch that will be out in the fall. An upside surprise on either front can turn its sluggish fortunes around.
Disney isn't hitting on all cylinders, but it's killing it at the box office. It's the studio behind three of the four highest-grossing films in back-to-back years. It has breathed new life into the Marvel and Lucasfilm catalogs it spent billions to acquire. Cord-cutting millennials may be kissing ESPN and Disney Channel goodbye, but content is king and Disney's top-notch vault will serve it well in this digital age. Broadcasting and theme parks are Disney's two largest segments, but strong content trickles down through most of its segments. Hollywood can get Disney stock back on track.
All three companies have the potential catalysts to become market darlings again. Now it's just a matter of seeing which ones click during the latter half of this year.
The article When Will Netflix, Apple, and Disney Hit $100 Again? originally appeared on Fool.com.
Rick Munarriz owns shares of Apple, Netflix, and Walt Disney. The Motley Fool owns shares of and recommends Apple, Netflix, and Walt Disney. The Motley Fool has the following options: long January 2018 $90 calls on Apple and short January 2018 $95 calls on Apple. Try any of our Foolish newsletter services free for 30 days. We Fools may not all hold the same opinions, but we all believe that considering a diverse range of insights makes us better investors. The Motley Fool has a disclosure policy.
Copyright 1995 - 2016 The Motley Fool, LLC. All rights reserved. The Motley Fool has a disclosure policy.