When Will ImmunoGen, Inc. Finally Start Making Money?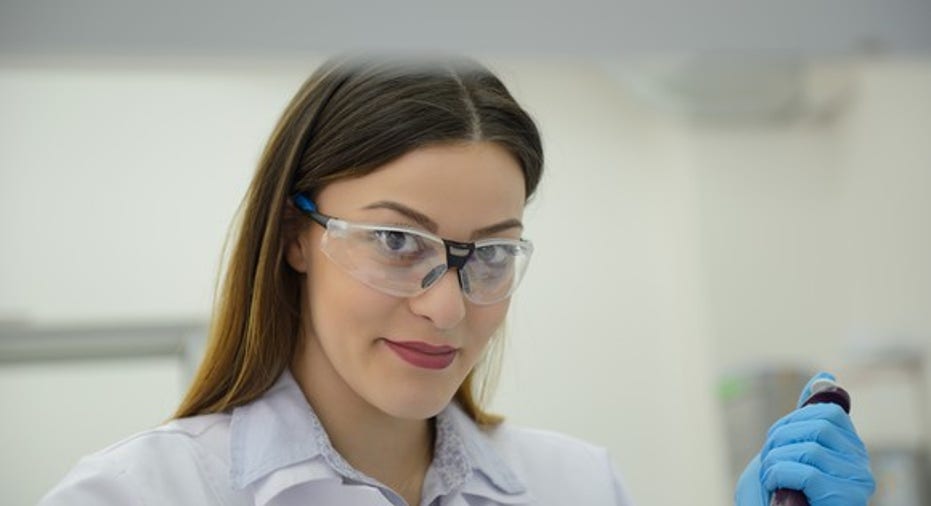 Years of losses are perfectly normal in the biotech industry, but ImmunoGen, Inc. (NASDAQ: IMGN) has taken the practice to an extreme. The company incorporated in 1981, but it's still bleeding money.
Patient shareholders will be happy to know Immunogen's fourth decade is shaping up to be the company's most successful so far. One of the biotech's cancer drugs earned an FDA green light several years ago, and it has another candidate getting close to the finish line.
Image source: Getty Images.
However, later stages of drug development tend to be the most costly. Immunogen's lead candidate, mirvetuximab soravtansine, is in a clinical trial designed to support a new drug application, and operating expenses are rising fast. With that in mind, investors are right to wonder when the company might start making money instead of losing it.
The Swiss connection
About 17 years ago, Immunogen forged a relationship with Roche that's had limited success. In a nutshell, Immunogen linked the Swiss pharma giant's breast cancer-fighting antibody, Herceptin, to a super-lethal dose of chemo. The resulting antibody drug conjugate, Kadcyla, binds to Herceptin's target on the surface of tumor cells before releasing its chemo bomb. In 2013, the FDA greenlighted Kadcyla for the treatment of breast cancer patients with disease progression following a round of treatment with Herceptin on its own.
Kadcyla generated about $837 million in sales for Roche last year. That's nothing to sneeze at, but it probably won't meet Roche's pre-launch expectations of more than $2 billion. Not long after its launch, Kadcyla failed to outperform Herceptin combined with standard chemo during a clinical trial with newly diagnosed patients.
The failure means Kadcyla will probably remain a second-line treatment, and Immunogen's royalty checks will be stretched awfully thin. The company racked up $66.6 million in research and development expenses during the second half of 2016 but reported just $12.9 million in royalty revenue during the same period.
Image source: Getty Images.
This one's a keeper
Immunogen has a handful of antibody drug conjugates (ADCs) in clinical-stage development that it still owns outright. In January, the company began a late-stage trial with its most advanced proprietary candidate, mirvetuximab soravtansine.
If successful, results from the trial will support a new drug application for the treatment of ovarian cancer patients who no longer respond to standard chemotherapy. This is a large population with a dearth of treatment options, and management's expectation of $1 billion or more in peak annual sales seems reasonable.
If successful, mirvetuximab soravtansine would become the first ADC to target folate receptor alpha, a protein often found in abundance on the surface of several types of tumor cells. If successful among ovarian cancer patients, expansion to other indications could be further ahead.
What to look for
Immunogen began dosing pivotal trial patients in January and expects results late next year that could send the stock soaring if they're positive. In the meantime, investors will want to look out for data from smaller studies testing mirvetuximab soravtansine in combination with a handful of available treatments, including Merck's Keytruda.
You'll also want to keep your eyes on the company's dwindling cash cushion. Immunogen finished 2016 with $160.0 million in cash and cash equivalents, which should be enough to keep the doors open into the first half of next year.
Even if all goes well, though, management doesn't expect to begin recording sales from mirvetuximab soravtansine until 2020 at the earliest. That means investors can expect another value-diluting share offering at least a year before it has a chance to generate some positive cash flow.
10 stocks we like better than ImmunoGenWhen investing geniuses David and Tom Gardner have a stock tip, it can pay to listen. After all, the newsletter they have run for over a decade, Motley Fool Stock Advisor, has tripled the market.*
David and Tom just revealed what they believe are the 10 best stocks for investors to buy right now... and ImmunoGen wasn't one of them! That's right -- they think these 10 stocks are even better buys.
Click here to learn about these picks!
*Stock Advisor returns as of April 3, 2017
Cory Renauer has no position in any stocks mentioned. The Motley Fool recommends ImmunoGen. The Motley Fool has a disclosure policy.