When Janet Yellen Speaks, Wall Street Listens (And Buys)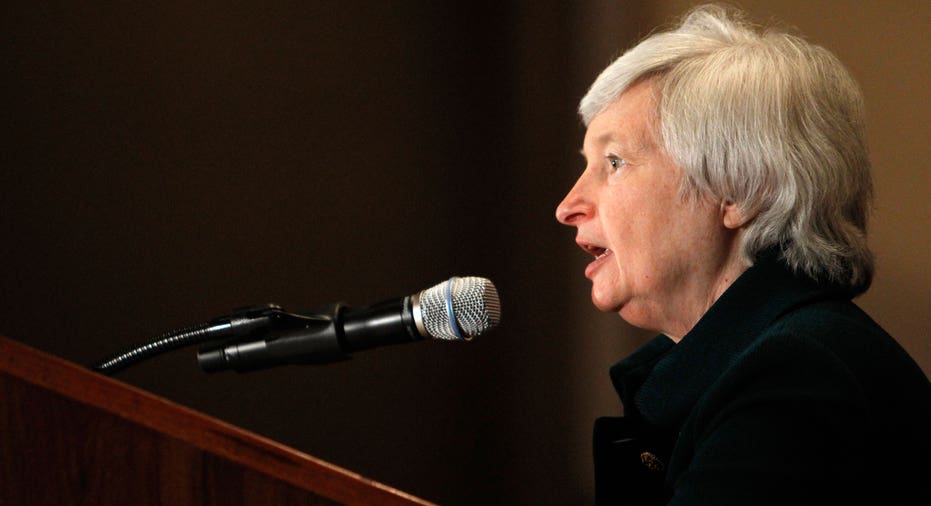 Forget the economic calendar and the earnings schedule. Traders debating when to dip into the equity markets need only check Janet Yellen's day planner.
That's because the equity markets have tended to display near euphoria when it's time for Fed chief Ben Bernanke's No. 2 to deliver a public speech.
In fact, the blue chips have surged by a combined 1,100 points in the sessions during or immediately after Yellen's past five speeches.
The emphatic responses on Wall Street, highlighted by Wednesday's 287-point leap, weren't based on Yellen's oratory skills nor do they appear to be coincidental. Each triple-digit rally was underpinned by hopes, supported by Yellen, that the Federal Reserve would deliver more easy-money juice to the equity markets.
"The marquee story when everything seems to be turning to slush is that the Fed will intervene and Janet Yellen has been the poster girl for holding that out as her preferred course," said Bruce McCain, who helps manage over $20 billion as chief investment strategist at KeyCorp.'s (NYSE:KEY) Key Private Bank.
Don't Short Yellen?
Yellen, who serves as the central bank's vice chair, delivered for the markets again this week as her speech Wednesday evening pledged the Fed would be there to help if the economy worsens.
"Let's remember to go long stocks just before her next speech."
"I am convinced that scope remains for the FOMC to provide further policy accommodation" if necessary, Yellen said.
Understandably, the markets interpreted this as a sign the Fed may be open to enacting a third-round of quantitative easing, prematurely dubbed by Wall Street QE3. While the merits of the first two iterations of this massive bond-buying exercise have been debated, it's clear they helped guide cash into riskier assets like equities.
Ahead of Yellen's dovish speech, the Dow Jones Industrial Average leaped 287 points on Wednesday -- its best day of the year -- and extended those gains on Thursday.
"Let's remember to go long stocks just before her next speech," Ed Yardeni, president of Yardeni Research, wrote in a note. "I've noticed a definite pattern where the market rallies on the days that she talks publicly."
Yellen's Midas Touch
Yardeni isn't kidding. Prior to this week, Yellen's last public speech was on April 11, according to the Fed's website. The day after the speech, in which Yellen made the case for keeping rates near zero until late 2014, the blue chips rallied 181 points, capping off their biggest two-day gain of the year at that point.
Market watchers attributed the impressive rally to dovish comments from Yellen and New York Fed President William Dudley.
Likewise, the Dow enjoyed an intraday triple-digit rally (but closed just 32 points higher) on November 29. Earlier that day Yellen delivered a speech saying, "the scope remains to provide additional accommodation," perhaps through more QE.
Yellen's Midas touch remained in place during her prior speech on November 11, which noted that "significant downside risks to the U.S. economic outlook" caused by Europe.
The blue chips surged 256 points that day as Yellen's prepared remarks percolated around the markets.
The pattern was similar earlier last year as another dovish speech by Yellen and a story in The Wall Street Journal about more simulative measures helped send the Dow roaring 267 points higher on October 21.
A Dow Jones Newswires item late that day gave credit to the buzz, saying, "The more likely fuel for today's fire are strong hints at QE3 coming out of the Fed."
Searching for Hope
To be sure, each of those rallies could be attributed to a slew of factors, some of which may not pertain directly to Yellen.
"Because there's such a lack of interest in equities around the world, people are grasping at anything," said Jason Weisberg, managing director at Seaport Securities.
Still, the timing does seem to point to the markets' intense focus on the potential for new stimulus and a recognition of Yellen's prominent role on the Fed.
"When the market is looking for encouragement the surest place to find that is to look to a speech from Janet Yellen," said McCain.
Yardeni listed Bernanke, Yellen and Dudley as the three "heavyweights" at the Fed. "This troika seems to set policy and have enough influence to push it through the FOMC on a regular basis," he wrote.
McCain wondered if Yellen's role as vice chair could be similar to that of the attack dog vice president during a political campaign. "When the Fed wants to offer some encouragement for the markets I wonder if they don't have some latitude to make sure Janet Yellen is on point," said McCain.
Focus on Fed Remains
All of this attention on Fed speeches underscores how even three years after the market bottomed, it still seem addicted to easy-money policies.
"Personally, it's very disappointing that it can't operate on its own and that people are hoping for help," said Weisberg.
McCain said this issue may point to some investors being too exposed to equities.
"Those who hang on every word from the Federal Reserve and hope from the QE3 program are probably more allocated than they should be for this tumultuous time," he said.
After all, even a vice chair of the Fed can't fix all that ails the economy.
"The bottom line is don't be short when Janet Yellen speaks, but she may not necessarily be a panacea for longer term investors," said McCain.