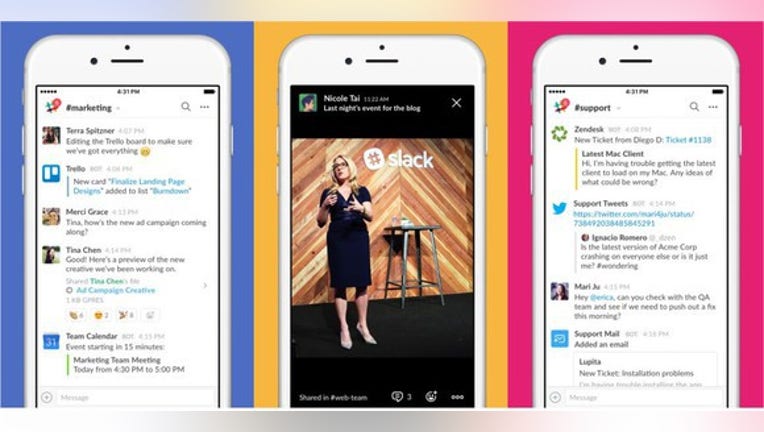 I recently discussed how business messaging start-up Slack , with a valuation of $3.8 billion, became more valuable than former enterprise leader BlackBerry . Slack only has about three million daily active users, but that figure has tripled since the beginning of 2016. Nearly a third of those users pay for its service, which could generate about $64 million in recurring revenue this year -- more than double the $30 million Slack expected to generate in 2015.
Slack's iOS app. Image source: iTunes
That triple-digit growth has created lots of buzz about Slack going public. Let's discuss what we know so far about the potential IPO, which investors would profit, and whether or not this would be a good stock to own.
Starting an "IPO readiness" program
Last November, Slack CEO Stewart Butterfield toldThe Australianthat his company had "started an internal campaign for IPO readiness" a few months prior. That campaign included its first external audit, new controls, and security practices. The company is also boosting its spending on data analysis and infrastructure.
Butterfield stated that "the absolute earliest that we could IPO, if everything came together right, would be 18 months from now." He noted that while investors look for "predictability" in public companies, Slack's rapid growth made it "impossible to predict" where it would be in six months time. He also stated that initiating an IPO readiness program "doesn't mean we intend, want, or need to go public anytime soon."
Meet the top investors
But if Slack eventually goes public, the deal could make its early investors a lot of money. Most of Slack's current backers areprivate venture capital firms like Accel, Andreessen Horowitz, and Social Capital -- which are off limits to mainstream investors.
But that list also includes Comcast Ventures, the cable and media giant's venture capital arm. Comcast Ventures participated in the round of funding earlier this year, which raised $200 million from six different investors. It's unclear how much money Comcast contributed, but it likely only accounts for a small percentage of Slack's $3.8 billion valuation.
Another company to watch is Microsoft , which reportedly wanted to buy Slack for $8 billion earlier this year but nixed that idea in favor of improving Skype as a communications tool. However, Microsoft recently unveiled a new venture arm called Microsoft Ventures, which will participate in "Series A and beyond" investments in North America and Israel. Microsoft might use that arm to invest in Slack without paying a hefty premium for the whole company.
Slack's Android app. Image source: Google Play
What if Slack went public?
If Slack went public today with a $3.8 billion valuation, it would be worth nearly 60 times its projected sales for 2016. Butterfield stated that Slack wasn't profitable last year and thatits losses totaled a "few hundred thousand dollars per month." With a nosebleed enterprise value-to-sales ratio and no profits, it would be hard to justify buying shares of Slack today.
That's why Butterfield doesn't think that Slack can go public until 2017. If Slack can keep growing sales at double or triple-digit rates, get spending under control, and stop raising more valuation-inflating capital, its financials could look much more reasonable when it finally launches its IPO.
But that's easier said than done. Slack's initial user growth looks impressive, but three million users is still a drop in the enterprise pond. Competitive threats like Facebookat Work and Microsoft's Yammer integration in Office 365 could eventually throttle Slack's overall growth. If Facebook, Microsoft, or other enterprise players start offering premium features comparable to Slack's for free, its core business model could crumble.
The bottom line
Slack is a hot unicorn start-up, but it's definitely not ready for an IPO. It must first demonstrate that its sales growth is sustainable, that it can generate profits, and that it can widen its moat against bigger challengers. If it prematurely begins the IPO process before achieving those goals, the stock could crash and burn overeager investors.
The article When Can I Invest in the Slack Technologies IPO? originally appeared on Fool.com.
Leo Sun has no position in any stocks mentioned. The Motley Fool owns shares of and recommends Facebook. The Motley Fool owns shares of Microsoft. Try any of our Foolish newsletter services free for 30 days. We Fools may not all hold the same opinions, but we all believe that considering a diverse range of insights makes us better investors. The Motley Fool has a disclosure policy.
Copyright 1995 - 2016 The Motley Fool, LLC. All rights reserved. The Motley Fool has a disclosure policy.