What's Next For Silver ETFs?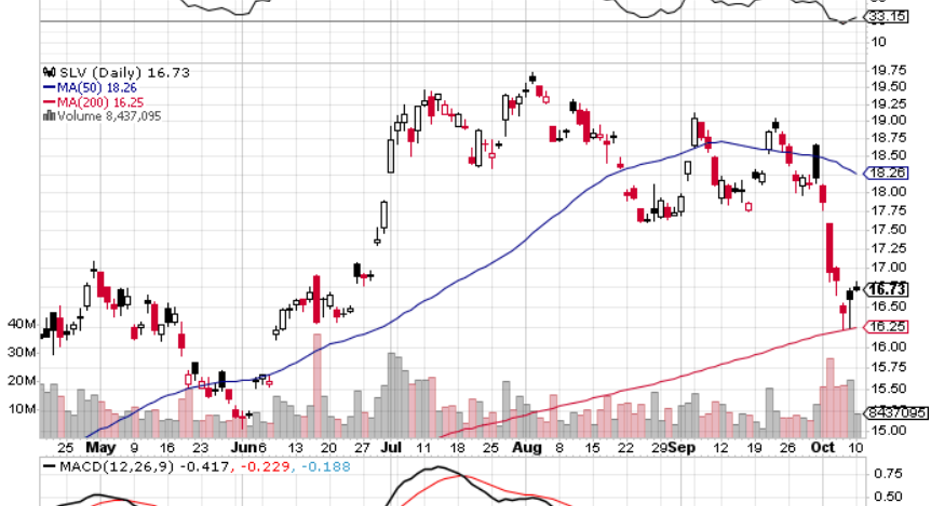 Through the first half of this year, the iShares Silver Trust (NYSEArca: SLV) and ETFS Physical Silver Shares (NYSEArca: SIVR) were easily two this year's best-performing commodities exchange traded products.
However, that has changed in dramatic fashion in recent weeks. Over the past month, SLV and SIVR are down about 7.6% and over the past quarter, the two silver ETFs have each tumbled more than 12%. Silver and other precious metals enjoyed safe-haven demand as the equities market plunged into a correction. The metal also maintained its momentum as the Federal Reserve lowered its interest rate outlook to only two hikes this year from a previously expected four rate hikes.
SEE MORE: Analysis – Silver ETFs Are Outshining Gold
The recent declines experienced by SLV and SIVR have the benchmark silver ETFs trading close to their 200-day moving averages, an area that is currently acting as support. Still, the technical outlook for these funds is currently tenuous.
"During trading last week, SLV broke through its uptrend line (near the 17 level). The momentum carried SLV as low as 16.24 before closing at 16.60," according to See It Market.
Industrial demand is seen as a catalyst for SLV, SIVR and silver prices.
Related: 11 Silver ETFs Outshining the Competition
Bolstering the appeal for silver, the precious metal enjoys heavy industrial demand that benefits from an expanding global economy. Over 50% of global demand for silver comes from industries like chemicals, medicine and technological appliances.
"This trend break doesn't necessarily mean the post-January uptrend is over. However, it signifies, at a minimum, a move to a lower trajectory of advance. Additionally, this break represents a loss of intermediate-term momentum that will likely require some more corrective action in terms of either price, time or both," adds See It Market.
Year-to-date, silver has mirrored the surge in gold in response to ongoing market volatility. Silver has exhibited a correlation of over 80% to gold and typically moves in the same direction as the yellow metal but in larger movements.
For more information on the silver market, visit our silver category.
iShares Silver Trust
The opinions and forecasts expressed herein are solely those of Tom Lydon, and may not actually come to pass. Information on this site should not be used or construed as an offer to sell, a solicitation of an offer to buy, or a recommendation for any product.
This article was provided by our partners at ETFTrends.