What's Next for bluebird bio?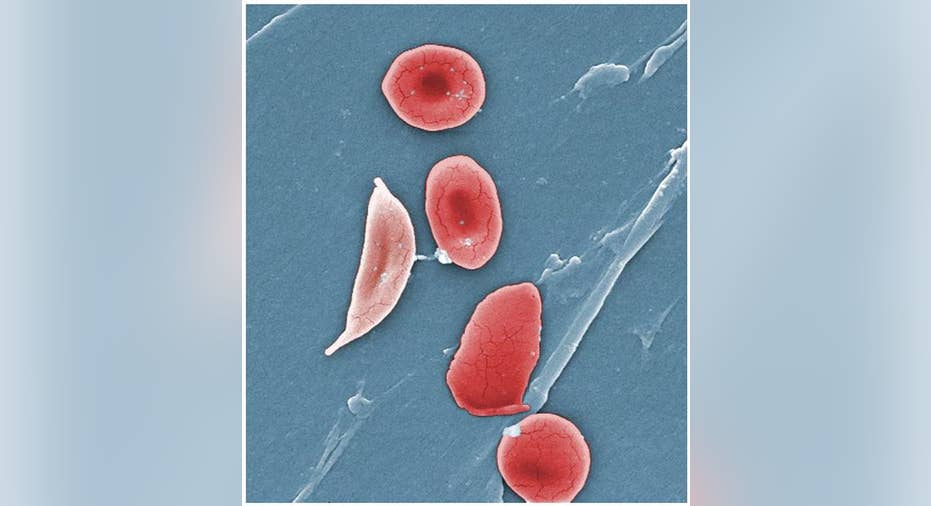 Shares ofbluebird bio have been on a rollercoaster ride during the past year, as management keeps dropping hints about its lead drug's effectiveness. Earlier this spring it seemed LentiGlobin BB035 was a miracle cure for rare blood disease beta-thalassemia, and the stock soared.
It turns out people with the most severe form of the disease aren't about to be totally cured by the experimental gene therapy. While that sounds like a minor issue considering the dearth of options available to these patients, expectations were extraordinarily high, and the stock suffered as a consequence.
With the stock beaten down to roughly two-times its book value, there might be an opportunity here for investors with a sense of adventure. Let's take a closer look at the latest update to the LentiGlobin program to see if the situation is as bad as the market suggests.
Unprecedented independenceIn the U.S., an estimated 1,000 beta-thalassemia major patientshave dysfunctional beta-globin genes that produce lousy versions of hemoglobin, the protein that ferries oxygen and carbon dioxide around the body. Sufferers require frequent blood transfusions. Those transfusions lead to problems of their own including iron overload which requires painful chelation treatment.
Image source: bluebird bio.
Bluebird bio's lead program, Lentiglobin BB035 is a gene therapy that involves removing blood stem cells from a patient, inserting functional beta-globin genes, then reinfusing the modified cells. An early look at an ongoing clinical trial this spring suggested it was as effective as it is complicated, with all patients treated remaining transfusion independent for months on end.
Double whammyThe most unfortunate beta-thalassemia patients inherit completely useless beta-globin genes from both parents, and they can be referred to as beta-zero. So far we have Lentiglobin data from four such patients. The cure-for-all party officially come to an end last month when an abstract submitted to ASH showed three of these four beta-zero patients still require transfusions, albeit far less often than they did ahead of treatment.
The important thing to point out here is that beta-zero is the rarest, most severe form of the disease. Although the patients did require transfusions, they are producing some functional hemoglobin.
Another critical point here is that all patients with more common forms of the disease achieved transfusion independence within a few months following treatment, and we still don't know how long the response lasts. We do know that it's highly durable, and still going strong nearly two years after treatment in one of the early patients.
Going forward, bluebird will design a pivotal trial for Lentiglobin BB035 with non-zero patients, then a separate trial for beta-zero patients. If the treatment can repeat what we've already seen in a larger population of non-zero patients, I'd say chances of approval are pretty good, given the lack of available options.
Beyond thalassemiaIf you're wondering how bluebird's market cap ballooned to more than $6 billion at one point for a drug with such a limited indication, it's because LentiGlobin BB035 isn't so limited. Similar to thalassemia, sickle cell disease is an inherited disorder resulting in lousy hemoglobin production that affects an estimated 95,000 Americans.Because LentiGlobin BB305 inserts functional hemoglobin genes, it can play a role here as well.
Image source: Wikimedia Commons.
So far Bluebird has treated four sickle cell patients with BB305, and three have enough time post-treatment to begin drawing conclusions. One patient treated nearly a year ago is still producing anti-sickling hemoglobin. While bluebird may be years away from a new drug application for LentiGlobin in sickle cell, this gives the company more than enough to confidently invest in a larger sickle cell trial.
What gives?LentiGlobin's inability to keep beta-zero patients entirely independent of transfusions might not seem like a big deal. However, it has big implications for the stock price for a couple reasons. First these have been extremely small trials, so any issues seen in these early stages are likely to be magnified in the larger population.
If eventually approved for genetic subsets of sickle cell and thalassemia, there's a chance the FDA will probably require some form of companion diagnostic that would severely cut into sales. Post approval, marketing struggles are the last thing you want to hear about with such a complicated treatment. Regulators might be amiable to therapies involving removal and reinfusion of cells such as LentiGlobin, but so far they have a terrible track record in the marketplace.
In the numbersThat said the risk-to-reward ratio for bluebird stock has shifted in favor of buyers now that its market cap is just $2.045 billion. In November, the company reported cash and other short-term assets worth about $713 million. With no long term debts the company's book value -- assets minus liabilities -- is about $890 million, or $24.46 per share.It's not impossible for a stock to trade below its reported book value, but it would be highly unlikely for bluebird to dip below these levels -- in the near-term you could consider this a safety net of sorts.
In a roundabout way the market is suggesting the LentiGlobin platform, and the rest of bluebird's pipeline, is worth less than $1.155 billion (which is market cap minus book value). That seems awfully low when you consider approvals for sickle cell, and beta-thalassemia might earn bluebird FDA priority review vouchers worth as much as $350 millioneach.
If you think Wall Street's expectations for bluebird bio are overly pessimistic, you're not alone.
The article What's Next for bluebird bio? originally appeared on Fool.com.
Cory Renauer has no position in any stocks mentioned. The Motley Fool recommends Bluebird Bio. Try any of our Foolish newsletter services free for 30 days. We Fools may not all hold the same opinions, but we all believe that considering a diverse range of insights makes us better investors. The Motley Fool has a disclosure policy.
Copyright 1995 - 2015 The Motley Fool, LLC. All rights reserved. The Motley Fool has a disclosure policy.