What's Got This Marijuana Stock Jumping Double-Digits Today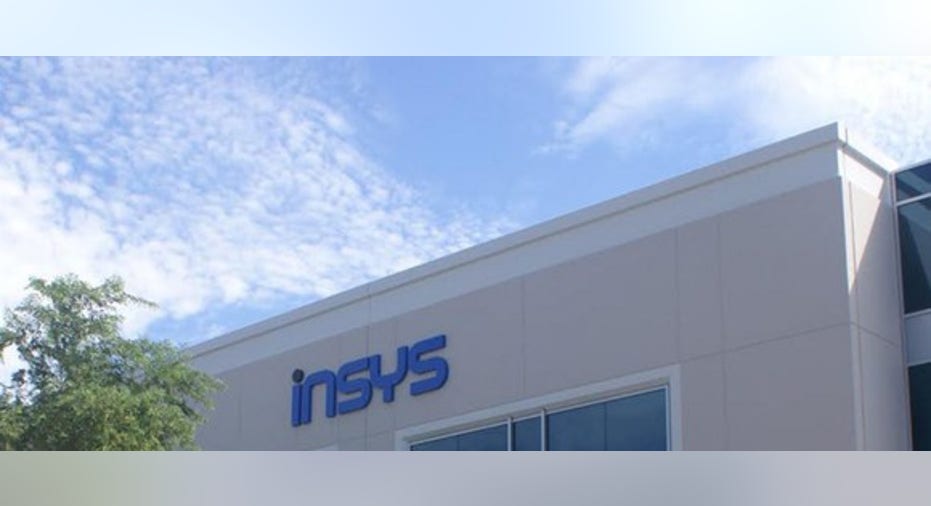 Image source: Insys Therapeutics.
What: After reporting that it has secured FDA approval for its alternative to Marinol, shares in Insys Theraepeutics were rallying more than 10% earlier today.
So what:The FDA gave a go-ahead to Insys Therapeutics Syndros today, clearing the way for the company to begin marketing it as a more flexible alternative to Marinol.
Marinol has been used to treat vomiting and nausea in cancer patients caused by chemotherapy, and to increase appetite in patients with AIDS since the 1980s. However, Marinol is only available in capsule form, and that makes altering dosage to each patient more difficult than it has to be.
Syndros is an oral formulation of dronabinol, the active ingredient in Marinol, and dronabinol is a pharmaceutical synthetic version of THC, the most common chemical cannabinoid found in marijuana. As an oral alternative to Marinol, Syndros is far more easily dose-adjusted for each individual patient.
Now what:Marinol lost its patent protection years ago, so the $150 million-plus market for Marinol is currently dominated by cheap generics. Syndros will be pricier than those generic alternatives, but Insys Therapeutics thinks its dosing advantage will win over the majority of market share.
If Insys Therapeutics is right, then sales could increase significantly next year. Currently, the company's only other product is Subsys, a fentanyl spray that's selling at an annualized $240 million clip.
Because Insys Therapeutics is already a profitable company (industry watchers went into today expecting the company to earn $0.87 in 2017), Syndros could provide a nice boost to the bottom line next year.
First, though, Insys Therapeutics will have to nail down Syndros scheduling by the DEA. Once scheduling is determined, then Insys Therapeutics will start targeting the thousands of doctors who currently prescribe Marinol to patients.
Overall, Syndros approval is a plus for investors, but the company's been plagued with allegations regarding improper off-label marketing of Subsys. Until those allegations are put to rest, this company's shares remain best suited for risk-tolerant investors only.
The article What's Got This Marijuana Stock Jumping Double-Digits Today originally appeared on Fool.com.
Todd Campbell owns shares of Insys Therapeutics.Todd owns E.B. Capital Markets, LLC. E.B. Capital's clients may have positions in the companies mentioned. Like this article? Follow him onTwitter where he goes by the handle@ebcapital to see more articles like this.The Motley Fool has no position in any of the stocks mentioned. Try any of our Foolish newsletter services free for 30 days. We Fools may not all hold the same opinions, but we all believe that considering a diverse range of insights makes us better investors. The Motley Fool has a disclosure policy.
Copyright 1995 - 2016 The Motley Fool, LLC. All rights reserved. The Motley Fool has a disclosure policy.