What's Good for PepsiCo Is Good for SodaStream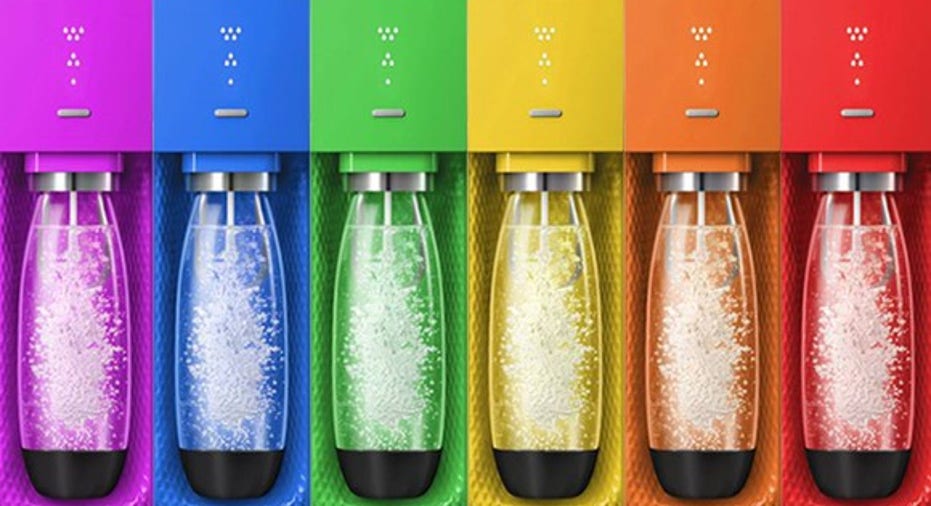 Image source: SodaStream.
There's been a little extra pop in the stocks of soft-drink makers these days. Shares ofPepsiCo hit an all-time high of $109 on Thursday following a well-received quarterly report. We also saw SodaStream International -- the company behind the namesake beverage maker that has taken shots at Coca-Cola and PepsiCo in earlier marketing campaigns -- hit a new 52-week high after moving 5% higher on Thursday.
SodaStream and PepsiCo actually went on to make nice with one another and while Pepsi didn't report anything specific about the Pepsi HomeMade flavor pods that work in SodaStream machines, there was good news for SodaStream in the Pepsi report.
Coca-Cola,which hung its hat on the now discontinued Keurig Kold platform, didn't move much on Thursday, but sits a good trading day or two away from revisiting April's all-time peak.
Following the fizz
There are plenty of moving parts to PepsiCo's model. Between bags of Frito-Lay potato chips and cartons of Quaker oatmeal, there are a lot of drivers that can make up for a shortfall on the soft-drink end of its business. However, organic volume for its beverage lines moved 2% higher on a global basis since the prior year. Productivity gains, lower raw material costs, and favorable settlements of promotional spending accruals helped push the segment's operating profit even higher.
A 2% uptick in global volume may not sound very exciting, but it is a positive showing at a time when soda consumption in the U.S. is at a 30-year low. Carbonated-soft-drink consumption in this country has fallen for 11 consecutive years, according to industry trackerBeverage Digest.
PepsiCo didn't mention SodaStream or its Pepsi HomeMade business during Thursday morning's earnings call. However, it did credit part of its success to the quarter's rollout of Aquafina Sparkling, a line of flavored sparkling water. It debuted as 12-ounce cans in three fruit flavors -- Black Cherry Dragonfruit, Lemon Lime, and Orange Grapefruit -- packing just 10 calories per serving.
SodaStream has been repositioning its beverage makers to cash in on the booming popularity of sparkling water. It's what the machines are mostly beingused for, particularly in Europe -- SodaStream's biggest market. It revealed during May's earnings call that 86% of the 375 million liters of its product consumed during this year's first quarter was plain sparkling water. If PepsiCo's Aquafina Sparkling continues to take off, it could draw even more customers to SodaStream's platform.
PepsiCo and SodaStream aren't about traditional soft drinks these days, and that's just fine for investors as they celebrate fresh stock highs at both companies.
The article What's Good for PepsiCo Is Good for SodaStream originally appeared on Fool.com.
Rick Munarriz owns shares of SodaStream. The Motley Fool owns shares of and recommends PepsiCo. The Motley Fool owns shares of SodaStream. The Motley Fool recommends Coca-Cola. Try any of our Foolish newsletter services free for 30 days. We Fools may not all hold the same opinions, but we all believe that considering a diverse range of insights makes us better investors. The Motley Fool has a disclosure policy.
Copyright 1995 - 2016 The Motley Fool, LLC. All rights reserved. The Motley Fool has a disclosure policy.