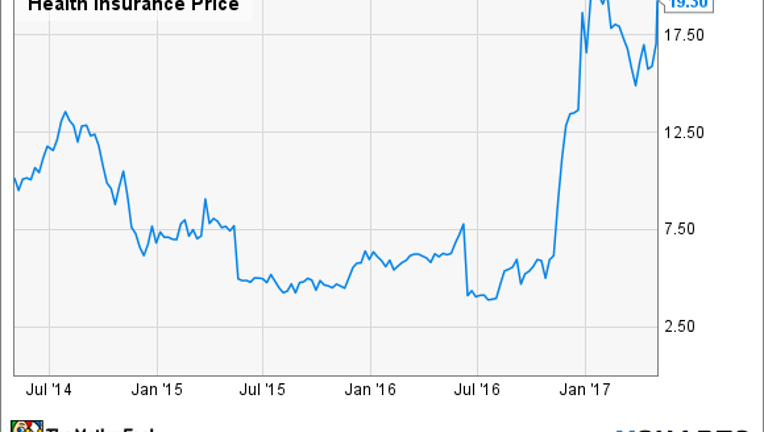 What happened
After the company reported better-than-expected first-quarter financials, shares of Health Insurance Innovations (NASDAQ: HIIQ) are jumping 12% at 1 p.m. EDT.
So what
Health Insurance Innovations is enjoying growing demand for its short-term health insurance and hospital indemnity plans.
IMAGE SOURCE: GETTY IMAGES.
In the first quarter, the company's revenue increased 31.5% year over year, to $55.9 million. Management also reported today that first-quarter earnings per share were $0.36, or $0.06 better than Wall Street watchers' were anticipating. The bottom line was up a whopping 112% from last year.
Record policies in force of 345,000 (up 34% from one year ago) have management increasing its full-year outlook, too. It now expects that full-year revenue will grow between 15% to 20% from 2016 to between $212 million and $222 million. If all goes as planned, the company expects that will translate into adjusted EPS of $1.40 to $1.50. Previously, guidance was for sales of up to $220 million, and EPS of up to $1.45.
Now what
Health Insurance Innovations shares are flirting with all-time highs, but an argument can be made that they're still worth buying.
Republicans haven't given up on hopes to reform health insurance, and depending on what shape reform takes, it's conceivable that it willboost demand for short-term insurance solutions. Even if repeal doesn't happen, this success shows the company can grow nicely.
A valuation argument can also be made for buying shares. The company's trading at about 11.5 times next year's estimates, and those estimates could be heading higher following the company's new guidance and strong first-quarter results.
10 stocks we like better than Health Insurance InnovationsWhen investing geniuses David and Tom Gardner have a stock tip, it can pay to listen. After all, the newsletter they have run for over a decade, Motley Fool Stock Advisor, has tripled the market.*
David and Tom just revealed what they believe are the 10 best stocks for investors to buy right now... and Health Insurance Innovations wasn't one of them! That's right -- they think these 10 stocks are even better buys.
Click here to learn about these picks!
*Stock Advisor returns as of May 1, 2017
Todd Campbell has no position in any stocks mentioned.His clients may have positions in the companies mentioned.The Motley Fool has no position in any of the stocks mentioned. The Motley Fool has a disclosure policy.