What's Behind Castlight Health Rallying 13.2% Today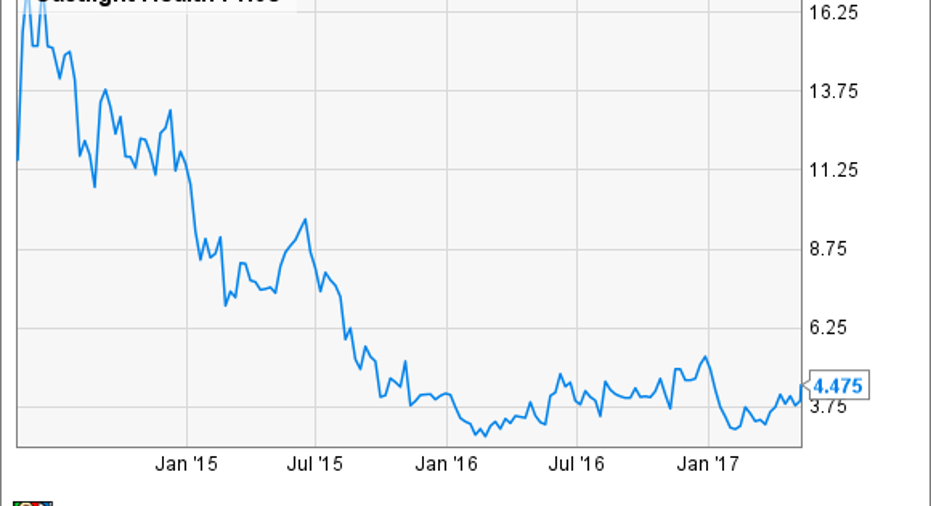 What happened
Castlight Health (NYSE: CSLT)share price climbed 13.2% Wednesday after an SEC filing revealed that Maverick Capital had significantly boosted its stake in the company to 10.6%.
So what
At the end of 2016, Maverick Capital owned 1.19 million shares of Castlight Health; according to Wednesday's filing with the SEC, it now owns over 8.9 million shares, or about 10.6% of the company.
IMAGE SOURCE: GETTY IMAGES.
The news follows Castlight Health's first-quarter earnings report last month, which showed sales of $27.75 million, up 22% from a year before, and a loss of $0.05 per share that was better than the loss of $0.13 per share reported in Q1 2016.
The company expects to reportGAAP revenue between $132 million to $136 million dollars and a non-GAAP loss of between $0.24 to $0.28 per share for 2017.
Now what
The past few years have been a tough period to be a shareholder in Castlight Health, but Maverick obviously thinks that the company's on the right track to growing its business.
The healthcare data analytics company uses information provided by insurers to create healthcare recommendations for patients; the money-saving potential of its services is attractive to both insurers and self-insuring employers hoping to lower their healthcare costs.
Certainly, the prospect of lowering healthcare expenses by providing patients with greater transparency into healthcare prices is an appealing approach, but only time will tell if it can win over enough clients for Castlight to turn a profit, and for Maverick Capital to be rewarded for being a buyer.
10 stocks we like better than Castlight HealthWhen investing geniuses David and Tom Gardner have a stock tip, it can pay to listen. After all, the newsletter they have run for over a decade, Motley Fool Stock Advisor, has tripled the market.*
David and Tom just revealed what they believe are the 10 best stocks for investors to buy right now... and Castlight Health wasn't one of them! That's right -- they think these 10 stocks are even better buys.
Click here to learn about these picks!
*Stock Advisor returns as of May 1, 2017
Todd Campbell has no position in any stocks mentioned.His clients may have positions in the companies mentioned.The Motley Fool has no position in any of the stocks mentioned. The Motley Fool has a disclosure policy.