What You Need To Know About Investing In Marijuana Stocks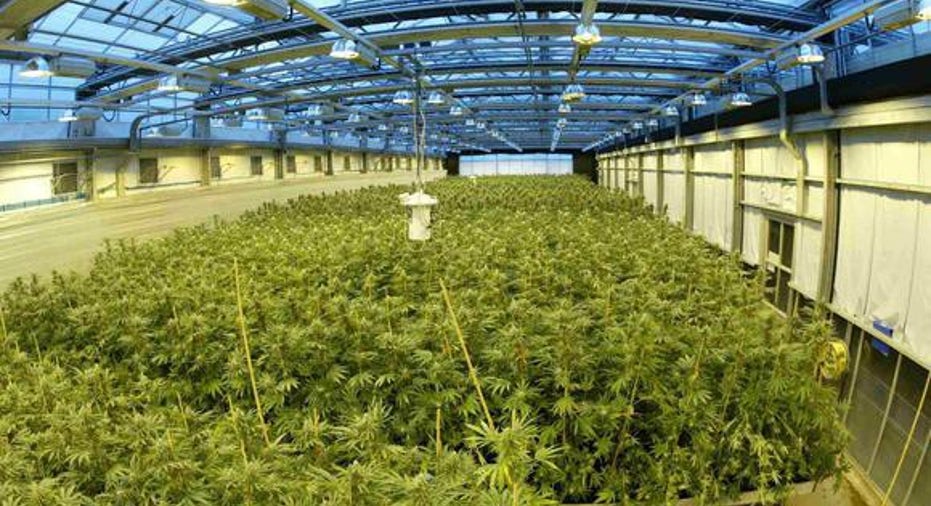 Image source: Flickr user Brett Levin
Marijuana momentum is building into the November elections and that might have you considering investing in marijuana stocks. The market for marijuana stocks could expand significantly in the coming years, but before buying, it may help to educate yourself a bit about the market's potential and the risks that are associated with investing in marijuana stocks.
Why invest in marijuana stocks?
You may already have some reasons for wanting to invest in marijuana stocks, but as a refresher, here are some big reasons why investors are warming up to the marijuana market.
4 states have approved recreational marijuana laws.
24 states have approved medical marijuana laws.
The legal marijuana market grew 17% in 2015 to $5.4 billion, according to ArcView Market Research.
ArcView estimates the market will grow another 25% in 2016 to $6.7 billion.
After recreational marijuana laws passed in 2012, Colorado's marijuana sales have already hit $1 billion per year.
And, research into marijuana based medicine suggests it could offer new hope to people suffering from devastating diseases, such as epilepsy.
The marijuana market is expanding quickly as states pass pro pot legislation. But sales of marijuana could really take off if voters give marijuana proposals an OK in heavily populated states like California. California was at the forefront of the medical marijuana movement in the mid 90s and as many as 1,000 medical marijuana dispensaries already operate there.
California's dispensaries could get much busier if the Adult Use of Marijuana Act appears on California's ballot in November.The Adult Use of Marijuana Act institutes a 15% excise tax on retail sales of marijuana and allows people to possess up to one ounce of marijuana and six marijuana plants. If voters agree, then businesses already operating medical marijuana dispensaries would get preference for recreational marijuana licenses, and revenue that's generated from marijuana taxes and fees will be used to support the state's social programs.
This proposal is similar to proposals that have passed in other states, like Colorado, but it's anyone's guess whether Californians will vote in favor of it later this year. However, a poll conducted by the Associated Press-NORC Center for Public Affairs Research earlier this year found that 61% of Americans support legalizing marijuana. That's the highest level of support for legalization on record, so it wouldn't be too surprising if pro pot laws pass in California, and elsewhere. If so, then sales of cannabis are likely to accelerate.
Beware of marijuana stock manipulators
As convincing as marijuana's market opportunity appears to be, investors need to be careful.
Currently, most marijuana stocks trade over-the-counter (OTC) and that's akin to Wall Street's Wild Wild West. Companies offering stock this way often do so because they can't meet the stringent financial and reporting requirements of major stock exchanges, including the New York Stock Exchange and the NASDAQ Exchange. As a result, OTC markets are rife with unscrupulous stock promoters attempting to separate investors from their money.
Unfortunately, many investors have already felt the sting of these pump-and-dump marijuana stock promoters. After recreational marijuana laws passed in Colorado, promoters fueled stratospheric gains in marijuana stocks. However,Securities and Exchange Commission (SEC) investigations into securities fraud has resulted inmost of these marijuana stocks losing almost all their value since then.
How can you make sure that you don't fall victim to stock manipulators? The Financial Industry Regulatory Authority offers these tips:
Ask "Why me?" If you're hearing of a great marijuana stock out of the blue, it could be because you're the target of a paid promoter.
Consider the source. Be very skeptical of unknown companies that are continuously tooting their own horn. They may be trying to paint a rosier picture of their prospects than they should be.
Do your research. Never invest without spending a considerable amount of time considering the pros and cons.
Embrace auditors. SEC financial filings by companies offer a treasure trove of insight, but that insight only matters if it's been independently audited by accountants. Before buying any marijuana stock, make sure a top shelf accounting firm has signed off on the documents.
Avoid name changes. One company changed its name four times in ten years and another company went from selling coffee to marijuana overnight. These are both examples of red flags that may be signaling a bad marijuana investment.
Focus on quality
Avoiding unproven OTC stocks is a good way to reduce risk, but doing so means that investors aren't left with many marijuana stocks to consider. Among those marijuana companies that investors might want on their radar are GW Pharmaceuticals and Insys Therapeutics , two companies that are developing marijuana-based medicines.
Both GW Pharma and Insys Therapeutics have money in the bank and research programs that hold up under scrutiny.
GW Pharma has $277 million in cash on its books and it's using that money to fund a slate of marijuana trials that are evaluating the ability of cannabinoids to treat disease, including epilepsy. Last quarter, GW Pharma spent $37 million on research and although a study of its THC drug Sativex in cancer pain failed to pan out last year, management reported earlier this year that epilepsy patients who took its purified CBD liquid, Epidiolex, experienced 39% fewer seizures per month than they were experiencing previously.
Meanwhile, Insys Therapeutics opioid pain-killer Subsys is already generating revenue at a $240 million annualized clip, and the company's revenue could be heading higher if the FDA OK's its reformulation of the long-standing marijuana-based medicine, Marinol. Insys Therapeutics believes its Marinol reformulation, which would be sold under the brand name Syndros, can more effectively help treat patients suffering from nausea that is caused by chemotherapy. If approved, Syndros would also be used to restore appetite in AIDS patients. Earlier this year, Insys Therapeutics said it thinks Syndros could eventually generate peak annual sales of $200 million if it gets approved on July 1.
Image source: GW Pharmaceuticals
Looking ahead
Despite the opportunities ahead for these companies, they're both still very risky. GW Pharma's got a series of epilepsy trials ongoing, and there's no guarantee that those trials will confirm its prior positive studies. Even if they do confirm them, there's still a chance that the FDA rejects Epidiolex.
Insys Therapeutics isn't in the clear either. It's CEO stepped down last year amid scrutiny tied to off-label promotion of Subsys, and the FDA has already delayed a decision on Syndros twice. In 2015, the FDA returned Syndros' application to the company for more insight into Sydros impact on children and in March, the FDA delayed its decision date by 3-months so that it could review additional material that had been supplied to it by Insys Therapeutics.
Overall, there's bound to be plenty of losing investments in the marijuana marketplace over the coming years and that means investors need to consider their options carefully. The risks associated with these stocks mean they're best suited only for the most aggressive investors. Other investors could be better off taking a wait-and-see approach to the industry. After all, there are plenty of other exciting investments that may be less risky to consider.
The article What You Need To Know About Investing In Marijuana Stocks originally appeared on Fool.com.
Todd Campbell owns shares of INSYS THERAPEUTICS INC.Todd owns E.B. Capital Markets, LLC. E.B. Capital's clients may have positions in the companies mentioned. Like this article? Follow him onTwitter where he goes by the handle@ebcapitalto see more articles like this.The Motley Fool has no position in any of the stocks mentioned. Try any of our Foolish newsletter services free for 30 days. We Fools may not all hold the same opinions, but we all believe that considering a diverse range of insights makes us better investors. The Motley Fool has a disclosure policy.
Copyright 1995 - 2016 The Motley Fool, LLC. All rights reserved. The Motley Fool has a disclosure policy.