What You Need to Know About GE's Alstom Deal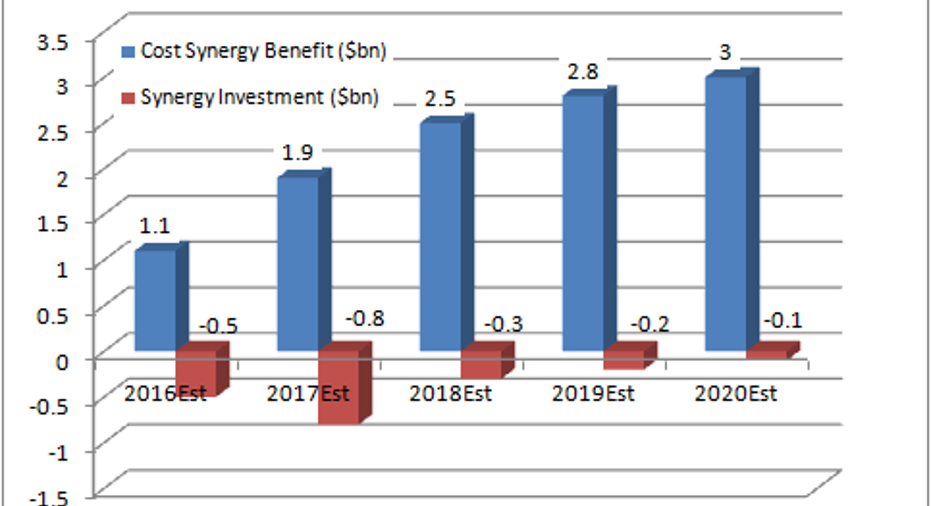 General Electric Company recently updated investors on its acquisition of Alstom's power and grid assets.The deal is an integral part of the company's refocusing on its industrial businesses, and management outlined a number of initiatives that strengthen the case for buying the stock. It's been thought of as a play on cost-cutting, but management outlined a number of growth initiatives as well. Let's take a closer look.
Headline numbers The delay in completing the deal has had both good and bad effects:
The original price net of cash was $13.5 billion, but it's now reduced to $10.3 billion, partly because of favorable currency movement of $2.5 billion.
Guidance was for a $0.01 to $0.02 reduction in EPS in 2015, because of accounting items and deal costs related to the Alstom acquisition.
Management discussed how the delay had negatively affected Alstom's underlying operations.
There is a slight reduction in expectations for the contribution to 2016 EPS. However, the expected $3 billion in annual cost synergies by 2020 is still in place, and the forecast for EPS accretion for 2018 remains the same.
DATA SOURCE: GENERAL ELECTRIC COMPANY PRESENTATIONS.
The following is a graphical interpretation of how the $3 billion in cost savings will be achieved, including figures for synergy investments.
DATA SOURCE: GENERAL ELECTRIC PRESENTATIONS.
Strategic fit, growth synergy But enough about cost synergy: What about growth synergy? It's easy to think of the deal as merely an attempt to consolidate a slow-growing industry suffering from overcapacity -- a fine activity in itself -- but it also creates growth opportunities for General Electric to grow, and to grow using strategies integral to its future.
This approach works in three ways: first, by refocusing on industrial business, in this case with the expansion in sales of its new H-class turbines; second, by expanding its higher-margin services offering; and third, by increasing long-term value in its business through the industrial Internet.
During the course of the presentation, management discussed various ways to achieve these goals:
Alstom will add 50% to General Electric's installed base in terms of power, and 60% in terms of units, meaning that GE can immediately expand its services offerings.
Alstom's installed base can be digitalized through GE's industrial Internet solutions, adding monitoring and diagnostics capabilities and helping to add value.
Management discussed creating the capability to service the equipment of other manufacturers -- such as Siemens and Mitsubishi -- thanks to the technology collaboration with Alstom. This initiative is viewed as being a $100 million revenue opportunity by 2020.
Alstom's leadership in steam power will allow GE to improve its combined-cycle (steam and gas power) plant offerings and create cross-selling opportunities.
The company claims that its new HA turbine (a larger power turbine) already has 40% of its marketplace and claims multiple synergy opportunities with Alstom's solutions.
Ultimately, management quantified its growth synergy opportunity at around $600 million by 2020, but this figure might change in the future if the company extends leadership in gas turbines or increases the value add in its industrial Internet solutions.
The takeawayIt was a positive update for investors, and management confirmed that "growth opportunities" are "better than the original outlook." Meanwhile, the annualized cost synergy of $3 billion remains the target for 2020. The integration remains on track.
All told, it's good news, as integrating Alstom is a major part of the investment case for buying General Electric. It gives the stock upside from internal execution as much as from profiting from end markets. That's a good quality to have in a slow-growing economy, and one that gives the stock the opportunity to continue to outperform its sector.
The article What You Need to Know About GE's Alstom Deal originally appeared on Fool.com.
Lee Samaha has no position in any stocks mentioned. The Motley Fool owns shares of General Electric Company. Try any of our Foolish newsletter services free for 30 days. We Fools may not all hold the same opinions, but we all believe that considering a diverse range of insights makes us better investors. The Motley Fool has a disclosure policy.
Copyright 1995 - 2015 The Motley Fool, LLC. All rights reserved. The Motley Fool has a disclosure policy.