What You Need to Know About Caesars Entertainment's Lawsuit Now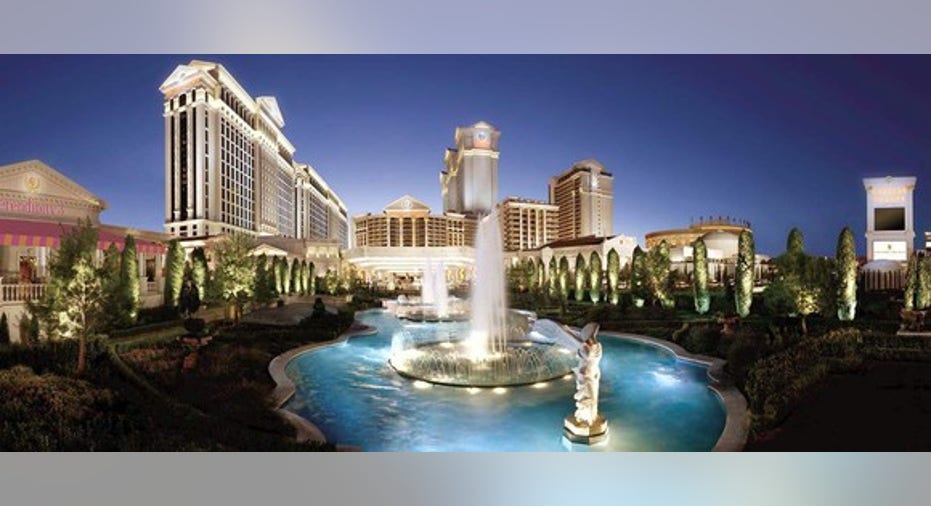 Caesars Palace in Las Vegas, one of Caesars Entertainment's flagship properties. Image source: Caesars.com.
The drama surroundingCaesars Entertainment and its legal battle with bondholders continues to evolve. Even though the presiding judge recently gave Caesars a trial extension to continue negotiations, it looks as if the end of this expensive game could be coming soon.
The result could mean a bankruptcy filing for Caesars Entertainment, but if it doesn't, Caesars could be in a great place to unload most of its liabilities and get back on track. Or competitors could pick up some great properties if it's forced to sell them. Either way, it could be an interesting opportunity for investors.
How did Caesars get into this debt crisis?
In 2008,two investment firms bought what was then called Harrah's in a leveraged buyout that ballooned the now-private company's debt to nearly $24 billion. That buyout took place right before the 2008 financial crash, which left Harrah's with a debt-heavy balance sheet and poor prospects moving forward during the recession that followed.
The company assumed the name Caesars Entertainment Corp. in 2010 and underwent an IPO in February 2012. Its fate didn't improve much after going public, though, as it posted net losses of $2.9 billion in 2013 and $2.7 billion in 2014, with over $28 billion in total liabilities. Management started to warn of financial trouble in late 2014, and in January 2015, it put its largest subsidiary,Caesars Entertainment Operating Co., into bankruptcy.
Good Caesars, Bad Caesars
Caesars slowly started shuffling assets and liabilities around its various subsidiaries starting in 2013, moving many of the less desirable liabilities to its subsidiaryCaesars Entertainment Operating Co. (CEOC) while transferring more valuable and quality assets, such as the successful online gambling segment, to other subsidiaries. Once that started happening, the writing was on the wall for a coming bankruptcy filing for CEOC, which then contained many of the worst parts of the company, as well as much of its debt.
After putting CEOC into an $18.4 billion Chapter 11 bankruptcy protection -- effectively seeking to remove parent-company liability to many debtholders, which at this point were mostly large and powerful hedge funds -- those adversely affected by the move began aggressively fighting the actions in court. The plaintiffs said Caesars' asset-shuffling created a good Caesars that the company would keep and a bad Caesars that it would let go bankrupt.
In March of this year, a bankruptcy-court-ordered investigation ended with scathing remarks about Caesars' actions. Not only did the report claim that the bondholders were in fact harmed by Caesars' actions and were probably owed more than what the bankruptcy court initially claimed, but it also unearthed some unsavory actions from people overseeing the CEOC actions, such as text messages where senior leaders essentially called CEOC worthless while publicly touting a potential IPO.
Where things stand now
Former judge Joseph J. Farnan Jr. has come on as a mediator to help navigate negotiations with Caesars and its bondholders. In its latest effort toward settlement, Caesars offered $4 billion in a structured deal that would pay back senior lenders and senior bondholders first, and junior bondholders with what was left over.Those talks seemed to have broken down as of June 6, when The Wall Street Journal [subscription required] reported Farnan saying, "I believe that there is currently no likelihood of material progress in the discussions between the [Caesars] parties and the noteholder committee."
The trial was supposed to begin in late June. However, on June 15, the judge overseeing the case issued an injunction that will delay the case until Aug. 29, specifically to allow more time for negotiations. Caesars' stock jumped nearly 10% on the news, probably because investors have new hope that a settlement will be struck and Caesars will come out of this legal battle alive.
If Caesars can avoid a bankruptcy
If a settlement is accepted, or the judge in the case finds Caesars liable for an amount that it can handle, the company may be able to continue its path of unloading debt and avoiding total bankruptcy. If that happens, Caesars still has plenty of properties and operations that could be very valuable going forward. With less debt expense and new management, Caesars could be back on a growth path, which could mean its current stock price, below its initial IPO price, looks like a steal.
The company is certainly optimistic about its own future. In a recent 8-K report, it said it sees annual revenues rising to$9.19 billion in 2017 and up to $10.47 billion by 2020, with EBITDA rising from$1.87 billion in 2017 to $2.43 billion by 2020.
An interesting prospect
But even if Caesars can't avoid this crushing debt burden and eventually does go bankrupt, or is forced to start selling some of its more than 50 properties worldwide to pay bondholders, that could also be an interesting scenario for investors. For example, if MGM Resorts International were able to purchase Caesars Palace on the Las Vegas Strip, helping MGM to continue dominating the Strip, that could be a valuable play.
Caesars' loyalty program, called Total Rewards, which keeps data on a reported 45 million customers, would also be incredibly attractive to competitors. This and many other lucrative assets were not in the initial for-sale package when CEOC's bankruptcy started, but in a full company bankruptcy, they probably would be. So whether the house can win in this gamble or not, it's something for investors to keep a close eye on.
The article What You Need to Know About Caesars Entertainment's Lawsuit Now originally appeared on Fool.com.
Bradley Seth McNew has no position in any stocks mentioned. The Motley Fool is short Caesars Entertainment. Try any of our Foolish newsletter services free for 30 days. We Fools may not all hold the same opinions, but we all believe that considering a diverse range of insights makes us better investors. The Motley Fool has a disclosure policy.
Copyright 1995 - 2016 The Motley Fool, LLC. All rights reserved. The Motley Fool has a disclosure policy.