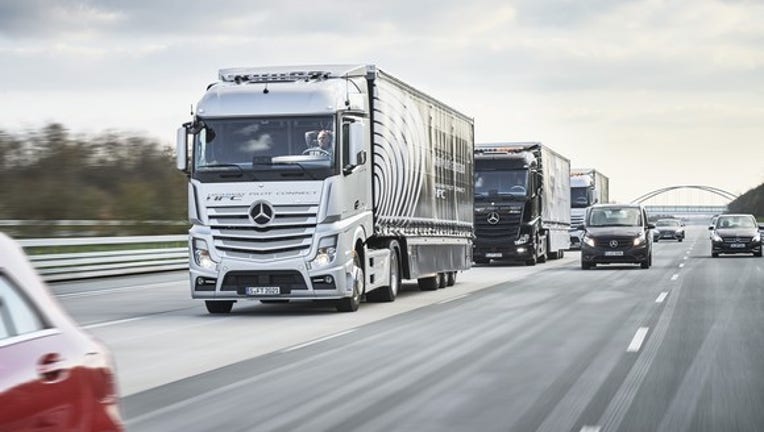 It's no secret that a lot of money and effort are being put into developing systems to safely drive vehicles on public roads, with no human driver required.In fact, the first driverless cars are probably just a few years away.
Autonomous vehicles have the potential to transform how humans and goods get moved from place to place. The technology could upend everything from traditional models of car ownership to our ideas about truck transportation, and far beyond.
For investors, the opportunities could be immense -- and for everyone, it's worth knowing what's coming and when. Here's an overview of what you need to know about this emerging technology.
Waymo is the company formerly known as the Google Self-Driving Project. It worked with Fiat Chrysler Automobiles to develop a fleet of autonomous test vehicles based on the Chrysler Pacifica minivan. Image source: Fiat Chrysler Automobiles.
What is an autonomous vehicle?
An autonomous vehicle is one that doesn't require a human driver to get from place to place safely. It could be anything from a tiny city car to a tractor-trailer truck. They're sometimes referred to as "self-driving" or "driverless" vehicles; the terms are interchangeable.
Generally, autonomous vehicles have sophisticated sensors (cameras, radar, and often LiDAR, a radar-like technology that uses invisible lasers) that give a computer "brain" the information it needs to drive in traffic and navigate obstacles safely.
Autonomous trucks are coming, too. Mercedes-Benz demonstrated an automated convoy of tractor-trailer trucks on the German Autobahn last year. (Note the position of the lead driver's hands.) Image source: Daimler AG.
What are the "levels" of autonomous vehicle systems?
Engineers, regulators, and technology enthusiasts refer to driver-assistance and autonomous vehicle systems using a framework developed by SAE International, the professional association of automotive engineers.
You can find a full explanation of the six levels of vehicle automation here. But here's a quick summary of what you need to know to understand most of the references you'll see:
Level 3 systems automate driving under limited conditions, but a human driver is required to be alert and ready to take over if needed. The latest versions of Tesla's (NASDAQ: TSLA) Autopilot are close to Level 3. But Level 3 is controversial: The need for an alert driver has led some automakers, including Ford Motor Company (NYSE: F), to skip over Level 3 and work on full Level 4 systems instead.
Level 4 systems are fully self-driving with no human driver needed. But they're limited in some ways. Most of the current autonomous vehicle systems under development require highly detailed maps to work properly; if you want to go outside of the mapped area, a human will have to drive. Another potential limit: The first autonomous vehicles may not be able to operate in extreme weather. (Falling snow and snow-covered roads are big challenges for autonomous systems.)
Level 5 systems can drive the vehicle in any circumstances a human could.
Level 4 systems are what we mean when we talk about autonomous vehicles in the near future. Level 5 vehicles are thought to be many years away.
Ford is one of several developers that has made a point of testing its autonomous vehicle system in winter weather. Image source: Ford Motor Company.
What's holding back autonomous vehicles?
Most of the hardware required for autonomous vehicles already exists. Tiny cameras, radar systems, GPS modules, and computer processors are all off-the-shelf technology. Currently available LiDAR (laser sensor) systems are still expensive, but lower-cost systems that will be practical for mass-market vehicles are in development. Chipmakers, includingNVIDIA(NASDAQ: NVDA) andIntel(NASDAQ: INTC), are working on specialized processors for autonomous vehicles -- a potentially huge market for both.
The challenge with autonomous vehicles is getting the software to the point where it's nearly fail-safe -- close enough that we can have confidence in it. That requires millions of miles of testing and refinement, which is happening now.
Mobileye's upcoming EyeQ5 is an advanced image-processing system designed specifically for automotive use. Image source: Mobileye.
Aren't there ethical issues with autonomous vehicles?
There are plenty of "what if?" scenarios that raise questions about the choices an autonomous car's computer should be programmed to make. Those issues are being hashed out now. It's likely that some answers to those questions will be standardized across different makers' software.
Uber Technologies is testing its autonomous-driving system with a fleet of Volvos. Image source: Uber Technologies.
When will the first autonomous vehicles hit the roads?
There are already fleets of autonomous vehicles testing on public roads around the world -- with humans ready to take over if needed, of course. Automakers likeGeneral Motors(NYSE: GM), software giants likeAlphabet's(NASDAQ: GOOG)(NASDAQ: GOOGL)Waymo subsidiary, and newer entrants like Uber Technologies -- along with a host of start-ups and "stealth" ventures -- are all out on the roads testing now.
But it's likely to be another one to three years before the first Level 4 vehicles are offered for sale.
General Motors is testing its autonomous vehicles in several U.S. states. This one is in Warren, Michigan. Image source: General Motors.
When will I be able to buy an autonomous car?
That's not an easy question to answer because it's not yet clear how the technology will come to market. It's likely that most automakers will be able to build Level 4 autonomous vehicles by 2021 or so, if not before -- but the first Level 4 vehicles may be very expensive, and they may be offered only to fleet customers (like Uber or Lyft).
That said, it's likely that one or more automakers (Tesla, perhaps others) will offer Level 4 technology to retail customers at some point in the next few years. But no automaker (or software company) has announced a firm date yet.
Tesla could well be the first company to offer an autonomous vehicle to retail customers. Image source: Tesla.
Who will be first to develop an autonomous vehicle?
It's impossible to say, because most of the companies working on the systems don't share detailed progress reports. There are also other issues: For instance, a company like Waymo might be the first to have its software ready, but it may choose to work with partners (one or more automakers) to bring it to market.
It may come down to which company is daring enough to declare its system to be ready for public use. (In other words, don't bet against Tesla.) But it may not matter for much more than bragging rights: Big auto industry suppliers are working with tech firms to have Level 4 systems available to automakers within the next three years. It's likely that Level 4 technology will be a commodity by 2021 or so.
10 stocks we like better than TeslaWhen investing geniuses David and Tom Gardner have a stock tip, it can pay to listen. After all, the newsletter they have run for over a decade, Motley Fool Stock Advisor, has tripled the market.*
David and Tom just revealed what they believe are the 10 best stocks for investors to buy right now... and Tesla wasn't one of them! That's right -- they think these 10 stocks are even better buys.
Click here to learn about these picks!
*Stock Advisor returns as of May 1, 2017
Suzanne Frey, an executive at Alphabet, is a member of The Motley Fool's board of directors. John Rosevear owns shares of Ford and General Motors. The Motley Fool owns shares of and recommends Alphabet (A shares), Alphabet (C shares), Ford, Nvidia, and Tesla. The Motley Fool recommends Intel. The Motley Fool has a disclosure policy.