What You May Have Missed From Skechers Earnings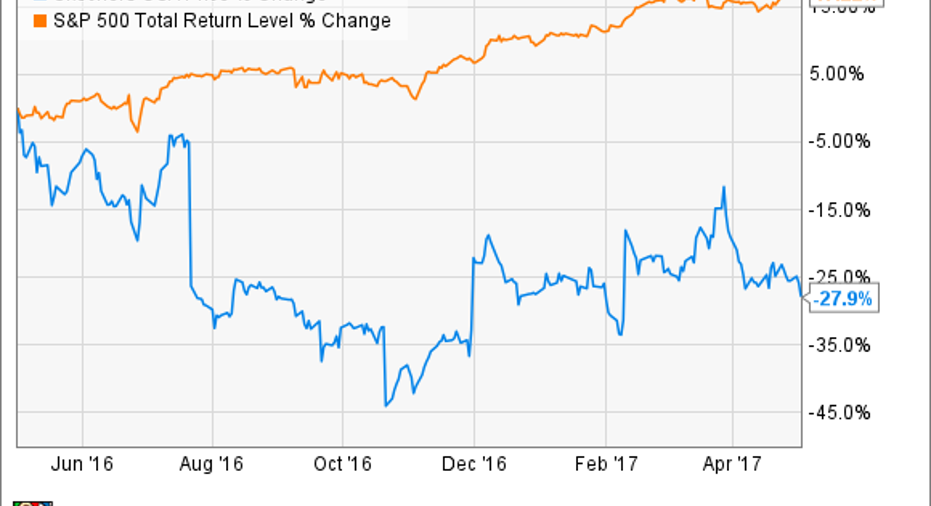 When the number one company in comfort-casual footwear,Skechers (NYSE: SKX), announced earnings last month, the headlines highlighted the first ever $1 billion quarter for the company. It seems investors weren't impressed, though, as the stock continues to lag behind the market and has missed a nice run up over the past year.
Management is working to get the company back to a consistent growth path. There were a number of key facts from the latest earnings call that you might have missed that are important building blocks for continued long-term growth for the company. Skechers is quietly building its domestic e-commerce business, continuing to open stores across the globe, and now getting a majority of its revenue from international sources.
Here are the details on what you may have missed.
Image Source: Skechers.com
Domestic e-commerce growth is worth mentioning (again)
One sentence from the earnings call wasn't elaborated on, nor were there any analyst questions about it. David Weinberg, Skechers chief operating officer and chief financial officer, mentioned it in the middle of his introduction of the business results for the quarter.
The same statement shows up from the Q4 earnings report, indicating growth of 36.3%, and in the Q3 report with 13% growth. The last mention before that was in 2014, where domestic e-commerce was called out as negative 4.5% for the fourth quarter and only 1.1% of overall revenue.
In 2015, Skechers combined the e-commerce results into the retail segment numbers, and the performance hasn't been reported separately until recently. With the overall growth trend of web commerce, it's good to see that Skechers is able to provide a convenient way to buy online that is catching on with its customers.
While domestic e-commerce for Skechers is still small, it's certainly something to watch for in upcoming earnings releases. Success with the company's dot-com business is exciting, but the company remains heavily reliant on its brick-and-mortar stores.
Skechers is still opening stores
Skechers has 59 more company-owned stores than last year, an 11% increase in its store base. Fourteen of these stores opened in the first quarter, and slightly over half of the new stores opened outside of the U.S. in the last year.
Skechers management continues to open stores despite the difficulties in the retail space. David Weinberg stated on the call that, "...while the domestic retail environment remains challenging, we believe our product is unique and will appeal to those seeking style and value." These new stores have paid off for Skechers, and helped deliver 12.8% growth in its retail segment.
Skechers is continuing to open stores in key global markets to "further build the brand and meet consumer demand." The company has already opened six stores in the current quarter on the way to an additional 55 to 70 stores for the remainder of the year.
As I've covered in this article, Skechers branded stores are a competitive advantage for the company, providing critical supply chain data, superior gross profit, and the ability to limit product markdowns.Concept stores,a subset of the company-owned stores, are especially important for driving growth and brand awareness in international countries. Skechers has already opened eight of these concept stores in 2017. These new stores further enhance the Skechers brand, and should drive additional revenue growth for the company, especially outside the U.S.
Skechers is now an international company
Last quarter Skechers management said it expected international to be 50% of total sales for the year, but I didn't think the company would cross this mark just a few months later. Skechers international business clocked in an impressive 51.3% of total sales this quarter, with expectations for international to become an even bigger portion of the overall revenue.
China remains a bright spot for the company with a significant 39.6% growth in the most recent quarter and 2,110 points of sale across the country. It wasn't all positive around the globe, though, as the U.K. struggled with currency headwinds and store closings, leading to negative growth for the country. Even so, international growth was a healthy 16.8% overall.
Now that Skechers domestic revenue accounts for less than half of revenue overall, this international company is in a stronger position to weather weakness in the domestic market.
A growing domestic e-commerce business, continued store openings, and healthy international growth are three reasons to continue to watch as this company tries to get its stock moving in the positive direction.
10 stocks we like better than SkechersWhen investing geniuses David and Tom Gardner have a stock tip, it can pay to listen. After all, the newsletter they have run for over a decade, Motley Fool Stock Advisor, has tripled the market.*
David and Tom just revealed what they believe are the 10 best stocks for investors to buy right now... and Skechers wasn't one of them! That's right -- they think these 10 stocks are even better buys.
Click here to learn about these picks!
*Stock Advisor returns as of May 1, 2017
Brian Withers has no position in any stocks mentioned. The Motley Fool owns shares of and recommends Skechers. The Motley Fool has a disclosure policy.