What Will Keep Take-Two Interactive's Momentum Going?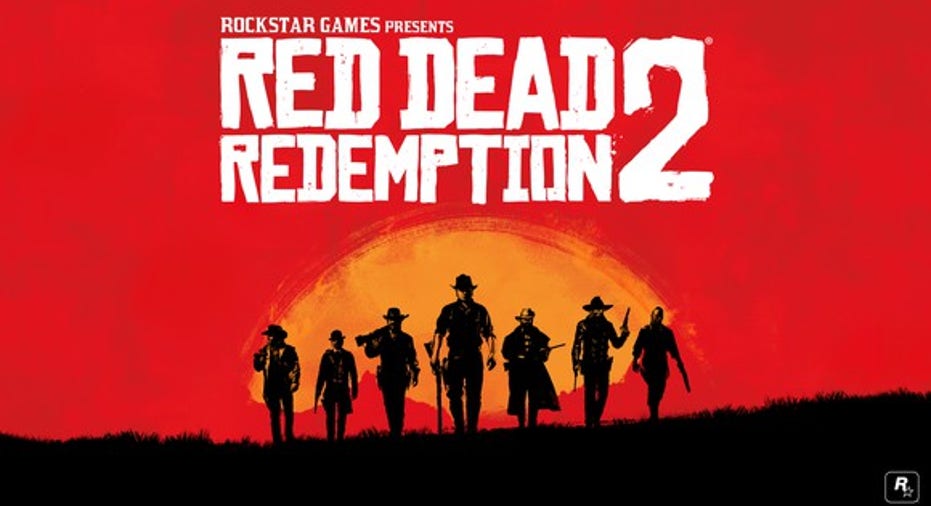 Take-Two Interactive (NASDAQ: TTWO) has been on a roll in the last several years following extremely strong sales of Grand Theft Auto V. Even after a 300% gain over the last five years, the stock still trades for a reasonableforward price-to-earnings ratio of 24 times fiscal 2018 earnings estimates.Let's review the important drivers for the video game company in the year ahead and beyond.
Importance of successful new games
Take-Two generates the majority of its revenue from direct-to-consumer sales of in-game content, so a big game release like a Red Dead Redemption or Grand Theft Auto serves as a catalyst that sparks more sales of digitally delivered content, which ultimately helps grow the bottom line.
Red Dead Redemption 2 is very important to Take-Two's bottom line in fiscal 2018. Image source: Take-Two Interactive.
The 2013 release of Grand Theft Auto V is still performing very strongly for Take-Two. The game's large installed base of about 75 million helped grow digitally delivered revenue 28% to $643 million through the first three quarters of fiscal 2017. In the fiscal third quarter alone, digital revenue grew 64% following new releases of NBA 2K17 and Sid Meier's Civilization VI.
Take-Two is expected to report $350 million in cash flow for fiscal 2017, which ended March 31. Management has guided for continued growth in cash flow in fiscal 2018 largely based on the company's upcoming game releases led by Red Dead Redemption 2.
Upcoming new games
Red Dead Redemption 2 -- expected in the fall --isa sequel to the popular Western action game released in 2010, which sold around 15 million units. Take-Twostock's performance heading into next year will likely be influenced by whether the sequel outperforms or underperforms the original's 8.5 million unit sales in its first year. Analysts expect Take-Two's earnings per share to jump from an expected $1.98 for fiscal 2017 to $2.80 next year, reflecting strong sales expectations for the game.
Research firm Cowen & Co. has already predicted Red Dead 2to sell at least 15 million copies. This isn't surprising given the tremendous hype building in the gaming community. The announcement trailer for the original Red Dead game received nearly 1.2 million views and over 7,000 likes on YouTube. So far, the official announcement trailer for the sequel has received over 12 million views and 240,000 likes.
Along with Red Dead 2, Take-Two will release NBA 2K18 in September. It will be tough to outdo NBA 2K17, which is on pace to be Take-Two's best-selling sports title in company history, but unlike the previous games in the series, NBA 2K18 will be available on the NintendoSwitch.This will give NBA 2K18 a somewhat larger installed base than NBA 2K17.
It's not like the game needs a larger base to grow, as the NBA 2K series has been doing just fine on current platforms. Through the third quarter, unit sales of NBA 2K17 were up 10% over NBA 2K16. Engagement with the latest version has been quite strong, with players already logging more than 1 billion games played, up 27% over last year. This drove record digitally delivered bookings growth of 56% for the series in the third quarter.
Mobile gaming and e-sports are long-term growth opportunities
Take-Two is capitalizing on the success of its NBA 2K franchise with its entry into e-sports. So far, 17 of the 30 NBA teams have signed up to participate in the NBA 2K eLeague. E-sports, which make video games a spectator sport, could give Take-Two's NBA 2K franchise an even larger audience over time.
Take-Two's announcedacquisition of Social Point is a promising start to expand its mobile game roster into the attractive free-to-play market. Free-to-play mobile games are the fastest-growing segment in gaming with $40 billion in annual revenue, growing 18% in 2016. This acquisition could very well be the beginning of more acquisitions down the road as Take-Two grows its cash flow and is able to make more transactions.
With a strong game portfolio and a focus on expanding into adjacent growth opportunities like e-sports and mobile gaming, Take-Two remains a solid investment for the long term.
10 stocks we like better than Take-Two Interactive When investing geniuses David and Tom Gardner have a stock tip, it can pay to listen. After all, the newsletter they have run for over a decade, Motley Fool Stock Advisor, has tripled the market.*
David and Tom just revealed what they believe are the 10 best stocks for investors to buy right now... and Take-Two Interactive wasn't one of them! That's right -- they think these 10 stocks are even better buys.
Click here to learn about these picks!
*Stock Advisor returns as of May 1, 2017
John Ballard has no position in any stocks mentioned. The Motley Fool owns shares of and recommends Take-Two Interactive. The Motley Fool has a disclosure policy.