What Will AMC Networks Inc. Say About Q1?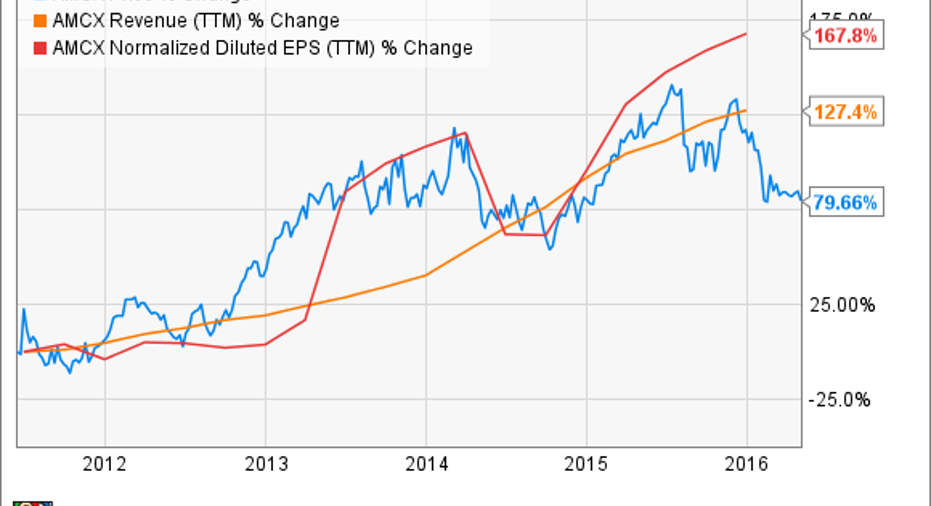 Image source: AMC Networks.
AMC Networks is preparing its first-quarter report for the early morning hours on Thursday. Here's what to expect from the producer and broadcaster of popular TV content.
By the numbers This company is not known for its detailed guidance presentations. In fact, AMC's management does not offer any firm quarter-by-quarter forecasts at all, preferring high-level discussions of the next fiscal year and the TV market as a whole.
On that note, first-quarter revenues should be restricted by the timing of AMC's release schedule. As typical for this mid-season quarter, few new shows took a bow this period. Notable exceptions include low-budget crime series Hap and Leonard on SundanceTV, and star-studded mini series The Night Manager on the flagship AMC station. That left established hits like The Walking Dead and Better Call Saul to carry the banner and attract ad revenues.
All of this boils down to "modest year-over-year growth" in domestic revenues. The international segment should see flat sales as the same modest growth drivers bump into the usual currency exchange headwinds.
If you take stock in analyst opinions, the Street's consensus targets call for about 4% sales growth and 8% higher earnings per share. AMC has a tendency to exceed analyst projections on both the top and bottom lines, doing so in each of the last six reports.
What's next? Looking further down the road, AMC is putting its back into international growth. That division represented just 15% of the company's fourth-quarter revenues, and it also grew slower than the domestic segment. Management is looking for ways to expand AMC's overseas footprint, spearheaded by the 2014 acquisition of multinational TV distributor Chellomedia.
Overall, management is looking for healthy ad revenue growth. That expectation is built on AMC's penchant for delivering mass-appeal hits like Breaking Bad and Mad Men. AMC is currently running the final season of western-themed drama Hell on Wheels, giving the company another popular asset to replace. Look for more detail on future development efforts as AMC's content portfolio continues to evolve.
Market moves AMC shares have fallen 7% since the fourth-quarter report, while the S&P 500 market barometer gained 7%. The stock is trading at 12.4 times trailing earnings, which is historically low.
Over the last five years, AMC's revenues more than doubled, and earnings raced up even faster. Will these long-term trends continue? Find out on Thursday morning.
The article What Will AMC Networks Inc. Say About Q1? originally appeared on Fool.com.
Anders Bylund has no position in any stocks mentioned. The Motley Fool owns shares of and recommends AMC Networks. Try any of our Foolish newsletter services free for 30 days. We Fools may not all hold the same opinions, but we all believe that considering a diverse range of insights makes us better investors. The Motley Fool has a disclosure policy.
Copyright 1995 - 2016 The Motley Fool, LLC. All rights reserved. The Motley Fool has a disclosure policy.