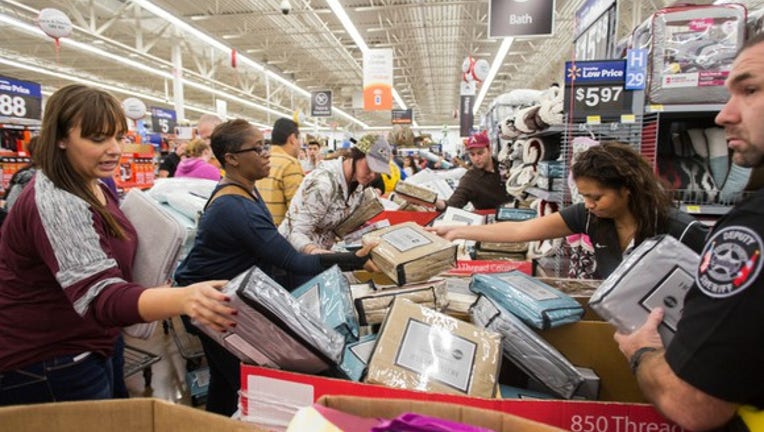 While it seems like a long-standing tradition, Cyber Monday has only existed for a little over a decade.
Since being dubbed "Cyber Monday" by a branch of the National Retail Federation in 2005, the sales holiday has steadily grown. Now, with Adobe's Digital Insights forecasting that this Cyber Monday will hit $3.36 billion in sales, it has become the single-biggest shopping day of the year. That might surprise some people, but Adobe's figures show that Monday-after-Thanksgiving online shopping has actually had the most sales since at least 2012.
This year, the research company expects Black Friday to close the gap a bit by growing 11.3% to $3.05 billion in sales while Cyber Monday will post "only" 9.4% year-over-year growth. Those are still stellar numbers driven by the fact that major retailers including Amazon (NASDAQ: AMZN), Wal-Mart (NYSE: WMT), and Target (NYSE: TGT) have embraced the day.
These chains, of course, embrace online sales throughout the holiday season, but they also offer special Cyber Monday deals. All of the chains below are offering free shipping, but aside from that, their offers are quite different. Here's a look at what each of them has to offer for Cyber Monday 2016.
Shopping online on Cyber Monday means not having to face holiday crowds. Image source: Wal-Mart.
Wal-Mart jumps the gun
Wal-Mart, which has been trying to ramp up its digital sales, has decided to celebrate Cyber Week with digital deals available starting on Black Friday. That, of course, blurs the need for Cyber Monday as its own event, but it might give the company an edge if its rivals hold back some deals until Monday and Wal-Mart swoops in to take the business.
However, the retail giant will have some special deals just for Monday including:
Samsung HDTVs over 50% off MSRP.
VIZIO 50-inch 4K ultra HD SmartCast smart LED TV for $379.99.
Dell Inspiron 15 Gaming Edition laptop PC for $999.99.
Call of Duty Dragonfly drone with camera for $89.
Drones from DJI, Parrot, Autel, Yuneed and more starting at $199.
Nerf N-Strike MEGA Mastodon Blaster with free blaster for $51.
The chain also noted in a press release that it plans to offer Cyber Monday savings on Prada, Ray-Ban, and Gucci sunglaess and watches from Michael Kors, as well as deals on boots, outwear, and diamond jewelry (an area which is typically not on sale during the Thanksgiving holiday weekend).
Target has a similar idea
Like its rival, Target will also be jumping the gun on Monday by making its Cyber Monday deals available starting on the Sunday after Thanksgiving. In addition, while the chain will have some specific sales, it's also offering a blanket 15% off across everything on its website, which the company explained in a press release.
"We're giving guests a compelling opportunity to save 15% across Target's broad assortment, plus the flexibility to shop the offer for two days in a way that's most convenient to them whether they want to shop online or in a store," said Chief Information and Digital Officer Mike McNamara.
Target will also be offering a selection of Cyber Monday deals starting Sunday and running through Dec. 3:
Free Xbox Live Gold three-month membership with purchase of Xbox One S 500GB console with Battlefield 1 digital download (only available Nov. 27-28).
Free $100 Target gift card with purchase of any Swagtron T1/T3 Hoverboard.
Up to 25% off K'NEX, Mega Bloks, Magformers, and select LEGO toys.
iRobot Roomba 880 robotic vacuum, $449.99
Save $10 when you spend $50 and save $25 when you spend $100 on trees, lights, dcor, ornaments and more.
What is Amazon doing?
Amazon takes a more secretive approach than its rivals. The online leader has been running deals all month and while it will have some special ones on Cyber Monday, it has not announced them in advance. In addition, many of its best offers will be rolled out as Lightning Deals. Those are limited-time offers that pop up over the course of the day.
The online leader has also been discounting many of its own products throughout the holiday season and that should continue on Cyber Monday. The company has been selling its $99.99 Kindle Fire Kids edition for $74.99 and offering its basic Kindle reader for $49.99 (down from $79.99). It's also likely that Amazon will offer Cyber Monday deals on other Kindle tablets, its Echo digital assistant, and various Fire TV models.
Unlike Wal-Mart and Target, which use deals to get people in the door, Amazon tends to make people come to its website to see the deals. That approach would not work for a less-dominant company, but for Amazon, it has been a successful holiday approach that should work on Cyber Monday 2016.
10 stocks we like better than Amazon.com When investing geniuses David and Tom Gardner have a stock tip, it can pay to listen. After all, the newsletter they have run for over a decade, Motley Fool Stock Advisor, has tripled the market.*
David and Tom just revealed what they believe are the 10 best stocks for investors to buy right now... and Amazon.com wasn't one of them! That's right -- they think these 10 stocks are even better buys.
Click here to learn about these picks!
*Stock Advisor returns as of November 7, 2016
Daniel Kline has no position in any stocks mentioned. He may buy himself a coffee maker and a smartwatch this holiday season. The Motley Fool owns shares of and recommends Amazon.com. The Motley Fool recommends Adobe Systems. Try any of our Foolish newsletter services free for 30 days. We Fools may not all hold the same opinions, but we all believe that considering a diverse range of insights makes us better investors. The Motley Fool has a disclosure policy.