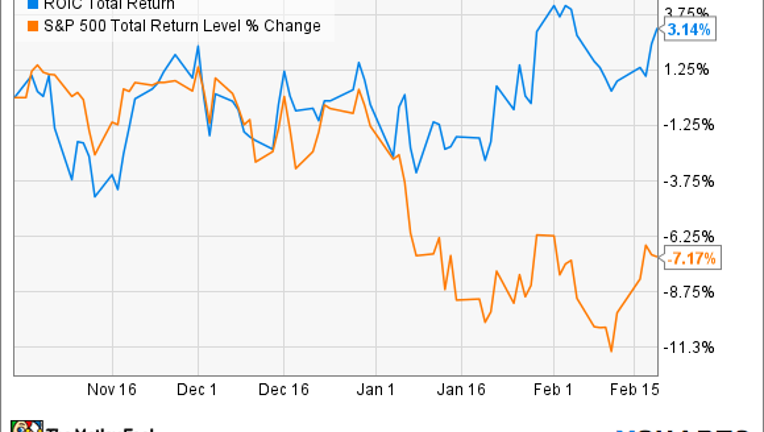 Retail Opportunity Investments Corp is slated to release fourth-quarter 2015 results after the market close next Tuesday, February 23, 2016. Though shares have risen a modest 3% as of this writing since the shopping-center REIT announced impressive Q3 results in late October, it has also held up remarkably well as the broader market pulled back hard during the same period:
ROIC Total Return Price data by YCharts.
What should investors be watching when Retail Opportunity Investments' report hits the wires this time?
First, as far as headline numbers go, Retail Opportunity Investments will report revenue and net income, but these aren't the most-important metrics for gauging its success. Rather, because Retail opportunity is a REIT, investors should look for growth in funds from operations (FFO), which effectively measures Retail Opportunity Investments' cash flow from operations.
Last quarter, FFO rose an impressive 18.2% year over year, to $0.26 per diluted share. But that included a $1.7 million lease-termination fee the company received in connection with replacing an anchor tenant; without this fee, FFO per share would have still climbed 9.5%. At the same time, Retail Opportunity Investments promptly scored a 240% increase in base rent for the location by signing a lease with a new retailer for roughly two-thirds of that space, and was already seeing "considerable interest for the remaining third.
While investors aren't complaining about Retail Opportunity Investments' savvy move last quarter, we also shouldn't be surprised if Q4 FFO growth appears to decelerate in the absence of such one-time deals. According to Retail Opportunity Investments' latest guidance for the full-year 2015, FFO per diluted share should arrive in the range of $0.95 to $0.97 -- up from $0.85 per share in 2014 -- with net income of $0.26 per diluted share.
Next, expect Retail Opportunity Investments to detail metrics for lease rates and pricing power. Regarding the latter, ROIC should provide updates on both leases executed (90 last quarter, including 39 new leases), and same-space comparative base rent (up 19.3% overall in Q3, including a 52.8% gain from new leases, and 7.2% growth from renewed leases). On the former, last quarter, ROIC's portfolio leased rate stood at 97.1%, which could fluctuate depending on the size and existing lease rates of the company's newer acquisitions.
On that note, expect Retail Opportunity Investments to offer details on its latest acquisitions. Through the first three quarters of this year, ROIC committed $310.2 million in grocery-anchored shopping-center purchases, including $99.2 million acquired in the first quarter, $23.1 million acquired in the second quarter, $113.5 million acquired last quarter, and $74.4 million under contract.
Finally, if last year's fourth-quarter report is any indication, Retail Opportunity Investments will likely offer investors their first peek at what to expect for net income, earnings per share, and FFO per share in 2016. That's not to say its initial guidance won't change as the year progresses -- ROIC's most recent outlook, for example, was raised from its initial 2015 guidance range for FFO per share of $0.88 to $0.93. But as it stands, it's especially useful considering that, as a REIT, Retail Opportunity Investments is required to return at least 90% of its taxable income to shareholders in the form of dividends.
Over the long term, as Retail Opportunity Investments' real estate portfolio continues to grow, the power of compounding should result in enormous financial rewards for patient shareholders.
The article What to Watch When Retail Opportunity Investments Corp. Reports Q4 Earnings originally appeared on Fool.com.
Steve Symington owns shares of Retail Opportunity Investments. The Motley Fool owns shares of and recommends Retail Opportunity Investments. Try any of our Foolish newsletter services free for 30 days. We Fools may not all hold the same opinions, but we all believe that considering a diverse range of insights makes us better investors. The Motley Fool has a disclosure policy.
Copyright 1995 - 2016 The Motley Fool, LLC. All rights reserved. The Motley Fool has a disclosure policy.