What to Watch When MarketAxess Holdings Inc. Reports Earnings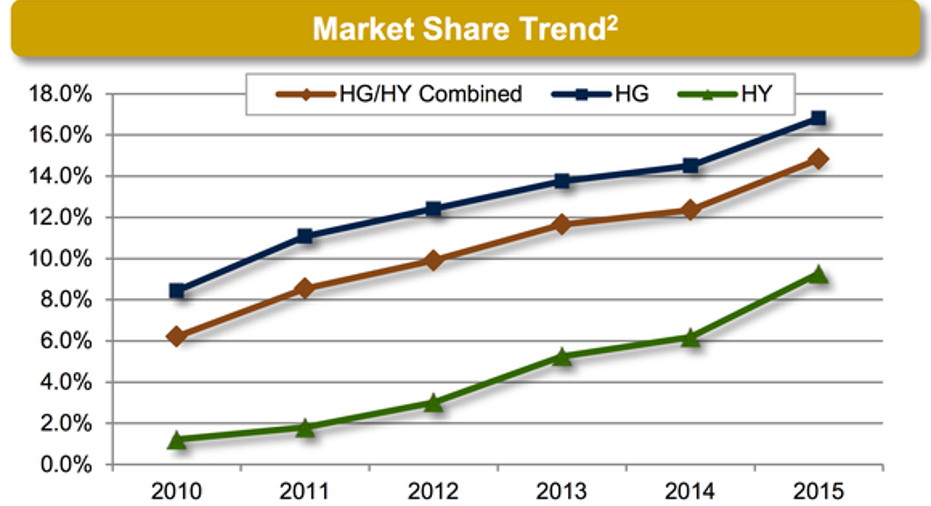 MarketAxess Holdings is off to a strong start in 2016, with the electronic bond-trading platform's shares already up more than 15% in value.
Image source: YCHARTS.
Will that impressive performance continue when MarketAxess reports earnings on April 27? Here are some key items to look for in MarketAxess' first-quarter results that will likely help to determine the answer to that question.
Market share gainsFixed-income investors want greater liquidity and better prices. Regulators want more transparency. Fortunately, MarketAxess provides all three.
The more dealers that join MarketAxess' platform, the more bonds are available for trading and the tighter the spreads. In addition, MarketAxess' electronic trading platform helps to bring pricing transparency to the massive fixed-income market, where the majority of trades still take place via emails and phone calls. Together, these benefits have helped MarketAxess steadily gain share in the credit-trading markets.
Data source: MarketAxess Q4 2015earnings presentation.
In the first quarter, investors will be looking for more share gains across MarketAxess' product lines, including U.S. high-grade and high-yield, as well as emerging markets and Eurobonds.
Sales growth fueled margin expansionMarketAxess' business model has proven to be highly scalable, with revenue rising significantly more than expenses in recent years. In 2015, total expenses increased only 7.6% year over year to $155 million while revenue jumped 15.3% to $303 million. That helped pre-tax margin improve to 48.8% from 45.1% in 2014.
With management forecasting total expenses to be as high as $176 million in 2016, MarketAxess may need to increase its full-year revenue by more than 13.5% in order to further improve its pre-tax margins. In this regard, first-quarter revenue approaching $90 million will likely be well received by investors.
Cash generationAs a capital-light business, MarketAxess requires relatively little incremental investment to expand its network. That's helped the company produce impressive levels of free cash flow as its client base has grown.
This strong cash flow generation has allowed MarketAxess to amass a fortress-like balance sheet, with $284.4 million in cash and investments against zero long-term debt at the end of 2015. It's also given the company the opportunity to reward its investors with share repurchases and a steadily rising dividend, which MarketAxess recently increased by 30% in the fourth quarter.
When MarketAxess releases its first-quarter results, investors will likely want to see that the company is on track to once again exceed $100 million in annual free cash flow in 2016.
How to access MarketAxess' resultsMarketAxess will announce its first-quarter financial results on Wednesday, April 27, before the financial markets open. Investors can tune in to its live conference call, where management will discuss the quarter's results at 9:00 a.m. ET. Both the release and a link to the conference call will be available on the company'sinvestor relations website.
The article What to Watch When MarketAxess Holdings Inc. Reports Earnings originally appeared on Fool.com.
Joe Tenebruso has no position in any stocks mentioned. The Motley Fool owns shares of and recommends MarketAxess Holdings. Try any of our Foolish newsletter services free for 30 days. We Fools may not all hold the same opinions, but we all believe that considering a diverse range of insights makes us better investors. The Motley Fool has a disclosure policy.
Copyright 1995 - 2016 The Motley Fool, LLC. All rights reserved. The Motley Fool has a disclosure policy.