What to Watch When Kimberly-Clark Corp Reports Earnings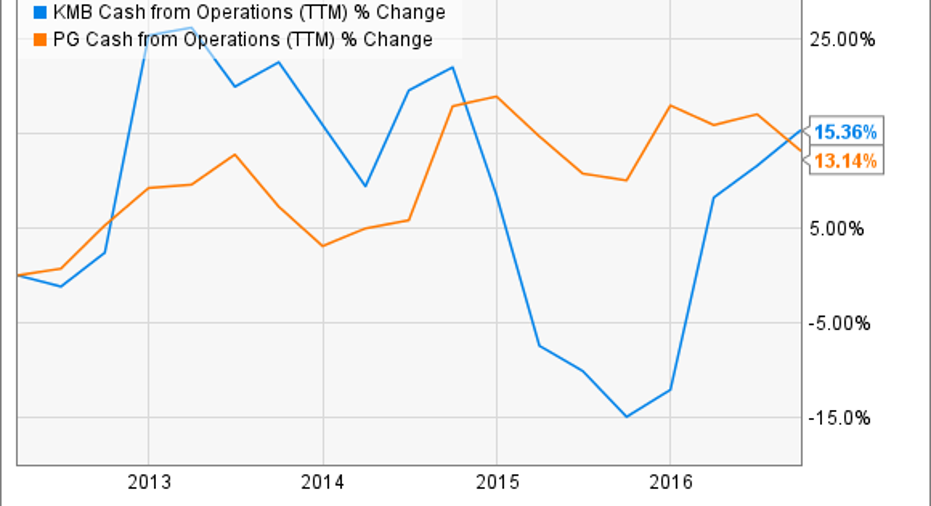 Consumer goods giant Kimberly-Clark (NYSE: KMB) will announce its fourth-quarter results before the market opens on Tuesday, Jan. 24. The stock underperformed the market and global rival Procter & Gamble (NYSE: PG)in 2016 as sales growth ground to a halt.
But will the owner of the Huggies diapers and Kleenex tissue brands have more bad news for shareholders to kick off the new fiscal year? Below are a few critical trends for investors to watch in the upcoming report.
Organic growth
Kimberly-Clark's last quarterly outing showed evidence of a sharp growth slowdown as sales volume dove from 4% in the prior quarter to just 0%. Organic sales, the company's single most important metric, fell to 0% from 3%.
Image source: Kimberly-Clark.
Some of that slump can be tied to the weak sales environment that's keeping the entire industry at near zero growth. However, competitive threats are also taking their toll. Procter & Gamble competes with Kimberly-Clark's Huggies brand, and the consumer products titan saw its volume trends improve over the past quarter, as its Pampers market share lead hit a new high.
Thanks to both increased competition and softening demand, Kimberly-Clark dialed back its full-year sales growth outlook to just 2%. That's far from the 3% to 5% gains that CEO Tom Falk and his executive team originally projected, and it's even below the 3% that they were targeting as recently as the second quarter. Hitting that lowered goal won't be enough to hint at a business rebound, though. Within the organic sales growth figures, investors should keep an eye on the balance of volume and pricing contributions.
Ideally, Kimberly-Clark will show volume-driven growth while at least keeping its average prices unchanged. If instead volume is flat and the company relies only on price boosts to raise revenue, that's an indication that growth is fragile and not likely to quickly recover its prior 4% pace.
Profits and cash
Kimberly-Clark's financial wins keep piling up despite the weak sales growth pace, and investors will want to see more progress there. Gross and operating profit margins both improved last quarter, thanks mainly to an expense-cutting initiative that is removing $375 million from annual costs. That's the key reason why even with a lower revenue base, the company managed to generate $836 million of operating profit last quarter, up from $779 million in the prior year.
KMB Cash from Operations (TTM) data by YCharts.
Kimberly-Clark is also producing plenty of cash, with operating cash jumping 12% to $950 million at the last quarterly checkup. Return on invested capital is on the rise too and running well ahead of management's goal. The company can't do much about a weakening industry or rising competitive threats, but executives do have the power to keep earnings -- and cash returns to shareholders -- rising through continued improvements on the efficiency side of the business.
The rebound plan
At this time last year, Kimberly-Clark issued what turned out to be an overly optimistic annual growth forecast that executives had to dial back twice during the year. Another quarter of weak volume gains could convince the company to stay conservative for its 2017 outlook, though. If it hits its full-year goal of 2% organic growth, Kimberly-Clark will be entering the new fiscal year at about the same pace as Procter & Gamble, but also at just half the level it enjoyed in fiscal 2015.
Shareholders can be sure that a disappointing forecast like that would come with a detailed plan to recover momentum. Any rebound initiatives would likely include stepped-up cost-cutting and efficiency moves but also might venture into more aggressive actions, like the brand-shedding process that P&G just concluded.
10 stocks we like better than Kimberly-Clark When investing geniuses David and Tom Gardner have a stock tip, it can pay to listen. After all, the newsletter they have run for over a decade, Motley Fool Stock Advisor, has tripled the market.*
David and Tom just revealed what they believe are the 10 best stocks for investors to buy right now... and Kimberly-Clark wasn't one of them! That's right -- they think these 10 stocks are even better buys.
Click here to learn about these picks!
*Stock Advisor returns as of January 4, 2017
Demitrios Kalogeropoulos has no position in any stocks mentioned. The Motley Fool recommends Kimberly-Clark. The Motley Fool has a disclosure policy.