What to Watch When Hasbro Inc. Reports Q1 Earnings on Monday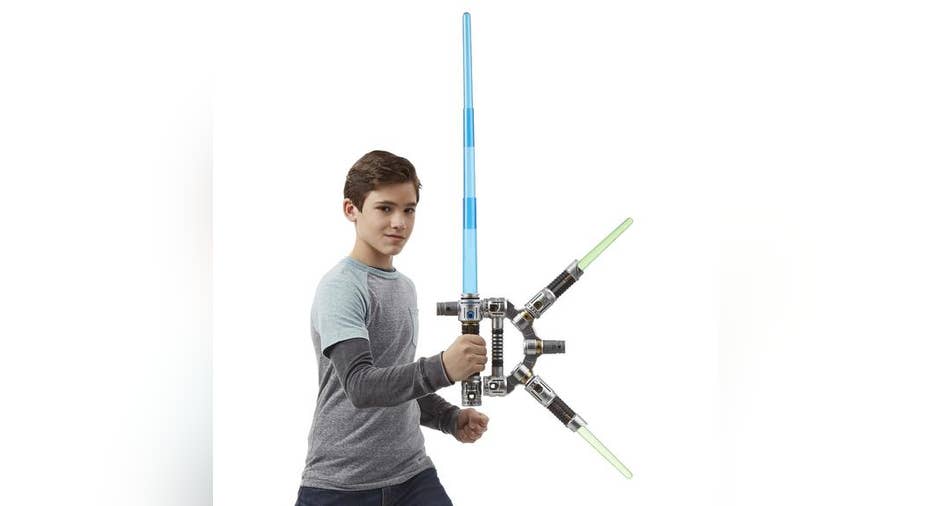 Image source: Hasbro.
Game time's approaching!Hasbro reports its first quarter 2016 results before the market opens on Monday, April 18.
Investing in the toy and game maker has been the Monopoly game equivalent of building hotels and receiving high rent payments. The stock has returned nearly 27%, including dividends, for the one-year period through April 8, significantly outpacing the S&P 500's flat return, though falling short of rival Mattel's43.5% return.
Here's what investors should focus on in the upcoming report.
The headline numbersHere are the results from the year-ago period to use as benchmarks:
| | |
| --- | --- |
| Q1 2015 Revenue | $713.5 million |
| Q1 2015 Earnings Per Share | $0.21 |
Data source: Hasbro.
Long-term investors shouldn't pay much heed to analyst estimates as Wall Street is so focused on short-term results. That said, it's worth noting that Hasbro beat analyst expectations in every quarter in 2015. That momentum should bode well for this quarter, especially due to newDisney revenue sources kicking in.
Say hello to Disney Princess and FrozenrevenueHasbro results should get a nice boost due to sales of dolls based on Disney Princess characters and theimmensely popularFrozenmovie.The global rights to make such dolls transitioned from Mattel to Hasbro on Jan. 1. Mattel's gross sales for this line in 2015 were about $450 million, which represents 10% of Hasbro's 2015 revenue.
Investors should hone in on whatever management says about these new product lines.
Star Wars: The Force Awakens should still be a factor
Hasbro's Star WarsLightsabers have been hot sellers. Image source: Hasbro.
Last quarter, Hasbro got a huge boost from Disney's The Force Awakens, which opened in domestic theaters on Dec. 18. The immense popularity of the film, along with the marketing blitz that preceded it, helped propel sales of Hasbro's movie-based toys, several of which topped best-selling holiday toy lists.
Hasbro's license from Disney to produce Star Wars-themed toys naturally won't be nearly as golden this quarter. However, it should still contribute somewhat to the quarter's results, as there's often a fair amount of holiday shopping that spills over into each new year. Additionally, the film's incredible success is likely driving non-holiday-related purchases of these toys.
Preschool and boys categorieswill likely drive resultsLook for Hasbro's preschool and boys categories to power its results this quarter just as they did in 2015. The girls category continues to be weak. However, this is in part due to how Hasbro categorizes its toys, in my view. Sales of Disney Princess and Frozen dolls should certainly help.
Nerf, Play-Doh, and Monopoly have been especially strong performers. We can probably expect more of the same, particularly since Hasbro has recently expanded the Nerf and Play-Doh product lineups. Nerf generated the most revenue of all Hasbro brands in 2015, while Play-Doh was the fastest-growing franchise brand in 2015 with year-over-year revenue jumping 32%.
Pie Face could have legsThe Pie Face game was a tremendous winner last holiday season and likely has some legs, which should continue to help drive Hasbro's results. The company acquired the manufacturing and distribution rights for it last year.
Pie Face was named toy of the year for 2015 in the U.K.It also received the "best board game of 2016" honors from the U.S. Toy Industry Association during the 2016 North American International Toy Fair.
Playing the long gameWe'd love to a see strong quarter, of course, but the most important factor for long-term investors is how well Hasbro is setting itself up for future success.
The long-term game is Hasbro's to lose. The company sports strong ties with Disney, enjoys a broad portfolio of perennially popular brands, and has a good eye for bringing new winners into the fold. Notably,Hasbro should continue to profit tidily from sales ofStar Warstoys. Disney has four moreStar Warsfilms in the pipeline for the next few years -- two to complete the trilogy that began withThe Force Awakensand two stand-alone movies.
The article What to Watch When Hasbro Inc. Reports Q1 Earnings on Monday originally appeared on Fool.com.
Beth McKenna has no position in any stocks mentioned. The Motley Fool owns shares of and recommends Hasbro and Walt Disney. Try any of our Foolish newsletter services free for 30 days. We Fools may not all hold the same opinions, but we all believe that considering a diverse range of insights makes us better investors. The Motley Fool has a disclosure policy.
Copyright 1995 - 2016 The Motley Fool, LLC. All rights reserved. The Motley Fool has a disclosure policy.