What to Watch When GoPro, Inc. Reports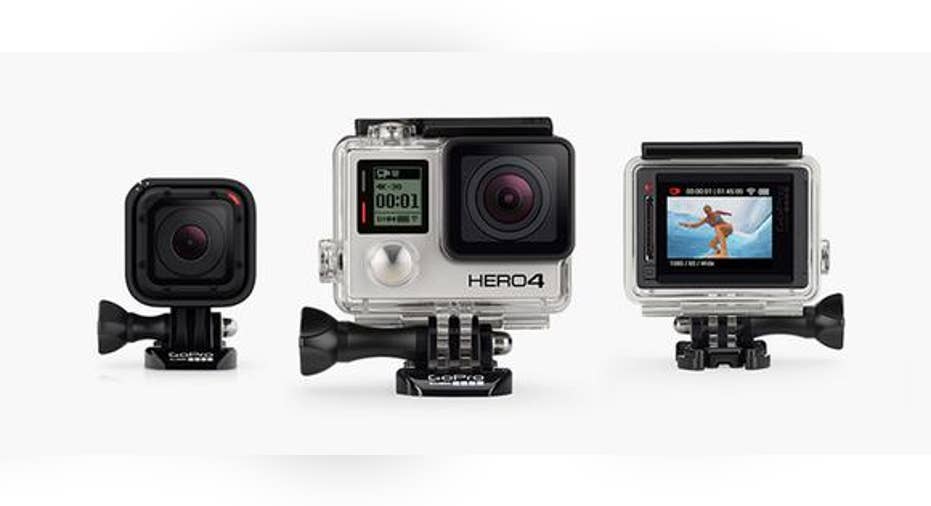 Image source: GoPro.
With GoProInc. stock down more than 70% over the past year as of this writing despite its painful fourth-quarter report in February, investors can't help but wonder if the action camera specialist may have found its bottom this year. But the market may receive a strong indication of whether that's the case when GoPro releases first-quarter 2016 results this Thursday, May 5, after the market close.
So what, exactly, should GoPro investors be watching when its report hits the wires?
Recall three months ago, GoPro issued guidance for first-quarter revenue of $160 million to $180 million, representing a harrowing decline of over 53% from the same year-ago period. Trending toward the bottom line, that should translate to adjusted gross margin of 36%, plus or minus 100 basis points, while adjusted earnings before interest, taxes, depreciation, and amortization (EBTIDA) should be alossof $96 million, plus or minus $2.5 million.
To its credit, the first quarter is seasonally slow for GoPro, anyway. And this decline can at least partially be chalked up to the company's strategic decision last quarter to narrow its core capture device lineup toonlyits three devices in the HERO4 Black, HERO4 Silver, and HERO4 Session models. According to CFO Jack Lazar during last quarter's conference call, this should also mean the Session, priced at $199, will comprise a significantly higher percentage of total revenue, even as the higher-end HERO4 Black ($499) and Silver ($399) together should continue to contribute more than 50% of total sales. In addition, sell-through should be significantly higher than sell-in during the quarter, enabling global channels to reduce a troublesome glut in inventory.
Relatedly, look for color on GoPro's most recent market share for its core business; despite seeing revenue decline more than 30% year over year last quarter, for example, GoPro's digital camera/camcorder unit share climbed 180 basis points over the same period, to 21.3%. GoPro also continued to command six of the category's top 10 products (including No. 1) on a dollar basis and six of the top 10 (including No. 1) in accessory unit sales.
Next, listen for updates on GoPro's efforts to develop more effective software solutions aimed at simplifying the process of offloading, accessing, and editing GoPro content -- a problem CEO Nick Woodman insisted last quarter his company recognizes the need to solve.
A few weeks after GoPro's fourth-quarter report, the company announced agreements to acquire leading mobile editing apps Splice and Replay in an obvious effort to further these ambitions.Just last month, GoPro announced a new third-party developer program to enable companies to more easily create seamless user experiences between their products and those from GoPro, including toolkits to help them build GoPro-compatible mobile apps, devices, and reliable physical mounting solutions.Any traction on either of these initiatives should serve to reinforce the virtuous cycle of consumers purchasing, using, and sharing content from their new GoPro devices going forward.
Of course, it doesn't help that Session was launched last nearly a year ago last July, and the HERO 4 Black and Silver were both introduced way back in Sept. 2014. Let it suffice to say, then, that investors will be listening closely for hints of a possible camera device refresh in time for the 2016 holiday season, including perhaps some clarification on the company's new hardware design group reportedly led by recent hire and longtime Apple alum Danny Coster.
In the meantime, we should also expect to hear updates on the progress of GoPro's widely anticipated Karma quadcopter, a differentiated drone solution the company has previously promised will launch before the end of the first half of 2016. Earlier this year, some analysts mused Karma alone could help GoPro quickly seize as much as 25% of the estimated $1.9 consumer drone market this year.
Finally, note GoPro management willnotprovide quarterly guidance from here on out, and instead will give updates to full-year guidance as necessary. According to Woodman during last quarter's call, they "believe that maintaining a long-term focus is more consistent" with the company's strategic initiatives. For perspective, GoPro's full-year guidance currently calls for 2016 revenue of $1.35 billion to $1.5 billion, the midpoint of which represents a roughly 12% decline from 2015.
Whether GoPro is able to live up to that guidance remains to be seen. But if it manages to show sufficient signs that a turnaround is imminent with its first-quarter report this week, I think GoPro's return to its former glory could prove swift.
The article What to Watch When GoPro, Inc. Reports originally appeared on Fool.com.
Steve Symington owns shares of Apple. The Motley Fool owns shares of and recommends Apple and GoPro. Try any of our Foolish newsletter services free for 30 days. We Fools may not all hold the same opinions, but we all believe that considering a diverse range of insights makes us better investors. The Motley Fool has a disclosure policy.
Copyright 1995 - 2016 The Motley Fool, LLC. All rights reserved. The Motley Fool has a disclosure policy.