What to Watch When Express Scripts Holding Company Reports Earnings on April 25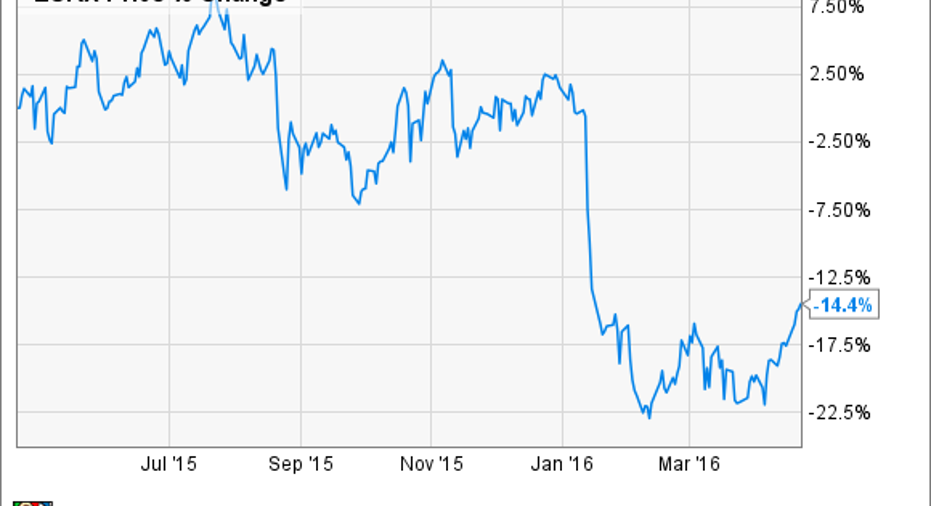 It's been a challenging year for Express Scripts . The pharmacy benefits manager saw its stock price fall more than 20% after its largest customer, insurance titan Anthem , threatened to leave unless Express Scripts forked over billions in additional savings.
Image source: YCharts.
Yet Express Scripts' stock price has begun to rebound in recent weeks. Is this a sign that its dispute with Anthem will soon come to an amicable resolution? Or will Express Scripts lose Anthem's business altogether, causing its stock price to plummet to new lows?
Investors will be looking for an update on this situation -- as well as how well the company's financial results align with management's prior forecasts -- when Express Scripts reports its first-quarter financial results on April 25.
2016 first-quarter actuals and full-year guidanceIn Express Scripts'fourth-quarter earnings release, management forecast adjusted first-quarter EPS of $1.18 to $1.22, which would be an increase of 7% to 11% from the year-ago period. Investors will likely want to see adjusted EPS growth of at least 9% in the first quarter, which would be at the midpoint of Express Scripts' guidance.
More important, investors will be looking for any changes to Express Scripts' 2016 financial outlook. Despite the situation with Anthem, Express Scripts actually raised the midpoint of its 2016 full-year adjusted EPS guidance back in February to $6.19 from $6.18, representing year-over-year growth of 12% over 2015.Should the company indicate that adjusted EPS could come in at the high end of its forecast range of $6.10 to $6.28, it could help to calm investors' fears that Anthem's savings demands are pressuring Express Scripts' negotiations with its other customers.
Anthem updateMost of all, shareholders will be searching for clues as to the progress of Express Scripts' negotiations with Anthem.
Anthem, which operates Blue Cross and Blue Shield plans in 14 states, is Express Scripts largest customer and accounts for about 14% of its revenue. The insurer says that Express Scripts owes it an additional $3 billion in annual savings, something Express Scripts refutes vehemently.
The situation appears to have to have taken a turn for the worse, as Anthem recently filed a lawsuit in which it is now suing Express Scripts for $15 billion and is seeking to obtain the right to terminate its contract. This will likely make it difficult for Express Scripts' management to comment on the negotiations, but with so much at stake, investors will be eager to hear any updates that management is willing to provide during the company's upcoming conference call.
How to access Express Scripts' resultsExpress Scripts will announce its first-quarter financial results on Monday, April 25, after the market closes at 4:00 p.m. ET. Investors can tune in to its live conference call, where management will discuss the quarter's results at 8:30 a.m. ET on April 26.Both the release and a link to the conference call will be available at the company's investor relations website.
The article What to Watch When Express Scripts Holding Company Reports Earnings on April 25 originally appeared on Fool.com.
Joe Tenebruso has no position in any stocks mentioned. The Motley Fool owns shares of and recommends Express Scripts. The Motley Fool recommends Anthem. Try any of our Foolish newsletter services free for 30 days. We Fools may not all hold the same opinions, but we all believe that considering a diverse range of insights makes us better investors. The Motley Fool has a disclosure policy.
Copyright 1995 - 2016 The Motley Fool, LLC. All rights reserved. The Motley Fool has a disclosure policy.