What to Watch When Disney Reports Earnings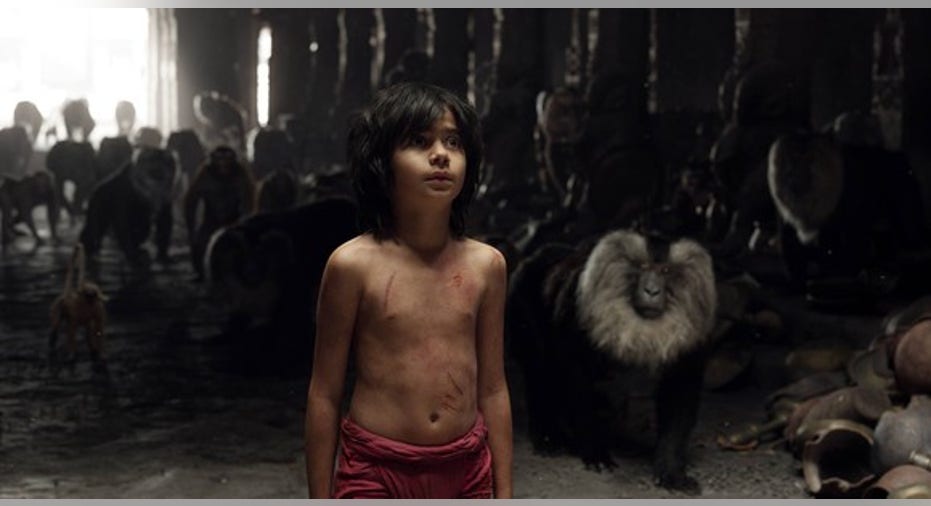 Walt Disney (NYSE: DIS) is set to announce quarterly earnings results after the market closes on Tuesday, Feb. 7. The stock has bounced back up above $100 per share despite Wall Street concerns about a slowdown in earnings growth this year ahead of what's likely to be a record fiscal 2018.
Below, we'll look atfew key trends for investors to watch as they parse this week's report.
Studio growth
Disney's fiscal first quarter likely capped a record run at the box office for the 2016 calendar year. The movie business spiked higher by 28% over the 12 months ended on Oct. 1, thanks to hit releases that ran the table across Disney's studio properties. Pixar, Disney Animation, Disney Pictures, and Marvel all contributed blockbusters toward the entertainment giant's finish as the single biggest worldwide box-office draw.
Image source: Getty Images.
This quarter adds a few more notable hits to the list, starting with Disney Animation's Moana around the Thanksgiving holiday and ending with LucasFilm's Rogue One. The animated film hit a respectable $500 million of box office receipts while Rogue One recently passed $1 billion. For the full year, Disney achieved a record $3 billion in domestic revenue alone, according to Box Office Mojo.
The strong year-end finish should help the studio division post rising revenue and profits that likely offset most, but probably not all, of the weaker results expected from the media segment. Wall Street is expecting flat overall sales and a drop in earnings to $1.49 per share from $1.63 per share last year.
Shanghai projections
Disney's Shanghai resort already has a full quarter of operations under its belt, but CEO Bob Iger and his team haven't yet issued details on how they see its growth playing out over the short term. We already know their long-term forecast is as bullish as it gets. With 300 million people living within a 3.5 hour drive to the park, "It would be as if the whole population of the U.S. could afford a ticket to Orlando and could get there [quickly] no matter what transportation they used," Iger told investors ahead of the June opening.
Attendance hit 4 million through the first four months of operation that included the peak summer season. That might imply as many as 10 million visitors in the park's first year of operation, which is a result that Disney would love to see.
Streaming TV
This quarter is likely to show evidence of more pressure on Disney's TV empire as subscribers continue drifting away from the broadcast television ecosystem. In fact, the media and networks segment might see flat or declining revenue results and an even bigger dip in operating income.
In response to the market disruption, Disney has been busy making deals to move more of its programming to new platforms, including Sling and Hulu streaming services. But it's likely this quarter will be lifted by Disney's major partnership with Netflix (NASDAQ: NFLX). The streaming video giant began showing first-run films from Disney this past fall, including the recent theatrical hits Zootopia and The Jungle Book. Disney will get help from payments for this expensive content, but it has to strike a balance between extracting value out of its properties through deals like this and driving TV watchers out of a pay-TV universe that it still dominates.
The Jungle Book began streaming exclusively on Netflix this quarter. Image source: Disney.
Executives in early November warned that fiscal 2017 will be marked by unusually weak earnings growth, mainly because the studio and consumer products divisions are up against a tough comparison with last year's buying frenzies around the release of Star Wars: The Force Awakens. Iger and his team believe they'll get right back on track in 2018 thanks to a packed pipeline of theatrical hits. There are four new Marvel movies slated for release that year, three animated films and two Star Wars releases, including Episode VIII which should send toy sales soaring right in time for the holiday shopping season.
10 stocks we like better than Walt Disney When investing geniuses David and Tom Gardner have a stock tip, it can pay to listen. After all, the newsletter they have run for over a decade, Motley Fool Stock Advisor, has tripled the market.*
David and Tom just revealed what they believe are the 10 best stocks for investors to buy right now... and Walt Disney wasn't one of them! That's right -- they think these 10 stocks are even better buys.
Click here to learn about these picks!
*Stock Advisor returns as of January 4, 2017
Demitrios Kalogeropoulos owns shares of Netflix and Walt Disney. The Motley Fool owns shares of and recommends Netflix and Walt Disney. The Motley Fool has a disclosure policy.