What to Expect When Verizon Reports Q1 Earnings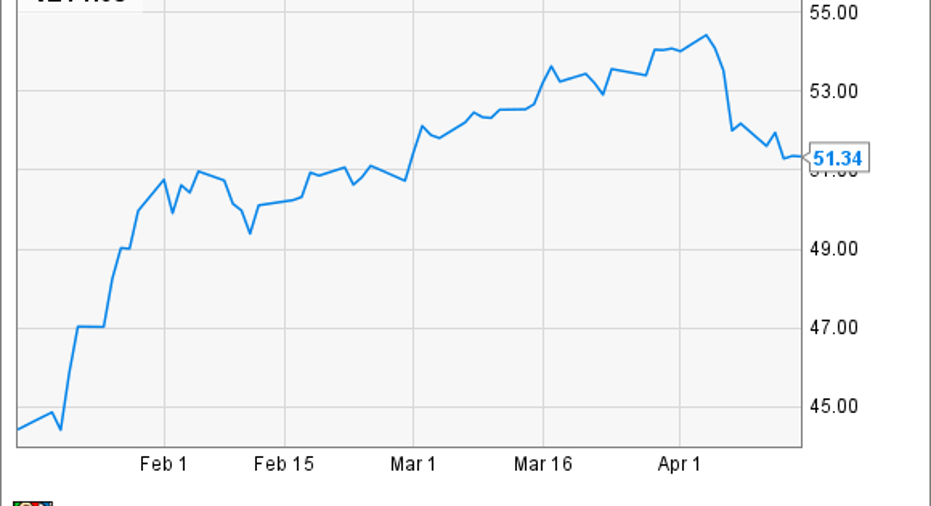 Verizon was virtually unstoppable as it gained customers in 2015 in wireless, broadband, and even pay-television.
While the broadband gains follow an industrywide trend, the company's increases in pay-TV, and wireless are more impressive. In a year when cord-cutting cost the cable industry an estimated 385,000 subscribers, Verizon gained 178,000 paying customers.
Verizon also did well in the wireless space, adding 1.5 million retail postpaid net additions in fourth quarter and 4.5 million for the full year. That powered the company's wireless division to full-year revenues of $91.7 billion, a 4.6% increase compared with 2014.
"In 2015, Verizon delivered strong and balanced results in a dynamic competitive environment while returning more than $13.5 billion to shareholders,"said CEO Lowell McAdam in the Q4 earnings release. "At the same time, Verizon built and acquired next-generation network capabilities that position the company to be an innovator in the digital-first mobile world in 2016 and beyond."
It was a good quarter and a good year and there is no reason to expect there was a loss of momentum in Q1, which the company will report on April 21 before the market opens.
Verizon stock has climbed during the past 90 days. Source: YCharts.com
Clear sailing aheadIn the wireless space there may be storm clouds on the horizon as T-Mobile has made some progress in bridging the gap between the quality of its network's and Verizon's. Ultimately that could lead to consumers switching to the lower-cost carrier, but that has not affected Verizon yet and that is unlikely to have changed in Q1.
Essentially Verizon has maintained its edge over T-Mobile by constantly reinforcing its network superiority to consumers. Using the phrase "Better Matters" in ads, the company has pushed the idea that it has the best, most reliable network.
That's even true, according to the twice-yearly RootMetrics survey, but it's not the whole story as T-Mobile has gained ground. Still, perception and reality are two very different things and consumers believe the "Better Matters" tag line and so far have been willing to pay more to stay with Verizon.
As for pay-television and broadband, market conditions have not changed. Cord-cutting is happening, but it's a trickle of customers and Verizon has actually been able to buck the trend. In broadband, the company has actually been a poor performer compared to its rivals, posting a gain of only 23,000 customers in 2015, according to Leichtman Research Group (when the industry gained over 3 million).
There's no reason to believe that Verizon won't continue to track in these directions while also slowly growing its Internet of Things and content business (which are still only producing relatively trivial revenue).
What is Verizon saying?The company's earnings will look a little different after the first quarter due to Verizon's sale of wireline operations in three states to Frontier Communications. That deal, however, won't impact Q1 since it closes on April 1. The company did not break out its 2016 projections on a quarterly basis, but it did say in its Q4 release that it "expects full-year 2016 adjusted earnings to plateau at a level comparable to its strong full-year 2015 adjusted earnings."
Basically, while there are some pressures to worry about the company's long-term future -- pricing pressure from T-Mobile and cord-cutting in a broad sense -- there is no reason to expect anything to be very different in Q1. The company has been strong in all three of its major business segments and it should be able to maintain that strength in the near term.
The article What to Expect When Verizon Reports Q1 Earnings originally appeared on Fool.com.
Daniel Kline has no position in any stocks mentioned. He does not understand why they still serve peanuts on airplanes. The Motley Fool owns shares of and recommends Verizon Communications. Try any of our Foolish newsletter services free for 30 days. We Fools may not all hold the same opinions, but we all believe that considering a diverse range of insights makes us better investors. The Motley Fool has a disclosure policy.
Copyright 1995 - 2016 The Motley Fool, LLC. All rights reserved. The Motley Fool has a disclosure policy.