What to Expect When Newmont Mining Corp. Reports Earnings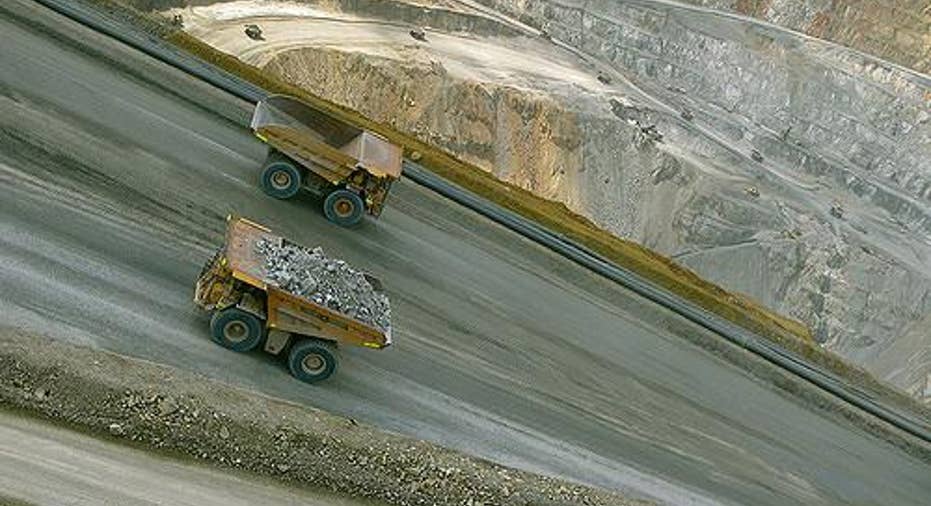 Newmont Mining's Batu Hijau operations in Indonesia are both a source of great wealth and a burden due to the confiscatory policies of the government. Image source: Randi Ang.
With the price of all commodities on the rebound these days, but particularly gold, the fact that Newmont Mining has nearly doubled in value from its 52-week low shouldn't be all that surprising (and as recently as last week, it had doubled). As the price of the yellow metal ebbs and flows, so does Newmont's stock.
Yet with the gold and copper miner ready to report earnings on Wednesday, April 20, after the market's close, here's what investors ought to focus on with the upcoming release.
| Metric | Q1 2015 | Q1 2016 est. | % Change |
| --- | --- | --- | --- |
| Revenue | $1.97 billion | $1.90 billion | (3.7%) |
| EPS | $0.21 | $0.46 | (54.3%) |
Newmont was able to lower its all-in sustaining costs for gold 10% last year to $898 per ounce, from a high of $979 per ounce in North America to a low of $718 per ounce in Africa. But it has forecast that its average AISC is going to creep higher again in 2016 to $960 per ounce as both Africa and South America see their costs soar, suffering from lower mill grades at Yanacocha in Peru and Ahafo in Ghana. So it's fortuitous that gold has rallied sharply this year, along with other commodities like copper, aluminum, oil, and iron ore, which has become the best-performing metal or mineral.
Beyond just higher gold prices, though, Newmont is attempting to get back on track in Indonesia, where its Batu Hijau open pit mine -- the second-largest copper and gold mine in Indonesia, behind Freeport-McMoRan's Grasberg mine, which has the world's largest gold reserves -- suffered from delays due to the government's decision to change the rules of operating in the country.
In an attempt to boost domestic smelting operations, the Indonesian government imposed export bans on raw, unprocessed ore, with usurious taxes a consequence of noncompliance, and demanded miners like Newmont and Freeport use local smelters. The problem was that the country did not have the infrastructure or capacity to support the miners' output, and both miners had their export licenses suspended.
Newmont had its license withheld again last year after it failed to meet government demands for developing a domestic smelter, but it was consequently restored after Newmont committed $3 million to supporting Freeport's $3 billion smelter project.
Globally, the miner sees attributable gold production increasing from between 4.8 million and 5.3 million ounces in 2016 to between 5.2 million and 5.7 million ounces next year, with production remaining stable thereafter through 2020, at between 4.5 million and 5 million ounces.
It anticipates the expansion program it undertook at Cripple Creek & Victor in Colorado, and the new production at the phase 1 project at Long Canyon in Colorado, at Merian in Suriname, and at the Tanami expansion in Australia, will offset the operations at Yanacocha, which is maturing, along with the mine sequencing at Batu Hijau.
Newmont, however, is reportedly going to receive a $2 billion to $3 billion offer for its Indonesian operations from a group of local investors and banks, and while the miner has been interested in selling off its domestic assets as a result of the confiscatory policies of the government, this seems like a lowball bid based just on existing production levels, let alone proven and probable reserves.
Still, it limits the chance of the government expropriating its assets there and gives it the chance to pay down some of its significant debt load, or even buy a junior in a more mining-friendly region with valuable resources that's been beaten down. Many miners are in the process of selling off both noncore and core assets, and with a glut of projects coming onto the market, pricing may be attractive.
For its size and scope, Newmont Mining is trading at a significant discount to peers like Goldcorp andYamana Gold. They may carry a premium for other reasons, such as lower all-in costs, but the breadth of disparity between them seems unwarranted, particularly because of Newmont's diversity. Its first-quarter earnings results ought to give a better indication of whether it can narrow the gap.
The article What to Expect When Newmont Mining Corp. Reports Earnings originally appeared on Fool.com.
Rich Duprey has no position in any stocks mentioned. The Motley Fool owns shares of Freeport-McMoRan Copper & Gold,. Try any of our Foolish newsletter services free for 30 days. We Fools may not all hold the same opinions, but we all believe that considering a diverse range of insights makes us better investors. The Motley Fool has a disclosure policy.
Copyright 1995 - 2016 The Motley Fool, LLC. All rights reserved. The Motley Fool has a disclosure policy.