What to Expect From Micron Technology's Q2 Earnings Report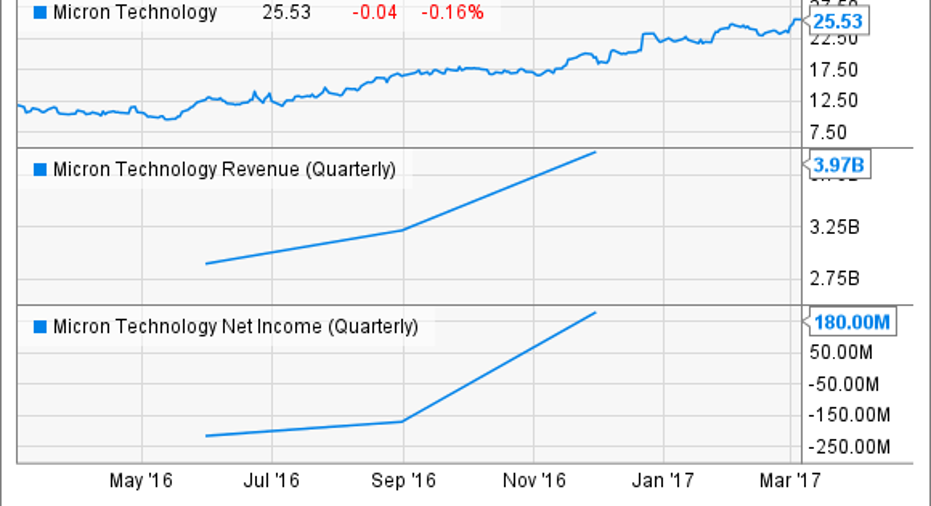 Image source: Micron Technology.
Micron Technology (NASDAQ: MU) is set to report its second-quarter fiscal 2017 results after the bell on March 23. Shares of the memory specialist are up more than 130% in the past year, thanks to a string of impressive earnings performances in the last four quarters. Let's take a look at what's been happening with the company and what this latest report, as well as the future, might hold.
Micron's revenue has been fueled by robust demand and the pricing environment in NAND and DRAM (dynamic random access memory) chips, while lower per-bit costs have led to bottom-line gains. It is likely that these trends will drive the company's results once again in the second quarter. Here's what investors should expect from the upcoming results.
The headline numbers
Wall Street pins Micron's second-quarter earnings at $0.73 per share on revenue of $4.58 billion, but the company says it is going to beat those estimates by a big margin. CFO Ernie Maddock preannounced the results early in March, projecting $4.65 billion in revenue and $0.86 per share in earnings. By comparison, Micron had posted a loss of $0.05 per share in the prior-year period on revenue of $2.93 billion.
Micron's revenue benefited from a favorable end-market scenario. For instance, DRAM prices were up 30% sequentially in the fourth calendar quarter of 2016, with an identical jump expected in the ongoing quarter (Micron's second quarter runs from December to February).
More importantly, the company should announce a sunny outlook, as it expects the momentum to carry over into the fiscal third quarter, driven by improving memory demand and supply-related constraints.
A bright outlook
DRAMeXchange forecasts that DRAM demand will increase 22% in 2017 as compared to supply growth of 19%, leading to favorable pricing. This is great news for Micron, as the company gets just over 60% of its revenue from the DRAM business, and has a notable customer in the form of NVIDIA (NASDAQ: NVDA) to drive sales going into the second half of the year.
NVIDIA's recently launched GeForce GTX 1080 Ti graphics processing unit (GPU) is powered by 11 gigabytes of Micron's GDDR5X memory. This partnership can give the latter company a nice boost, as sales of gaming hardware will grow 6% this year, according to Jon Peddie Research, with at least 43% of the market captured by high-end gaming systems, which the GTX 1080 Ti targets.
What's more, the NVIDIA partnership could bear fruit in the long run, as GPU shipments could more than double to 67 million units in 2020, from less than 30 million units in 2015.
The NAND flash business -- which is 31% of revenue -- will provide another tailwind for Micron as demand for 3D NAND will increase this year. Allied Market Research estimates that the 3D NAND flash-memory market will grow at an annual rate of 33.7% until 2022 -- to a size of $39 billion -- thanks to higher smartphone storage capacity.
Micron is moving aggressively to tap this opportunity as its 3D NAND capacity now exceeds 2D NAND; the move is smart as NAND wafer capacity is expected to increase just 6% this year. Micron, therefore, looks on track to deliver a strong outlook not only for the ongoing quarter, but also for the entire calendar year due to improvements in DRAM and NAND prices.
Additionally, IC Insights estimates that the memory market will grow consistently until 2021, when it will be worth $110 billion, as compared to $77 billion last year. The firm expects memory shipments to grow at 5.6% a year, with average selling prices contributing another 1.8%, setting the stage for Micron Technology's long-term growth.
10 stocks we like better than Micron TechnologyWhen investing geniuses David and Tom Gardner have a stock tip, it can pay to listen. After all, the newsletter they have run for over a decade, Motley Fool Stock Advisor, has tripled the market.*
David and Tom just revealed what they believe are the 10 best stocks for investors to buy right now... and Micron Technology wasn't one of them! That's right -- they think these 10 stocks are even better buys.
Click here to learn about these picks!
*Stock Advisor returns as of February 6, 2017
Harsh Chauhan has no position in any stocks mentioned. The Motley Fool owns shares of and recommends Nvidia. The Motley Fool has a disclosure policy.