What to Expect From Caviums Q1 Earnings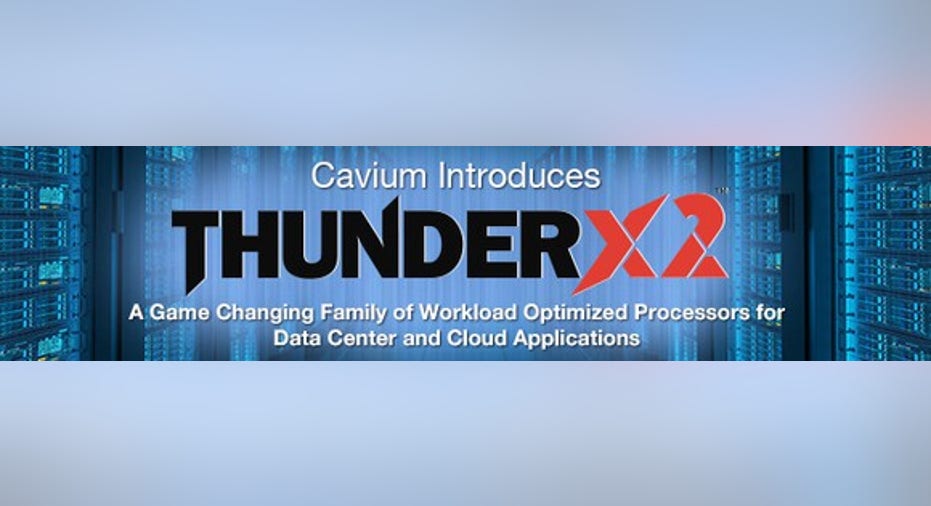 Shares of semiconductor specialist Cavium (NASDAQ: CAVM) have gained over 20% in the past six months, thanks to a couple of strong earnings beats in the last two quarters. The company, which supplies chips for enterprise, data center, and cloud applications, will look to extend its momentum when it releases its first-quarter results on April 26.
Cavium investors will be expecting another quarter of strong growth given its recent partnership with Microsoft (NASDAQ: MSFT). But can the company deliver the goods once again? Here's what investors should look for in Cavium's upcoming earnings report.
Earnings are expected to jump
Wall Street expects Cavium to earn $0.56 per share on revenue of $227 million, which is in line with the company's guidance. By comparison, the company had $0.25 in earnings per share on $102 million in revenue in the prior-year period, indicating that its $1 billion buyout of Qlogic will substantially boost the numbers.
However, Cavium could beat the bottom-line forecast if it can realize the cost benefits of the Qlogic acquisition at a faster pace than expected previously.
Cavium expects $45 million in cost savings this year from the Qlogic buyout, which it said when announcing the acquisition could boost its non-GAAP earnings per share by $0.60 to $0.70 in 2017. What's more, the company has begun paying off the debt that it had taken to fund the purchase, expecting to lower its interest expense by $7.5 million from the preceding quarter.
A strong outlook is in the cards
Qlogic should help Cavium deliver strong guidance once again, with analysts expecting second-quarter revenue growth of 120% from the prior-year period, but investors shouldn't miss the long-term picture. Around 60% of Qlogic's revenue comes from HP, Dell, and IBM -- which control over 52% of the overall server market -- giving Cavium entry into a market that's set to grow at 5% annually through 2021.
On the other hand, the increasing adoption of ARM-based processors in data center servers is going to be a big deal for Cavium. IDC expects a 3.9% jump in ARM server-class microprocessors, outpacing the overall market's growth of 1.3% thanks to their power-efficient nature that could help handle huge workloads in machine learning and big data scenarios.
Cavium is trying to capitalize on this trend through its Thunder X2 server chip that's been recently selected by Microsoft for testing and evaluation, though we don't know how that will turn out.
Image Source: Cavium.
But Microsoft has already developed a Windows server version for the ARM platform, indicating that it could be thinking about deploying Cavium's technology in its data centers. Qualcomm, however, could pose a serious threat for Cavium as it started sampling its ARM-based server processors in December last year.
What's more, Qualcomm is also a part of Microsoft's ARM server chip evaluation along with Cavium, so the latter won't be having a free hand in this space. But what could work in Cavium's favor is that its ARM server processor is already into its second generation, with its first generation chip already enjoying volume shipments.
Cavium's previous generation ThunderX chip is already being used by data centers in Asia, Europe, and the U.S. Qualcomm will take more time in coming to the market as it will start volume shipments of the Centriq 2400 server chips in the second half of the year, giving Cavium an early mover advantage.
Investors should listen in to see what Cavium has to report this week.
10 stocks we like better than Cavium NetworksWhen investing geniuses David and Tom Gardner have a stock tip, it can pay to listen. After all, the newsletter they have run for over a decade, Motley Fool Stock Advisor, has tripled the market.*
David and Tom just revealed what they believe are the 10 best stocks for investors to buy right now... and Cavium Networks wasn't one of them! That's right -- they think these 10 stocks are even better buys.
Click here to learn about these picks!
*Stock Advisor returns as of April 3, 2017
Teresa Kersten is an employee of LinkedIn and is a member of The Motley Fool's board of directors. LinkedIn is owned by Microsoft. Harsh Chauhan has no position in any stocks mentioned. The Motley Fool owns shares of and recommends Qualcomm. The Motley Fool has a disclosure policy.